Lost in the hubbub of the the World Series last night was the Boston Bruins playing in Buffalo against a terrible hockey team. Everything was going swimmingly for most of the game. The Bruins were scoring goals, they were having a good time, people were laughing at the misfortune of Buffalo. Oh Buffalo. Without you, we would not have most of our hockey humor and the world would be a much worse place. Then, this happened. (kudos to Day's of Y'orr and Pete Blackburn for the GIF) And suddenly every Bruins fan had flashbacks to Matt Cooke taking out Marc Savard and imagined a world in which the Loui Eriksson and Marc Savard become besties somewhere that is not an NHL rink. Make no mistake, this is a dirty hit by John Scott, a player who is on the ice to be a goon and nothing more. He last scored a goal in 2009. That should say enough about the type of player that Scott is. Loui Eriksson gives up the puck, takes a step, and suddenly gets an elbow to the face from the blindside. Not even the WWE had hits that egregious. It's bad. Somehow, people are defending John Scott. I don't know how either. all this talk about john scott is ridiculous. the guy played D1 hockey, clearly, there's no room for enforcers in D1 so the guy can play. — Matt Ouellette (@The_0ther_Matt) October 24, 2013 That doesn't mean he should be in the league. I could teach myself to skate and fight and hit people dirty and that would be just as good enough reason for me to be in the league as John Scott. Note, I should not be in the NHL. Anytime John Scott hits someone, it's going to be to the head in most times which will be dirty due to his massive 6'8, 270 frame. #Sabres — Blackhawks 6-1-2 (@Arjun_AJB) October 24, 2013   Every time Zedno Chara hits someone it's going to be in the head because of his massive… oh wait. Am I the only person who thinks the John Scott hit was clean, just misfortune from a taller guy hitting a shorter player? #Bruins #Sabres — Henry Barton (@HankBart91) October 24, 2013 Yes, yes you are. John Scott's hit was blatantly clean — Aaron Brewer (@_HaveSomeBrew) October 24, 2013   One tweet later, this person says that Scott is his "Favourite hockey player". Don't make me laugh. I haven't even had my second cup of coffee. I don't like John Scott but, based on the picture I put up & angle at which he skated, that's clean. Shoulder on chest, arm extended after. — Alex Kaluzny (@alex_kaluznyAK) October 24, 2013 There's that awkward moment where he raises his elbow and delivers a blindside late hit to the head, but yeah. Other than that it was a super clean hit. John Scott's hit I thought was clean..A little late but Erikson is a foot shorter.. I'd give Scott 2-3 games but anymore I think is ******** — Casey Walters (@caseofwater24) October 24, 2013   I don't even. One more so that a larger point can be brought up. And we "need" people like John Scott in the NHL. Time to clean the league up, no one wants to see this garbage. — Jimmy Puckett (@Jimmy_Puckett11) October 24, 2013   This is actually a fair point. Most people think the John Scott's are necessary because of the other John Scott's in the league who will John Scott other star players. Most Buffalo fans last night were also quick to point out that Milan Lucic ran Ryan Miller last year, even though Miller came out of his crease making him a target. Basically, John Scott is there to protect Ryan Miller from big-bad goon Milan Lucic. The difference is that there doesn't need to be John Scott. There are plenty of skilled hockey players who are also tough enough to protect the stars and drop the gloves from time to time. Milan Lucic comes to mind, as does Los Angeles' Dustin Brown or Dallas' Jamie Benn. All talented players who can drop the gloves if need be. Even fourth line guys like Shawn Thornton or Coloardo's Steve Downie are guys who drop the gloves, but they also contribute in other ways of the game. Even if Buffalol could make the playoffs, I don't see John Scott making an impact the way Steve Downie did for Tampa Bay in 2011. Goons like John Scott are the problem with the NHL, not tough-guys who can play hockey. Yes, fights do have a place in the game, it's to protect guys from John Scott's. Teams don't need to employ John Scott's to do it either.
Original Story:
http://www.bostonsbettah.com/?p=6419
MORE FROM YARDBARKER
NHL News

Delivered to your inbox

You'll also receive Yardbarker's daily Top 10, featuring the best sports stories from around the web. Customize your newsletter to get articles on your favorite sports and teams. And the best part? It's free!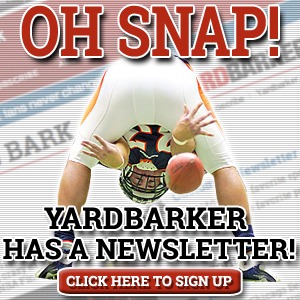 Latest Rumors
Best of Yardbarker

Today's Best Stuff

For Bloggers

Join the Yardbarker Network for more promotion, traffic, and money.

Company Info

Help

What is Yardbarker?

Yardbarker is the largest network of sports blogs and pro athlete blogs on the web. This site is the hub of the Yardbarker Network, where our editors and algorithms curate the best sports content from our network and beyond.