Do you think the NHL will be locked out this season? No, I don't think the NHL will be locked out for an entire season. I think the worst case scenario is we might lose a few games, but I highly doubt we have another 04-05 on our hands. The current CBA doesn't need a complete overhaul as it did 8 years ago. It just needs some refining due to the new economic realities in this country. Deep down I know both sides understand that despite the rhetoric. The league's proposal (cut the players' share of hockey related revenue, cap contract lengths at five-years, end salary arbitration and require 10-years of experience before players are eligible to be a UFA) was extremely aggressive. With that said, the proposal was a perfect world scenario for the owners. This is just a negotiating tactic. The reality is the league and the union need to hash out how hockey related revenue is defined and come up with new % split of said revenue. Everything else is just noise. Fear not Blue Seats Blogs faithful, there will be hockey this winter. What do you think of Bettman and Ed Snider of all people crying poverty and being the faces of CBA negotiation? Hmmm. This sounds more like an opinion than a question. Look, I know the average hockey fan loathes guys like Bettman and Snider, but I am not the average fan. I've questioned some of their decisions over the years (on this blog to boot), but negotiating a new CBA doesn't make them the greedy a-holes the media is trying to make them out to be. It's their right to negotiate a new deal and the NHLPA agreed to this process. Now I know people think it's ridiculous Snider is on the negotiating committee. I've read plenty of articles and tweets deriding him for complaining about the lack of profitability of small market teams, while at the same being the owner of the Flyers, who blew their brains out with RFA poaching and long-term contracts. Still, the fact of the matter is Snider's the chairman of Comcast and he has negotiated with unions his entire career. It would be stupid to not have him on this committee. Although Snider's team isn't the one suffering, he is smart enough to know the current CBA model and economic conditions in this country make it extremely hard for small market teams to make a buck. In 2004, if a team didn't make money for a few years, some cash from an investment bank could bail them out while the team turned their fortunes around (Penguins, Capitals, Senators come to mind). However, these days finding capital aint so easy, just ask our rivals across the Hudson. Don't you think the league would just be better off if they contracted some of the teams that are struggling financially? The NHL wouldn't contract because doing so would reduce revenue. If you have less teams, then you have less fans. If you have less fans, then TV viewership goes down. If TV viewership goes down, then TV rights and advertising would become less expensive. Do you see where I am going with this? Relocation may be the answer for some markets after the league does its due diligence in terms of financial analysis and market research, but contraction isn't a realistic option in this day and age. Nashville is the perfect case study of how teams can turn it around with the right owners and a good marketing strategy. Which Ranger players with 2-way contracts can play for the Whale, if the NHL season doesn't start on time? The AHL has the "veteran rule," which states that teams must dress at least 12 skaters with no more than 260 professional regular season games played and a 13th with no more than 320 (goalies exempt). So anyone who falls under that term can go to the AHL regardless of contract type. Where can one get a quality tie for a fair price for a gentleman friend? It amazes me that people on twitter ask me about men's fashion more than they do about hockey. If there are any clothing designers reading this who would like to sponsor me, I am all ears…
Original Story:
http://www.blueseatblogs.com/2012/08/...
MORE FROM YARDBARKER
NHL News

Delivered to your inbox

You'll also receive Yardbarker's daily Top 10, featuring the best sports stories from around the web. Customize your newsletter to get articles on your favorite sports and teams. And the best part? It's free!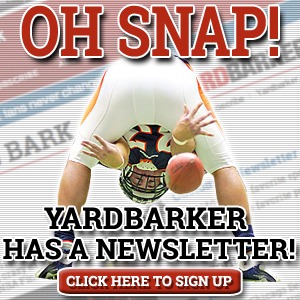 Latest Rumors
Best of Yardbarker

Today's Best Stuff

For Bloggers

Join the Yardbarker Network for more promotion, traffic, and money.

Company Info

Help

What is Yardbarker?

Yardbarker is the largest network of sports blogs and pro athlete blogs on the web. This site is the hub of the Yardbarker Network, where our editors and algorithms curate the best sports content from our network and beyond.