Found December 20, 2011 on Red Light District Hockey:

On November 6th, the St. Louis Blues fired Davis Payne and hired Ken Hitchcock to be his replacement. Blues forward T.J. Oshie called the moment a "reality check" for the team. Ever since then, the team has taken off and is starting to fulfill their potential, going 13-2-4 in 19 games.

"Losing Payne was kind of a reality check for guys," Oshie said. "Obviously it wasn't all his fault; we're the ones on the ice playing the game. The reality check plus Hitch's confidence in winning and what he's telling us makes guys believe him. We've jumped on board and have been playing well ever since."

Forward Chris Stewart, who has seen his all-around game improve since the coaching change, echoed those thoughts from Oshie.

"Once your coach gets fired, everyone has to take a serious look in the mirror and eliminate all doubts. There are no more excuses now. We brought in a veteran coach that has won a Stanley Cup, has a recipe to winning hockey games."

When Hitchcock was brought in, the Blues were one game under .500. Now they are battling for the Central Division lead with Chicago and Detroit, sitting in fifth place in the West after their month-long hot stretch.

"I don't think anyone expected us to have the record we have now," said the 60-year-old bench boss. "We've been a product of what we've put into it. The players have really dug in. We get outplayed some games, but we perk our head up right away and respond. I like the way we respond to getting pushed from the opposition, and I think that's what has given us a good record."

The coach everyone calls 'Hitch' is quick to steer the attention away from himself when it comes to him being the difference-maker in the team's season.

"All I did was bring concepts in," he said. "There aren't a lot of changes here. Each coach has had its piece here to bring it (the team) up – Andy (Murray) took it a little bit of the way, Davis took it a little bit of the way and I'm trying to take it to the next level. So I don't think it's just one guy resurrecting anything; there were a lot of good things in place to start with."

It is hard to ignore the defensive success the Blues have had since Hitchcock took over, though. The team gave up an average of 2.69 goals per game in 13 games under Payne. In 19 games with Hitchcock, that per game average has shrunk to 1.58.

Goaltender Brian Elliott, who has seen success this season no matter what coach is behind the bench, believes hard work and confidence have been the biggest difference for the Blues.

"The guys come to play and work hard," he said. "When you have that throughout the lineup, it promotes a good winning feeling that, no matter what the score or situation is, we're not going to give up. As a goalie it just makes it a lot easier back there. Once everyone has that feeling, it's hard to beat us as a team."

Now that the Blues have put together a solid six-week stretch, the question becomes whether or not they can continue at this pace for the rest of the season. They have the pieces in place throughout the lineup, especially in net. If forwards like Oshie and Stewart continue to play well under Hitchcock, it will only help in the Blues' pursuit of their first playoff berth in three years.

"Now it's up to us from now on," Stewart said. "We've taken the challenge head on. So far we're doing great."

Photo credit: Getty Images
Original Story:
http://www.rldhockey.net/2011/12/real...
THE BACKYARD
BEST OF MAXIM
RELATED ARTICLES
In the long run, the flu bug was kind to St. Louis Blues center Jason Arnott. Just 24 hours after he missed his first game of the season - sidelined by sickness - Arnott triggered a four-goal, third-period rally with the tiebreaking tally to lead the Blues to a 6-4 win over the Columbus Blue Jackets on Sunday night. St. Louis won for the fifth time in six games and improved to...
The calendar has yet to flip to 2012 and a whopping six coaches have been fired in the 2011-12 NHL campaign. Which hired coaches will make the biggest impact for their new clubs this season and beyond?Ken Hitchcock, BluesRecord since taking over: 13-2-4We've already seen what the Blues are capable of when they're at their best – and Hitchcock has brought out the best in them...
from Norm Sanders of the News-Democrat, As a veteran NHL coach, there aren't too many things that surprise Ken Hitchcock any more when it comes to hockey. After taking over the Blues last month, one of those rare surprises presented itself in the form of 6-foot, 225-pound defenseman Roman Polak. "Polak for me is the biggest surprise," said Hitchcock, who has marveled at Polak's...
My friends I have a confession to make:  Any time my St. Louis Blues put together two good games in a row, I think that this is the sign that the Stanley Cup patch will be on their shoulders come Spring.  Yes, I am a hockey optimist, however I do not think that the current play of the Blues and my positive feelings about it, can be attributed to this starry eyed tendency of mine...
ST. LOUIS - The Blues have had hiccups under Ken Hitchcock, but picking up at least one point in 16 of 18 games...
Some outstanding defense has allowed the Colorado Avalanche to finally start making the most of their home-ice advantage.The St. Louis Blues' defensive-minded approach is making them a force on the road.The Avalanche try to record their first seven-game home winning streak in eight seasons Wednesday night while the Blues go for their first seven-game road point streak in more...
The St. Louis Blues will try to continue their winning ways under head coach Ken Hitchcock when they visit the Colorado Avalanche for tonight's clash at the Pepsi Center.
Tonight against the visiting St. Louis Blues, Avalanche coach Joe Sacco will go with nearly the same lineup that produced Monday's fifth consecutive win at the Pepsi Center.
There's a new head coach at the helm for the Canadiens. The Habs fired coach Jacques Martin on Friday, following the team's mediocre start to the year as evidenced by its 13-12-7 start. In his place, Randy Cunneyworth will take over and look to get the underperforming squad back on track. Martin is the sixth NHL coach to get the hook already this season, a startling number...
Last Night's Scores:Hurricanes 2, Panthers 3 (OT)Flames 2, Blackhawks 4Blue Jackets 4, Blues 6Quick Stats:Marian Hossa, CHI (1 goal, 1 assist)T.J. Oshie, STL (1 goal, 1 assist)Kevin Shattenkirk, STL (1 goal, 1 assist)Tonight's Games:Canadiens @ BruinsKings @ Maple LeafsDucks @ StarsFlyers @ AvalancheRed Wings @ OilersWild @ CanucksHighlight of the night:Marian Hossa rockets...
Blues News

Delivered to your inbox

You'll also receive Yardbarker's daily Top 10, featuring the best sports stories from around the web. Customize your newsletter to get articles on your favorite sports and teams. And the best part? It's free!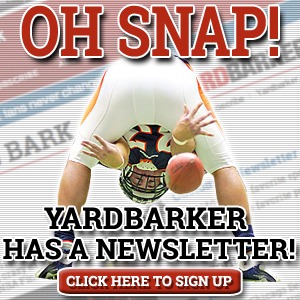 Latest Rumors
Best of Yardbarker

Today's Best Stuff

For Bloggers

Join the Yardbarker Network for more promotion, traffic, and money.

Company Info

Help

What is Yardbarker?

Yardbarker is the largest network of sports blogs and pro athlete blogs on the web. This site is the hub of the Yardbarker Network, where our editors and algorithms curate the best sports content from our network and beyond.