Found January 17, 2013 on The Pensblog:
Hockey is a simple game to follow and assess.  Watching what's happening away from the puck, you can do no wrong.  Players spend a bulk of their time on the ice sans a puck on their stick. You can spot good players quickly, and players that suck even quicker, given the right circumstances.   Over the course of a typical training camp, coaches and GMs can take their time flushing out the bad players. But with a week-long camp, you have to get to the point. So in addition to getting CEC packed and putting on a show for the number-one stars, the Pens were going to use this game really to nail down a couple question marks in the lineup.   Best way to do that: Get a big-time atmosphere, simulate game conditions, and hope for no injuries.   To the best of our knowledge, the Pens accomplished this.   Our summary after the jump.       Suttertron       Brandon Sutter, a.k.a. Suttertron, is going to be a hell of a pl...
Original Story:
http://www.thepensblog.com/2013-archi...
THE BACKYARD
BEST OF MAXIM
RELATED ARTICLES
We got to talking on Twitter with a Hurricanes fan who has closely followed Brandon Sutter's career.  We asked her to give us as much information as possible on Sutter, and she has answered the bell.  Great read: Brandon Sutter was meant to be a franchise player in the Carolina Hurricanes organization. Canes General Manager Jim Rutherford once called Sutter one of...
Full recap in the morning. Orpik looks like he has a chip on his shoulder: gif via GarageLeague Tumblr
  "You realize over that period of time that you just want to compete and be with your team and go through all the normal things that an NHL season brings. I'm just excited for that," Crosby said. "I always thought I appreciated the game; I'd be the first one to say that I don't think I took it for granted. I've always worked hard and realized...
ROOT Sports, 7:00 pm/et CONSOL Energy Center - Pittsburgh, PA   From the Pens' website: Fans are invited to the Penguins' "Black & Gold" Game Wednesday at 7 p.m. at CONSOL Energy Center. Admission is free, and doors at the Trib Total Media gate will open at 6 p.m. Parking is free at CONSOL Energy Center surface lots on a first-come...
As the NHL teams scramble to shore up their rosters with big free agent acquisitions, trades, and releases of bad contracts, all to compete in a sprint to the playoffs, Alexei Kovalev doesn't figure to make or break a team for the Stanley Cup, but is a great story nevertheless.  Kovalev appears near to signing a 1-year deal with the Florida Panthers to compete in his 19th season...
An NBC commercial promoting the NHL season opener between the Pittsburgh Penguins and Philadelphia Flyers got its facts mixed up by claiming that the Penguins defeated the Flyers in last year's playoffs. The ad sells the game with this: Sid "The Kid" (Crosby) and the Penguins face off with rival Philly...and Claude Giroux and the Flyers have their sights set on revenge...
A conundrum, if you will...     If the Penguins have one major question mark heading into this season, it's what the team brings back on the blueline. Kris Letang, Paul Martin and Brooks Oprik were 1-2-3 in terms of minutes per game among Pens defensemen last year and they all return. The trade of Zbynek Michalek back to Phoenix bumps Matt Niskanen into the top...
We've got some bigtime news at PSAMP. A local favorite, and I mean "local" in the weirdest sense of the word, has returned to bless the Penguins with a few wishes of his own. You know, I was so close to accepting a lost NHL season that the recent end to the lockout and imminent start to Pens season has me so fired up that I felt I needed to do something big. There...
The NHL lockout only seemed to drag on such an interminable length that last season was a distant memory. The reality is, April was only nine months ago, not so long that it's too hard to remember who won the first-round playoff series between the Philadelphia Flyers and Pittsburgh Penguins. The Penguins-Flyers is a rivalry so big, it's kicking off NBC's season coverage...
NHL News

Delivered to your inbox

You'll also receive Yardbarker's daily Top 10, featuring the best sports stories from around the web. Customize your newsletter to get articles on your favorite sports and teams. And the best part? It's free!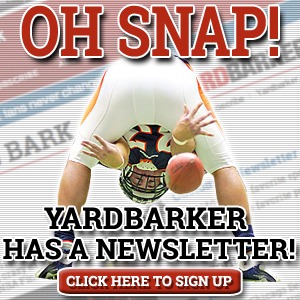 Latest Rumors
Best of Yardbarker

Today's Best Stuff

For Bloggers

Join the Yardbarker Network for more promotion, traffic, and money.

Company Info

Help

What is Yardbarker?

Yardbarker is the largest network of sports blogs and pro athlete blogs on the web. This site is the hub of the Yardbarker Network, where our editors and algorithms curate the best sports content from our network and beyond.