Found July 01, 2012 on The Majors Detroit:
Ken Holland and the Detroit Red Wings filled some hold this afternoon by agreeing to terms with free agent forwards Mikael Samuelsson and Jordin Tootoo. Samuelsson, 35 returns to the Wings on a two-year deal worth $3 million per season. He originally left the Wings back in 2009 when he signed a three-year deal with the Vancouver Canucks. He appeared in 54 games last season six of those being with Vancouver before he was traded to the Florida Panthers. In total Samuelsson had 14 goals, 17 assists and a plus-1 rating in 2011-12. Samuelsson adds some size (6'2″, 218lbs), a right-handed shot and the ability to play the point on the second power play unit. The addition of Samuelsson also pretty much signifies the end of Jiri Hudler in Detroit who is also a free agent this offseason. In addition to Samuelsson the Wings also brought in Jordin Tootoo on a three-year deal worth $1.9 million dollars per season. "Mr. Holland made a quick phone call and I thought this was a good opportunity to...
Original Story:
http://themajors.net/detroit/?p=8708
THE BACKYARD
BEST OF MAXIM
RELATED ARTICLES
Forward Mikael Samuelsson is rejoining the team with whom he won a Stanley Cup in 2008. The Detroit Red Wings agreed to terms on a two-year contract Sunday, the team announced. Samuelsson, 35, was the third unrestricted free agent to sign with the Red Wings, joining goaltender Jonas Gustavsson and forward Damien Brunner. Samuelsson spent last season with the Florida Panthers...
From TSN's Darren Dreger: TooToo agrees to Detroit. 3 years $1.9 per MLive's Ansar Khan confirms: Wings sign disturber Jordin Tootoo, formerly of Nashville, for three years at $1.9 million per. Update: The Macomb Daily's Chuck Pleiness confirms—and remember that all these extra bodies mean that the Wings may end up trading some players, and that they can exceed the cap...
Arguably one of the more irritating presences in the NHL, Tootoo might be in line to take over Tomas Holmstrom's spot Continue reading →
The Detroit Red Wings have reached a two-year deal with free-agent forward Mikael Samuelsson, according to multiple reports. Continue reading →
Well go figure, per TSN's Gord Miller. The Red Wings have decided that Mikael Samuelsson can go home again: Det signs Mikael Samuelsson to a two year deal.  
Yes, I know, parallel posts. Promise they won't last for too long, but for now, there's a reason that Red Wings GM Ken Holland made the statements that he did about his team's core supposedly being at or near elite as-is—especially on a night when so many teams have informed the media that they're letting their UFA's-to-be to test the market that you'd think the NHL's...
Here's a look around the free agent movement around the Central Division. Detroit Red Wings ADDITIONS G Jonas Gustavsson – 2 years, $3.0M ($1.5M cap) F Mikael Samuelsson – 2 years, $6.0M ($3.0M cap) F Jordin Tootoo – 3 years, … Continue reading →
I slept well. Thank you for asking me.  And I woke up content. Well, not content…but I did wake up optimistic.  Nick Cotsonika (@cotsonika) ripped us pretty good yesterday. He said we were spoiled, that Kenny Holland deserves the "benefit of the doubt", that we should give him the credit he deserves for '08, for simply getting to Game 7 in '09 and even for making offers...
More July 1 drama has occurred since the signing of Chris Mason. David Poile held a press conference Sunday afternoon to talk about the signing of Mason, the Ryan Suter situation, the Shea Weber situation and Zach Parise.After the press conference, news broke out that fan favorite, Jordin Tootoo signed with the much hated Detroit Red Wings. The contract is three years and worth ...
Sometime on Monday or Tuesday, the vast majority of NHL teams' fans might very well be playing this song in their heads, "Want it All Back" by the Seatbelts. To paraphrase, given the ridiculous number of teams bidding on an incredibly small number of free agents, even with the market fluctuating due to so many teams telling their restricted free agents to go ahead and "test...
Sure looks like it.  Per the Free Press and Tennessean:   According to Ryan Suter's agent Neil Sheehy, there will be "no decision" from Suter today. General manager Ken Holland met today with Suter at his off-season home in Madison, Wisc., arriving back in Detroit late this afternoon...The Wings made an offer of $80 million over 13 years to Suter on Sunday, and have since...
Jordan Tootoo? How does he fit in? When did that team decide they wanted that kind of a player. Who is going to do the fighting when this guy runs around and creates all the havoc? Did Ken Holland momentarily take leave of his senses or is this some sort of change of direction and submission to the new NHL where guys who run around making questionable hits are rewarded? -Tony Gallagher...
NHL News

Delivered to your inbox

You'll also receive Yardbarker's daily Top 10, featuring the best sports stories from around the web. Customize your newsletter to get articles on your favorite sports and teams. And the best part? It's free!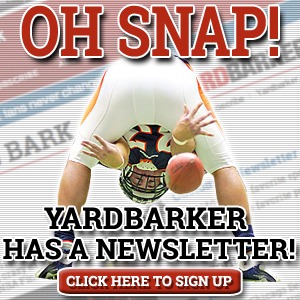 Latest Rumors
Best of Yardbarker

Today's Best Stuff

For Bloggers

Join the Yardbarker Network for more promotion, traffic, and money.

Company Info

Help

What is Yardbarker?

Yardbarker is the largest network of sports blogs and pro athlete blogs on the web. This site is the hub of the Yardbarker Network, where our editors and algorithms curate the best sports content from our network and beyond.