Found April 10, 2012 on Fox Sports:
PLAYERS:
Pekka Rinne
,
Jimmy Howard
,
Martin Brodeur
,
Anders Lindback
,
Cody McLeod
,
Shea Weber
,
Nicklas Lidstrom
,
Ryan Suter
TEAMS:
Nashville Predators
,
Detroit Red Wings
,
New Jersey Devils
,
Colorado Avalanche
Pekka Rinne fills up so much of the net at 6-foot-5, and the Nashville goaltender led the NHL with 43 wins while facing more shots than anyone else. Jimmy Howard was on quite the run for Detroit himself, leading the league in wins and on pace to top Terry Sawchuk's franchise record of 44 victories himself before breaking his index finger and then injuring his groin. Nashville already has home-ice advantage in this first-round series starting Wednesday night, and the Predators also feel they have the edge in net thanks to Rinne. They will need Rinne at his best if they are to beat their Central Division foe for the first time in three postseason tries. Detroit coach Mark Babcock thinks the goalie matchup is going to be real important in this series. ''Our goaltender was outstanding for us for a long time and then hurt for a long time. It looks like he's on his way back,'' Babcock said. ''He's going to have to look at the guy across in net and outplay him.'' That could be a challenge. Rinne, a Vezina Trophy finalist a year ago, not only won more games than any other goalie this season but also faced more shots (2,153) and had more saves (1,987). Rinne also became the first goalie to lead the NHL in wins and assists (five) since Martin Brodeur did it twice in 1999-2000 and 2005-06. ''I think Pekka's one of the best goalies in the league,'' Nashville coach Barry Trotz said Tuesday. ''I'm totally confident in him.'' Rinne had quite the workload this season, tying for most appearances with 73. His 43 wins set a franchise record, and he also had an 11-game winning streak between Jan. 7 and Feb. 4 that matched the longest such sting in 13 years. But Trotz gave Rinne a couple of practices off before the playoffs started. Rinne also missed a start April 3 against Minnesota due to an illness, and Trotz started Anders Lindback in the regular season finale at Colorado. Rinne wound up playing most of the third period of that 6-1 win when Lindback hit his head when Colorado left winger Cody McLeod collided with him in the crease. Rinne, who gets better the more pucks he sees, said he feels great and is eager to play Detroit in the playoffs. ''Right now I feel really excited for the playoffs and just re-energized,'' Rinne said. The native of Kampele, Finland, also is going into his third postseason as Nashville's starting goalie. His teammates remember only too well his play in downing Anaheim in the opening series and against Vancouver in the second even though Nashville lost that series in six games. ''We know what to expect with Pekka,'' Nashville captain Shea Weber said. ''He was great for us last year in the playoffs.'' Detroit captain Nicklas Lidstrom said Rinne is so big it's hard to score on him with the goalie playing angles really well. That means the Red Wings, who have scored only nine regulation goals in their last six games, must get plenty of bodies in front of Rinne and be ready for rebounds. But Lidstrom believes Howard, who posted allowed 1.92 goals against with a .927 save percentage in the last five games, knows the challenge of playing against Rinne. ''He's going up against one of the best goalies in the league, and I think Howie should be up there as well,'' Lidstrom said. ''It's going to be a great matchup.'' Howard was playing well enough this season he played in the All Star game. He also knows Rinne fairly well from their days in the American Hockey League, even though this will be their first matchup in the NHL postseason. Howard expects a tight series between teams that split the six games in the regular season and is looking forward to going up against Rinne. ''It's a game within a game,'' Howard said. ''You can be playing two opposite games one guy can be getting a ton of action and the other guy can just be sitting down at the other end just watching - being a spectator. I doubt that's going to happen here in the playoffs. You've got to find a way to be better than the guy at the other end.'' Nashville lost the two previous playoff appearances against Detroit, going down in six games in both 2004 and 2008. The Red Wings went on to win the Stanley Cup in 2008. But these Predators are much deeper with Weber and defenseman Ryan Suter in front of Weber with scoring up and down the roster. Not only do they have Rinne this time around, they also are a popular pick as the favorite to win this series. Rinne said they want to win enough nothing changes with additional pressure from the outside. ''I feel comfortable with it, and I think playing always against Detroit now we feel like we are on the same level,'' Rinne said. ''And it's going to be a great series and just looking forward to it.'' --- AP Sports Writer Larry Lage in Detroit contributed to this report.
Original Story:
http://msn.foxsports.com/nhl/story/Re...
THE BACKYARD
BEST OF MAXIM
RELATED ARTICLES
The first night of the Stanley Cup Playoffs hadn't yet concluded when Predators goaltender Pekka Rinne made an acrobatic stop that will surely be a nominee for the top save of the postseason when it's all said and done.With the Predators leading 2-1 at the beginning of the third period, Red Wings forward Henrik Zetterberg had the puck on his stick with essentially the entire...
In front of 17,113 inside Bridgestone Arena and the hockey world watching on TV, the Nashville Predators survived, plain and simple. On the back of Pekka Rinne's 35 save performance, the Preds knocked off the Detroit Red Wings, 3-2, to take Game 1 of their Stanley Cup Quarterfinal series. But even with Rinne's stellar night, it was luck that greatly attributed to the Nashville...
'How to Beat the Goalie' is switching the format up, during the Stanley Cup Playoffs. Instead of just doing two goalies in one post, now I am doing one goalie per post. The Detroit Red Wings are Nashville's opponent in the First Round, so let's start with the starting goalie for Detroit. How to Beat the Goalie: Jimmy Howard Jimmy Howard is going to be Detroit...
It happens every spring. Once the NHL playoffs begin, one of the least penalized teams in the league suddenly becomes a penalty magnet. It happened again Wednesday night in Nashville as the Red Wings were penalized six times during their 3-2 loss to the Predators - in game that was high on drama and low on officiating tolerance. Nashville was penalized eight times, so both teams...
Our 1st round break down of the #4 Nashville Predators vs the #5 Detroit Red Wings VS Who's better? OFFENSE - PUSH On paper, you would think Detroit would have the edge here (and they may have a slight edge in terms of overall offense). However as the years have progressed, the gap in offensive differential between these two teams has slowly made it's way towards middle...
Detroit Red Wings fans are concerned for these playoffs. The majority didn't want to be facing the Nashville Predators, even if the Red Wings had home-ice advantage. The Predators have their number this season (and have for the past few seasons as well), and Pekka Rinne always tends to play like Dominik Hasek mixed with Terry Sawchuk mixed with Martin Brodeur in his prime whenever...
Jimmy Howard The time to crown a new champion in hockey is now upon us. Sixteen teams have battled through injuries, losing streaks, scoring slumps and much more to fight for the right to make a playoff run. Winning sixteen hard-fought games, along with those scraggly playoff beards, will land you the penultimate award in all of sports: Lord Stanley's Cup.  For the past 21 seasons...
Photo Credit: John Russell/NHLI via Getty Images Everyone knew this series was going to be a scrappy and down-right rough between the Red Wings and Predators, but who knew that it was going to start from Game 1? While you could sit there and point to a ton of different aspects as to what the real reason the Predators pulled out the victory last night, the bottom line is that they...
Last Night's Scores:Flyers 4, Penguins 3 (OT) (Flyers lead series 1-0)Red Wings 2, Predators 3 (Predators lead series 1-0)Kings 4 , Canucks 2 (Kings lead series 1-0)Quick Stats:Brayden Schenn, PHI (1 goal, 2 assists) Mike Richards, LA (1 goals, 2 assists)Gabriel Borque, NSH (2 goals)Highlight of the night:Pekka Rinne robs Henrik Zetterburg, not once but twice
Detroit -- Have the Detroit Red Wings suddenly become the NHL's version of Rodney Dangerfield? Because the Wings sure aren't getting any respect these days. NHL.com had its writers, international staff and NHL Network analysts give their predictions for every series and of the 16, exactly two picked the fifth-seeded Wings to beat the fourth-seeded Nashville Predators in...
Game one is over and I hope you all feel the hate.  I do, I feel it growing inside me.  I've always hated Tootoo.  For obvious reasons, I now hate Weber.  And I think we're going to grow to hate Gaustad, Radalov, Rinne, Fisher, and the like.  But now let's look at what the enemy is saying about game one, starting with OnTheForecheck: In the end, a win like this is...
NHL News

Delivered to your inbox

You'll also receive Yardbarker's daily Top 10, featuring the best sports stories from around the web. Customize your newsletter to get articles on your favorite sports and teams. And the best part? It's free!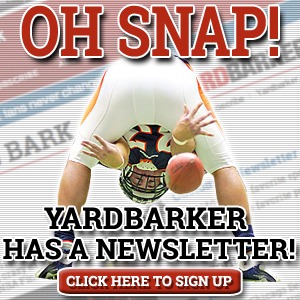 Latest Rumors
The Backyard

Today's Best Stuff

For Bloggers

Join the Yardbarker Network for more promotion, traffic, and money.

Company Info

Help

What is Yardbarker?

Yardbarker is the largest network of sports blogs and pro athlete blogs on the web. This site is the hub of the Yardbarker Network, where our editors and algorithms curate the best sports content from our network and beyond.