Found April 10, 2012 on The Predatorial:
Photo Credit: predators.nhl.com Reports emerged this morning from a Russian Hockey news website, "AllHockey.ru" that the Nashville Predators have offered prodigal winger Alexander Radulov a deal that would see him paid an average of 9 million dollars per year, for the next four years: http://allhockey.ru/news/120648/ Google's translation:
"Nashville," Radulov offers four-year contract for $ 36 million 09.04.2012 14:45
According to AllHockey.ru, "Nashville" offers striker Alexander Radulovfour-year contract worth about $ 36 million.As you know, the leadership of the American team, who returned Radulov, KHL best striker in recent years, its membership has already announced its intention to keep him in their team for the long term. And the Radulov arrival in America, said that back at the end of this season in the NHL has not promised to anyone, and that the decision to continue a career in the U.S. or Russia will at the end of this season. In the nine games held this season for "Nashville," Radulov scored 7 (3 +4) points.
  At first blush, that's a lot of money.  But is the idea of forking out such a huge payday for the quixotic Russian completely insane?  I'm not so sure. As much as we'd like to pretend that every contract was its own entity this offseason, it's impossible to ignore the elephant in the room:  we have a few players that happen to be the face of the franchise that have been somewhat wishy-washy when it comes to committing to their futures here.  In a perfect world, we could handle the Radulov contract like most other teams would.  We could offer what we deemed to be fair market value, and if he didn't like it, his only option would be to sit at home stewing until his head cleared.  That's how it's supposed to work with RFAs. But unfortunately, due to several extenuating circumstances, that's not the case here.  First, there was the highly visible arbitration debacle involving Shea Weber, last summer.  Most of us, myself included, that it was a slam dunk that he'd re-sign with the Predators, inking a long term deal that would finally put an end to the irritating "he can't wait to get home and sign with his beloved Canucks" rumors.  Of course, that didn't happen.  Instead, whispers emerged that Weber was hesitant to commit to a team that hasn't always displayed a capability to keep its homegrown talent. Okay, no big deal…he just wants to make sure that we're not going to ship out Rinne and Suter to afford him.  Easy enough, we'll just sign them, then he'll have no reason to want to leave, right?  We'll have done enough, we'll have proved ourselves. Problem solved? Of course not.  While Rinne was willing to sign early, it took a slight overpayment\slightly-too-long deal to get it done.  Then, things got really complicated: Suter made a series of "I'm not going to sign with Nashville/Oh wait, I was misquoted/I might sign with Nashville./I might not sign with Nashville/We'll see" statements.  The end result was an even murkier future for the young blueliner.  By proxy, this extends to his BFF and partner, Shea Weber.  All of a sudden, the Predators were faced with a situation that caused quite a bit of collective nail-biting: two thirds of "the big three" might move on. Amidst all of the fretful speculation, a variable that no one could have foreseen inserted himself into the situation: Alexander Radulov came back to town.  Since nothing is ever easy, he arrived with the requisite amount of uncertainty and vagueness surrounding his future. MAYBE he'd be here past this summer, MAYBE he'd be returning to the KHL. A lot of he-said/he-said ensued, and as of today, there's still not a whole lot that's clear, going forward.  Radulov's entry was particularly interesting, given that it's long been rumored that Weber\Suter have politely demanded additions to bolster an offense that lacked any real star power. So with these three asteroids hurtling in questionable, ever-changing directions through space, it's important to keep your eyes on all three, at all times.  Because of that, the Predators are at a bit of a disadvantage when it comes to negotiating with Radulov.  Everything that they do has to be calculated, given the possibility of a chain reaction erupting from the volatile condition of their star players.  Tell Alexander to screw off, and perhaps his buddy Ryan Suter is bristled enough to decide that the grass is greener in Philadelphia, which in turn causes Shea Weber to seek the damp climes of his home province. Now, this is clearly a speculative "worst case," and perhaps it's overly pessimistic, but for a franchise that's finally establishing footing in a community of fans that has historically been small but passionate, it's a dangerous game of chicken to play.  I think that a reasonable goal would be to retain 2 of the remaining 3 unsigned "faces,"  and since Radulov is a restricted free agent, he makes a good first candidate.  Likewise, Suter's status as an unrestricted free agent at season's end makes him the most difficult to sign.  However, retaining Radulov could be enough to keep the captain in town, and thus soften the blow that Suter leaving would render. So, to summarize a few scenarios that could play out, we have: GREAT: Radulov signs, Suter signs, Weber signs. Rinne already signed. GOOD: One of Suter\Weber\Radulov leaves, the other two sign. Replacement defenseman (Matt Carle? 4M per for 3 years?) or replacement forward is signed\traded for (see countless previous blogs about Ryan, Nash, Parise, et. al) OKAY: Two of Suter\Radulov\Weber leave. Roster starts to look very different, going forward. DISASTER: Radulov bolts back to the KHL, Suter signs elsewhere, Weber signs a one-year deal to carry him through to being UFA, making a pretty clear statement about his long-term desire to stay in town. Now, since I'm often accused of being a negative-nancy on Twitter, I want to emphasize that I'm not making any declarations that I think this worst-case WILL happen, just that it could, and that it would be very, very bad. As such, I think it's important to start making any provisions that we can.  A big offer to Radulov may be step one. While the amount is semi-absurd, you have to keep his situation in perspective.  The ever-present KHL threat, with its deep pockets and promises of Russian pop-stardom is something that has to be reckoned with, and there's an inflation factor that comes along with it.  My pal Chris Burton(@predatweeter) made the argument this morning, "That's more than Malkin and Stamkos make.) True enough, but both of those contracts were signed under a more conventional set of circumstances.  There wasn't a large league salivating at the prospect of gettings its golden boy back. There weren't teammates sitting on the Strummer-ian "Should I Stay or Should I Go?" fence.  Contracts aren't negotiated in a vacuum, and unfortunately, the Predators don't really hold the high card.  It's important to consider here that the Predators likely value Radulov at elite forward level.  Fair market value for such a forward falls in the 7ish million range. If you were thinking that Nashville could\should offer Radulov a 2 year deal at 4 million per– understand that was not likely to ever get it done, and the very offer might spurn him enough to send him into Medvedev's doughy arms.  So, like when negotiating with Rinne– getting your cookie might mean paying too much for it, but ultimately the Predators will have the cap room to do so, albeit things may be tight. I guess it rides on just how serious ownership is about the "cap team" boasts. The other alernative that comes to mind is that the Predators have already resigned themselves to life without Suter. Perhaps they think he's replaceable with a combination of a less expensive external signing and the continued development of Roman Josi and Ryan Ellis. Or perhaps he's said enough behind closed doors that they're aware that there's no chance he's going to stay.  In either scenario, Operation "Pick Up the Pieces" goes into effect, and retaining everyone else that they can becomes the priority– even if it means dumping a bunch of cash to do so. I really didn't foresee this being such a wordy post, and it maybe it's in vain, given the shaky credibility of some of these Russian sites, but I saw enough on Twitter to justify it.  There's a lot of "that's kooky talk," "he can't get that much from us," "we'd never offer that much" going around, but as detailed above, I can think of a few reasons that maybe it's not all that farfetched. As always, feel free to disagree and tell me what an idiot I am in the comments -JN
Original Story:
http://www.thepredatorial.com/2012/04...
THE BACKYARD
BEST OF MAXIM
RELATED ARTICLES
NASHVILLE Predators coach Barry Trotz said on Tuesday that defenseman Hal Gill, a key acquisition before the NHL's trading deadline, would be a game-time decision with a lower-body injury on Wednesday for Game 1 of his team's Western Conference Quarterfinal series with Detroit. The Predators acquired the 6-foot-7, 240-pound Gill along with a fifth-round conditional pick...
Goalie Jeremy Smith was recalled from Milwaukee today by the Nashville Predators as a precautionary measure after back-up goalie Anders Lindback received an injury in the final game of the season in Colorado.The injury occurred early in the final period when several players fell on Lindback in a scramble around around the net. Predators' coach Barry Trotz termed the injury...
The 20 players that make the score card for the Nashville Predators that will take the ice for the puck drop on Wednesday night at the Bridgestone will look far different than the ones on opening night of the 2011-2012 season.In the preseason, the one thing that Predators' GM David Poile repeatedly stressed was that the Predators would be much better in the season's second half...
The Predators finished off their slate of games in the 2011-12 regular season with a strong offensive victory, 6-1 over the Colorado Avalanche. But it was tough to gauge the Predators following the win. They won by a lot, but they were without their usual first line of Martin Erat, Sergei Kostitsyn and Mike Fisher -- who were given the night off. They didn't have Hal Gill or...
from David Climer of The Tennessean, Trotz believes the key to managing a comparative wealth of riches is to remain true to yourself. A more talented roster does not mean you quit playing a style of hockey that he calls "the Predators' way." "Just because we added people in the lineup doesn't mean we change our game," he said. "There are certain foundations in your...
First Round: #5 Detroit Red Wings (48-28-6) vs. #4 Nashville Predators (48-26-8)The Nashville Predators will be playing the Detroit Red Wings in the First Round of the 2012 NHL Stanley Cup Playoffs. The Predators and Red Wings will be playing each other in the First Round for the third time all-time. Nashville has finished the season off ahead of Detroit for the first time ever. Read...
Nashville-Detroit is another matchup that will be a great series but for different reasons than the four/five matchup in the East. It's also another case of how unfortunate it is to lose one of these teams in the first round. The Nashville Predators' Shea Weber (By Dan4th Nicholas from Cambridge, MA, USA via Wikimedia Commons) Detroit got off to a great start this season and...
Bridgestone Arena has been longing for the Stanley Cup Playoffs to return since last season, when they were eliminated by the Vancouver Canucks in the second round. Wednesday night, Smashville will be rocking in Gold, cheering for their Nashville Predators to take a 1-0 lead in the series and witness history unfold in front of their eyes. Game 1: Stand With US! It is time to rock...
Pekka Rinne fills up so much of the net at 6-foot-5, and the Nashville goaltender led the NHL with 43 wins while facing more shots than anyone else. Jimmy Howard was on quite the run for Detroit himself, leading the league in wins and on pace to top Terry Sawchuk's franchise record of 44 victories himself before breaking his index finger and then injuring his groin. Nashville...
Photo by: Ronald Martinez/Getty Images Hal Gill has been possibly the most notable pick-up at the trade deadline for the Nashville Predators. He has size and strength, can out poke check any forward by a good foot and a half of stick and has been the difference maker on the Predators penalty kill that has risen to 10th in the NHL. Although he lacks speed due to his lumbering huge...
Paul for George. 12 NHL Experts at ESPN, 10 pick the Nashville Predators to win the series. All the other series are predicted too.
DET (5) begin their 21st consecutive playoff appearance, in quest for their 12th Stanley Cup, on the road at NSH (4).  In case you didn't know, DET suck on the road (17-21-3 - 10th worst road record in the league). The Predators 26-10-5 mark at home was good for 6th best in the league.  The Wings 1.44 5-5 F/A leads the league at even-strength play.  For DET, special teams are...
Predators News

Delivered to your inbox

You'll also receive Yardbarker's daily Top 10, featuring the best sports stories from around the web. Customize your newsletter to get articles on your favorite sports and teams. And the best part? It's free!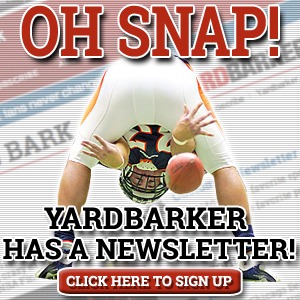 Latest Rumors
Best of Yardbarker

Today's Best Stuff

For Bloggers

Join the Yardbarker Network for more promotion, traffic, and money.

Company Info

Help

What is Yardbarker?

Yardbarker is the largest network of sports blogs and pro athlete blogs on the web. This site is the hub of the Yardbarker Network, where our editors and algorithms curate the best sports content from our network and beyond.