Found April 16, 2013 on Awful Announcing:
Pat Summerall, the venerable voice of major American sporting events for four decades, has died at the age of 82.  The news was first reported by the Dallas Morning News. Summerall was the voice of the NFL for two generations, first for CBS and then for Fox in the final years of his career.  Before that, he plaeyd 10 seasons in the NFL primarily as a placekicker for the Lions, Cardinals, and Giants.  His work in the broadcast booth spanned from Super Bowl II in 1968 as an analyst alongside Ray Scott to Super Bowl XXXVI in 2002 where he was the play by play man with John Madden.  In between, he called a record 16 Super Bowls and countless other NFL games as the sport became America's number one sport. I grew up as a sports fan listening to Pat Summerall.  Whether it was football, golf, or tennis, Pat Summerall provided the soundtrack to the biggest sporting events.  And it wasn't just his iconic pairing with John Madden, which will go down as the most popular, successful broadcast duo of its generation.  It was his work with Ken Venturi as lead CBS golf announcer that I'll remember right alongside his football work.  No matter the venue, the broadcast partner, or the sport, Summerall's voice was always the same.  Calm.  Commanding.  Reliable.  That voice is one that will never be duplicated.  When you heard Pat Summerall's voice, you knew what you were watching mattered. His understated delivery made sure the game was always at center stage where it belonged.  He never talked more than his broadcast partners.  John Madden would never have been John Madden without a partner like Pat Summerall.  Perhaps that's one of the greatest testaments to one of the greatest careers in not just sports broadcasting, but all of broadcasting.   Summerall's legacy has been far underrated by the social media generation.  To be fair, maybe we've lost our way a bit in what makes the best sports announcers.  Pat Summerall was never someone who would compel fans to make Youtube tribute videos.  In a sports world that lives on viral videos, highlights, and catchphrases, Summerall was none of that flash.  Only substance.  Only the best.  
Original Story:
http://www.awfulannouncing.com/2013/a...
THE BACKYARD
BEST OF MAXIM
RELATED ARTICLES
We have dug up footage of the very first Pat Summerall-John Madden broadcast, a 1979 showdown between then-NFC Central rivals Tampa Bay and Minnesota.
Pat Summerall passed away at the age of 82, and his longtime colleague in the booth, John Madden, issued a poignant statement on the loss of his friend.
BallertainmentPat Summerall dead at 82 Pat Summerall, a legend of the broadcasting booth, has passed away at age 82. Summerall was hospitalized in Dallas, recovering from hip surgery at the time of his death. A former NFL player himself (placekicker), Pat began analyzing games when his playing days were done. He first worked for CBS where he shared the booth with colleague Tom Brookshier...
DALLAS, TX. — Pat Summerall was the calm alongside John Madden's storm. Over four decades, Summerall described some of the biggest games in America in his deep, resonant voice. Simple, spare, he delivered the details on 16 Super Bowls, the Masters and the U.S. Open tennis tournament with a simple, understated style that was the perfect complement for the "booms!" and "bangs...
The NFL forever lost part of its voice on Tuesday, as Pat Summerall passed away at the age of 82. The lead Sunday play-by-play man for CBS and later FOX, Summerall built a legacy that included a record 16 Super Bowls behind the mic and a part of perhaps sports' greatest broadcasting duo. Along with longtime partner John Madden and NFL Films' John Facenda, Summerall will be...
The funeral for NFL broadcasting legend Pat Summerall will be open to the public on Saturday, according to a report in The Dallas Morning News. The funeral will be at 11 a.m. Saturday at Prestonwood Baptist Church in Plano, Texas. Summerall died Tuesday at age 82. He became an iconic figure on NFL broadcasts for FOX and CBS with partner John Madden. Summerall, who lived in Southlake...
Growing up in the 90s and early 2000s, football was always my favorite sport, and the combination of Pat Summerall and John Madden was the best broadcasting duo on television. Yesterday, the football world lost Pat Summerall, but he's one of the few broadcasters that transcended the game. Today, the football world moves on in offseason activities. As they say, the show must...
Pat Summerall, left, in the booth at the Super Bowl, with his partner John Madden. Summerall passed away at the age of 82 on Tuesday. At 24 years old, the earliest football games that I remember are games that were called by Pat Summerall and John Madden. Madden was the character, flamboyant and exciting, and Summerall was the calming and elegant play-by-play voice. Pat Summerall...
It's with sadness that we pass along the news that Pat Summerall has died at the age of 82. The Dallas Morning News reports that Summerall died in a hospital room where he was recovering from surgery for a broken hip. Summerall was a part of a record 16 Super Bowl broadcasts, his last being in 2002. He and John Madden partnered to form one of the greatest broadcasting teams in...
Pat Summerall meant many things to many people.  Since I'm not a "reporter" type blog, I'm not going to do the same tired biography that you could get on virtually any website.  No, I'll just talk about what he meant to me.As a child of the 1980s, obviously Summerall is best known to me as one half of the greatest NFL announcing duo with John Madden.  And...
The Dallas Morning News is reporting that broadcasting and play-by-play legend Pat Summerall has passed at the age of 82. Summerall worked a record 16 Super Bowls on TV- the first five as an analyst. He worked for CBS from 1961 to 1993 then became the signature voice for the NFL on Fox when their programming started in 1994.. He moved with the NFL from CBS to Fox in 1994. He...
The world of sports lost one of its golden voices today. NFL play-by-play man Pat Summerall died at age 82. NFL broadcasting icon Pat Summerall reportedly dies at age of 82. cbsprt.co/SummerallDies — CBSSports.com (@CBSSports) April 16, 2013 Summerall was partners with John Madden for years. He was the voice of 16 Super Bowls and 26 Masters golf tournaments. "Pat Summerall was...
Panthers News

Delivered to your inbox

You'll also receive Yardbarker's daily Top 10, featuring the best sports stories from around the web. Customize your newsletter to get articles on your favorite sports and teams. And the best part? It's free!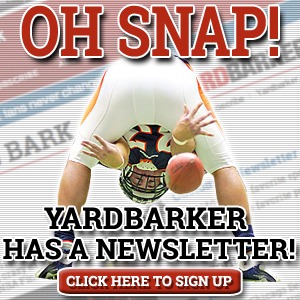 Latest Rumors
Best of Yardbarker

Today's Best Stuff

For Bloggers

Join the Yardbarker Network for more promotion, traffic, and money.

Company Info

Help

What is Yardbarker?

Yardbarker is the largest network of sports blogs and pro athlete blogs on the web. This site is the hub of the Yardbarker Network, where our editors and algorithms curate the best sports content from our network and beyond.