Found February 08, 2012 on Tonight's Healthy Scratches:
With the ship rapidly sinking on a once-promising season, the Sabres, picked by many to contend for the Northeast Division title, were in need of a lift emotionally as much as they needed two points in the standings.
Sitting 14th in the Eastern Conference and a country mile out of a playoff spot, Buffalo welcomed the hated Boston Bruins in to town. It was in a game against these same Bruins, mind you, that the Sabres downfall began.
On November 12, Milan Lucic introduced Ryan Miller to his elbow as Miller had wandered well out of his crease, concussing the Buffalo netminder in the process. The Bruins went on to win the game, 6-2, as they continued to climb out of their early season Stanley Cup hangover.
The Sabres though, who were 10-5-0 at the time, were never the same. They had been the laughing stock of the league for not only falling far below expectations, but hardly even standing up for their embattled, albeit rather whiny, goaltender when hit.
Things had gotten so bad for Buffalo that even head coach Lindy Ruff couldn't stay out of harm's way. Ruff was forced to watch tonight's game from the comfort of a luxury box while assistant coach James Patrick took over bench boss duties. You know, up here with us healthy scratches.
Though they're at opposite ends of the Eastern Conference, the Sabres offered some much-needed retribution to the current Northeast Division leaders.
Buffalo dismantled the big, bad Bruins on the scoreboard, 6-0, chasing starting goaltender Tuukka Rask from the net early in the second period.
Miller stopped all 36 shots in what was easily his best effort of the season, getting some help from the referees in the latest goal waved off due to "goaltender interference." But that was yesterday's story. It's safe to say this game may have meant a bit more to him than most.
Jason Pominville had two goals courtesy of a pair of Ville Leino assists, who has come under fire for his own play this season, which has left plenty to be desired after signing a six-year, $27 million contract in July.
The Sabres didn't back down from any physical challenge either, though Shawn Thornton and Lucic may have gotten the best of the fisticuffs tonight:
Thornton's second bout of the night (we'll nicely describe it as a decisive victory) came under some scrutiny because it was originally thought Thornton left the ice, the same reason Milan Lucic was wrongfully ejected from last month's Stanley Cup rematch with Vancouver.
Officially, there were six fighting majors and 90 penalty minutes given out over the course of the contest. Thornton and Lucic accounted for 39 of them.
The highlights to this game, which might as well be played while Twisted Sister's "We're Not Gonna Take It" blares in the background, was reminiscent of the blood bath on Long Island from a year ago between the then-lowly (okay, still pretty lowly) Islanders and the Penguins, except with a semblance of civility.
If only for night, Sabres fans were allowed to enjoy themselves inside First Niagara Center, perhaps for the first time since before Halloween. While it likely won't amount to much in the standings (though they did jump three teams with the win), it was a message to the league that Buffalo is tired of being taken lightly.
Don't worry, you're not the only one wondering how well it will be received.
Original Story:
http://www.tonightshealthyscratches.c...
THE BACKYARD
BEST OF MAXIM
RELATED ARTICLES
Bruins winger Milan Lucic will be visiting Target in Watertown on Thursday to support the "PJ Drive" hosted by AT&T. From 4:00 p.m. until 5:00 p.m., Lucic will be shopping for pajamas with the money that is donated in support of the event. Everyone that donates a new, unused pair of pajamas will receive an autograph and an opportunity to meet the Bruins' forward...
BOSTON, MA – To help kick-off the Fifth Annual PJ Drive, Bruins forward Milan Lucic will be visiting the Target in Watertown (550 Arsenal St, #1, Watertown, MA 02472) on Thursday, February 9 from 4:00 p.m. – 5:00 p.m. for a meet-and-gr...
With Buffalo Sabres coach Lindy Ruff nursing three broken ribs and watching from the press box, goalie Ryan Miller made 36 saves to earn his second shutout in three games in a 6-0 win over the Boston Bruins on Wednesday night.
With Buffalo Sabres coach Lindy Ruff nursing three broken ribs and watching from the press box, goalie Ryan Miller made 36 saves to earn his second shutout in three games in a 6-0 win over the Boston Bruins on Wednesday night.
Boston Bruins' goalie Tim Thomas was once again under the microscope on Thursday, as the two-time Vezina trophy winner posted some controversial remarks about the Catholic church on his Facebook page. Thomas was asked about the comments by reporters, after Bruins practice on Thursday and decided to hold back any further comment about the situation. Bruins forward Milan Lucic...
It was exactly the type of game the Sabres needed, a complete, dominating game from start to finish.  Buffalo found the back of the net early and often and even chased starting goaltender Tuuka Rask on their way to a 6-0 win over the Northeast division leading Boston Bruins. Jason Pominville scored twice and Ryan Miller made 36 saves to lead the Sabres to their fourth win in their...
Nothing makes me happier than watching Boston Bruins tough Milan Lucic guy work over a rat like Patrick Kaleta. Kaleta is one of those players that thinks he is pretty tough when he is out on the taking runs at other teams skilled players. I am actually surprised that Kaleta fought a guy like Milan Lucic. At the end of the night Kaleta catches the ire of Bruins defenseman...
Ryan Miller made 36 saves to record his third shutout of the season and 25th of his career as the Buffalo Sabres thumped the Boston Bruins, 6-0, at First Niagara Center.
A disallowed goal in the first period of the Bruins divisional showdown with the Buffalo Sabres on Wednesday night was a momentum killer and ultimately changed the entire complexion of the game. Milan Lucic's first period score was waived off, after Bruins' forward Rich Peverley was called for goalie interference. Instead of knotting the score at 1-1 midway through the opening...
The Bruins hit a bit of a rough patch this past week as they scored just five goals in four games and were shut out in twice, including Wednesday night's 6-0 defeat in Buffalo. There were, however, some bright spots. In Washington, the B's potted four tallies and three of which are candidates for Captain Morgan Goal of the Week. Check out the tallies and vote below. Milan...
PHT: When last we saw the Sabres and Bruins get together, Paul Gaustad was duking it out with Milan Lucic and defending Ryan Miller's honor a game too late as the Bruins stormed back to win in a shootout.
The NHL is past its halfway point and headed down the stretch towards the playoffs. This is when goalies are relied upon the most and rise to the top of their game in a push for Lord Stanley's mug. Here is a look at a few goalies who had rough starts, which may have sent them down to the waiver wire in shallower leagues or at least earned them a seat on the bench. These five goalies...
NHL News

Delivered to your inbox

You'll also receive Yardbarker's daily Top 10, featuring the best sports stories from around the web. Customize your newsletter to get articles on your favorite sports and teams. And the best part? It's free!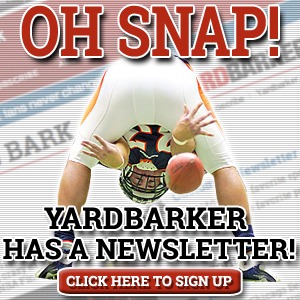 Latest Rumors
Best of Yardbarker

Today's Best Stuff

For Bloggers

Join the Yardbarker Network for more promotion, traffic, and money.

Company Info

Help

What is Yardbarker?

Yardbarker is the largest network of sports blogs and pro athlete blogs on the web. This site is the hub of the Yardbarker Network, where our editors and algorithms curate the best sports content from our network and beyond.