Found July 03, 2013 on Fox Sports North:
PLAYERS:
Zach Parise
,
Ryan Suter
,
Cal Clutterbuck
,
Justin Falk
,
Nino Niederreiter
,
Tom Gilbert
,
Jonas Brodin
,
Marco Scandella
,
Clayton Stoner
,
Mathew Dumba
,
Steven Kampfer
,
Matt Cullen
,
Charlie Coyle
,
Jason Zucker
,
Mikael Granlund
TEAMS:
Minnesota Wild
,
New York Islanders
,
New York Rangers
ST. PAUL, Minn. -- Minnesota Wild general manager Chuck Fletcher played a big game of poker in free agency last summer, ultimately coming away with a full house by signing Zach Parise and Ryan Suter, the two biggest names on the market.Fletcher, with a reshaped roster in part because of those two signings, is looking at a much different game this summer with free agency starting on July 5 and the cash flow around the NHL not in as much abundance due to the decreasing salary cap."There's going to be a game of musical chairs here over the next few weeks," Fletcher said after Sunday's draft, in which Minnesota trading two restricted free agents, Cal Clutterbuck and Justin Falk, for what amounted to young prospect Nino Niederreiter and a sixth-round pick.Fletcher was answering a question based on what Minnesota might do when it comes to defensemen in free agency, perhaps the biggest question on the team after the Wild decided to release and buy out the final two years of Tom Gilbert's contract and still needs to re-sign restricted free agent Jared Spurgeon.After buying out Gilbert, Minnesota has about 6.4 million in salary-cap space -- Gilbert's buyout frees up 4 million -- and the Wild will be looking for defensemen. But Fletcher isn't likely to play the big cards he did in free agency last year. Fletcher might just fold in the early hands to see if he can capitalize later."There's going to be players that don't get contracts, and we'll see from there," Fletcher said. "We'll see if guys are willing to take two-ways, see if guys are willing to come on pro tryouts. I think that there's going to be some opportunities to look at some different things this year. We'll see. But I don't want to have any one-way defensemen, that's for sure. We want a little more flexibility and that's part of what we did (Sunday)."In adding Niederreiter, Fletcher possibly took on more money depending on if Niederreiter plays in the NHL next season, but the flexibility with Niederreiter's two-way contract is Fletcher's biggest concern and focus right now.Fletcher wants to make more changes. Minnesota could use a defenseman or two. Fletcher said he isn't concerned of the team's physical play after Clutterbuck, the team's leading hitter, was traded."We have a lot of grit in our bottom six," Fletcher said. "We have a lot of size. The player we added in Niederreiter, if he's able to make our team, is a big man, is 210-pound player and plays in the hard areas. I'm not worried about physicality. Goal-scoring is always something you want to focus on and then the ability of your defense to move the puck."Fletcher isn't tied to one way of altering the roster. He will still look at trades, as well as what's available -- and at what price -- in the opening days of free agency. Most of all, Fletcher might be looking for bargains this year when all of the NHL is feeling pinched because the salary cap has decreased to 64.3 million for next season."We'll see what we can do by trades," Fletcher said. "We'll see what's there in free agency. And then we'll see, when the dust settles, what may be there as well. I think there's a lot of different ways to go, a lot of different ideas and we'll just see what can happen."Defense is the focus for the Wild. After releasing Gilbert, Minnesota has five NHL defensemen currently signed to contracts. Ryan Suter and Jonas Brodin give the Wild one of the top defensive pairings in the entire league. Marco Scandella, still a promising youngster at 23 years old, re-signed for two years and the team has Clayton Stoner and Nate Prosser.Spurgeon, who Minnesota retained by extending a qualifying offer this week, still has to be signed, but will be back. Mathew Dumba, the 2012 first-round pick, is signed to an entry-level contract and has a chance to make his way to the NHL next season, but the Wild would likely prefer the 19-year-old to develop further in the American Hockey League. Steven Kampfer, who played in 13 games with Minnesota in 2011-12, is also on a two-way contract. The Wild and center Matt Cullen, an unrestricted free agent, have been open to a reunion, but Minnesota needs to make financial room for Cullen. Otherwise, Fletcher is confident in his group of forwards, including Niederreiter, Charlie Coyle, Jason Zucker and Mikael Granlund, who are all on two-way contracts."We have a lot of depth up front right now, so that will be up to the coaches to decide how they feel a player has played," Fletcher said of the team's young players. "It's not a concern at all. Those are four pretty good young forwards. There's still a few more that will be pushing from underneath, guys like (Justin) Fontaine, (Erik) Haula, (Zack) Phillips and (Brett) Bulmer. So, it should be a very competitive camp. And we still may have some more little decisions here over the next little while too, but certainly depth up front is one of the strengths of our team."All that is left is to see how Fletcher plays the latest free-agency game. Follow Brian Hall on Twitter
Original Story:
http://www.foxsportsnorth.com/nhl/min...
THE BACKYARD
BEST OF MAXIM
RELATED ARTICLES
ST. PAUL, Minn. -- Ryan Suter missed out on winning the Norris Trophy, given to the NHLs best defenseman, but his first season with the Minnesota Wild was recognized by the leagues writers on Wednesday.Suter, who signed a monumental 13-year, 98 million contract with Minnesota last offseason as the top defensemen available in free agency, was named first-team on the NHLs First All...
ST. PAUL, Minn. -- The Minnesota Wild were strapped for cash with the NHL salary cap decreasing to 64.3 million this season and it cost the team defenseman Tom Gilbert. Minnesota announced Wednesday that it placed Gilbert, who had three goals and 10 assists last season, on unconditional waivers for the purpose of buying out Gilbert's remaining two years of his contract. Gilbert...
ST. PAUL, Minn. -- The Minnesota Wild will keep defenseman Jared Spurgeon and four minor-league players after extending qualifying offers to five restricted free agents. Spurgeon, 23, is one of Minnesota's top-4 defenseman and paired with Marco Scandella -- who was re-signed earlier this offseason -- during the playoffs. Spurgeon had five goals and 10 assists and was a plus...
The Minnesota Wild have waived defenseman Tom Gilbert. The team announced the move Wednesday. The 30-year-old Gilbert had one season left on his contract for $3 million. If he goes unclaimed by another team, the Wild will use one of their two available compliance buyouts to keep Gilbert's money from counting against their salary cap. He would then become an unrestricted free...
The Wild have made qualifying offers to five restricted free agents: defensemen Jared Spurgeon, Tyler Cuma and Kyle Medvec, and right wings Justin Fontaine and Carson McMillan. The move to retain their rights was made Tuesday. Minnesota did not make a qualifying offer to forwards Joel Broda or Benn Ferriero, making them free agents when the NHL market opens Friday. Ferriero was...
ST. PAUL, Minn. -- The Minnesota Wild sure know how to celebrate the Fourth of July. After signing the two biggest free agents on the market, Zach Parise and Ryan Suter, last year on July 4, Minnesota added former University of Minnesota defenseman Keith Ballard on Thursday, according to the team's Twitter account. Ballard and the Wild agreed to terms on a two-year contract...
This Fourth of July for the Minnesota Wild was a little less eventful than the last. Still, the Wild made another holiday splash by bringing in more help for their blue line. The Wild announced Thursday they agreed to terms on a two-year contract with defenseman Keith Ballard, who was available after being let go by Vancouver earlier this week with a compliance buyout to clear...
English: Tom Gilbert in 2009. (Photo credit: Wikipedia) According to Michael Russo, the Minnesota Wild might have found their first candidate for one of the two compliance buyouts. I think it would be a great move. Gilbert was absolutely brutal last season on the blue line for the Minnesota Wild. Michael Russo, Russo's Rants -- The Wild plans to place Tom Gilbert on...
from Michael Russo of the Star Tribune, The NHL's salary cap next year is $64.3 million. The Wild is being hit with a bonus overage of roughly $400,000 for exceeding the cap last year. That means the Wild's cap ceiling is about $63.9 million, probably less. Buffalo is picking up roughly $800,000 of Jason Pominville's salary, but the Wild still has a $927,778 buyout...
NHL News

Delivered to your inbox

You'll also receive Yardbarker's daily Top 10, featuring the best sports stories from around the web. Customize your newsletter to get articles on your favorite sports and teams. And the best part? It's free!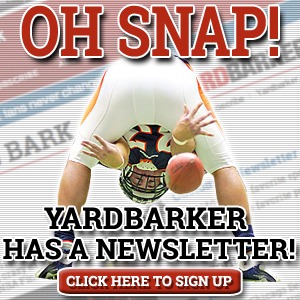 Latest Rumors
The Backyard

Today's Best Stuff

For Bloggers

Join the Yardbarker Network for more promotion, traffic, and money.

Company Info

Help

What is Yardbarker?

Yardbarker is the largest network of sports blogs and pro athlete blogs on the web. This site is the hub of the Yardbarker Network, where our editors and algorithms curate the best sports content from our network and beyond.