Found March 08, 2012 on Fox - The Hockey Guy:
So what's wrong with the San Jose Sharks? They have fallen from the ranks of Stanley Cup contenders. At the moment, they are fighting just to make the playoffs."We're not winning games," coach Todd McLellan told the San Jose Mercury News. "That's what's wrong. It's as simple as that." OK then. Here are some additional details on this team's stunning collapse: On the most recent road trip the Sharks staggered to a 2-6-1 mark. The Sharks have sputtered offensively, scoring three or fewer goals in each of their last 10 games. They scored just four times in the recent four-game homestand. Their power play went 0-for-8. Their top five scorers -- Joe Thornton, Logan Couture, Patrick Marleau, Joe Pavelski and Dan Boyle -- combined for just three assists on the homestand. McLellan returned to the bench after recovering from a concussion suffered in a freak accident on the bench. But at this point, it's not about coaching for the Sharks. It's about what is happeni...
Original Story:
http://icemencometh.yardbarker.com/bl...
THE BACKYARD
BEST OF MAXIM
RELATED ARTICLES
Jeremy Roenick is not afraid to give his opinion. It doesn't matter if he has a huge audience or not, chances are fairly good that his mouth is open. Since being hired as an analyst by NBC Sports a few years ago, JR has had a bully pulpit to say, roughly, whatever he feels like. Sometimes this is good, like whenever he and Mike Milbury clash -- or when he cries on camera if one...
Rock bottom is such a harsh word to use for a team with so much talent and the playoff normality that this franchise and fan base have come to expect, but the word describes exactly how it feels these days to be around the San Jose Sharks. Watching the Sharks' Joe Pavelski score a goal with just under two minutes to play in a crucial Pacific Division battle with the Dallas Stars...
Pattygeddon? It's coming In case you hadn't heard, JR is on another Patty Marleau rampage.  Someone is bitter as hell over his time with Patty and he's not scared to say it. Twitter decided this meat that Patrick Marleau was the reason for all the bad things in the world. Stub your toe, get food poisioning, see the four horsemen of the apocolypse. All Patrick Marleau...
Sam Gagner scored the only goal in the shootout to help the Edmonton Oilers snap a three-game losing streak by beating San Jose 3-2 on Tuesday night in Sharks coach Todd McLellan's first game back from a concussion. Jordan Eberle and Ryan Smyth scored in regulation for the Oilers. Devan Dubnyk made 28 saves and stopped all three San Jose attempts in the shootout as the Oilers...
The Sharks aren't using the word "fragile" anymore.  They aren't talking about the sanctity of three.  I think those are good things.  Now I hear the phrase "in a rut" which feels like a gross understatement but maybe I should think of it as hopeful.  Getting out of a rut is easier than hoping someone finds you before you suffocate face down in a ditch next to a muddy...
The San Jose Sharks and Phoenix Coyotes have each been atop the Pacific Division in the past two weeks. Neither, however, has been able to maintain that position. In a matchup between teams desperate for two points, the scuffling Sharks and Coyotes take the ice Saturday night in Arizona. By opening 2012 with a 10-3-2 run, San Jose (33-24-9) took over first in the division, and...
From Press Release The Martha's Vineyard Sharks announced the signing of Ernie May as the Sharks Head Coach for the 2012 baseball season. General Manager Jerry Murphy and Vice President of Operations Bob Tankard met Ernie in Dartmouth at the end of February and were extremely impressed. His philosophy of running a baseball team is very much in line with what they were searching...
from Elliotte Friedman of CBC, • What's wrong with San Jose? Here's an idea. The Sharks have an internal saying: "Play to three." Basically, it's a belief that if they score three goals, there's no excuse to lose. On Jan. 7, they beat Washington 5-2, running their record to 20-1-2 in those games. They are 4-7-1 since. • Before his injury, Sharks head coach Todd McLellan...
Sharks News

Delivered to your inbox

You'll also receive Yardbarker's daily Top 10, featuring the best sports stories from around the web. Customize your newsletter to get articles on your favorite sports and teams. And the best part? It's free!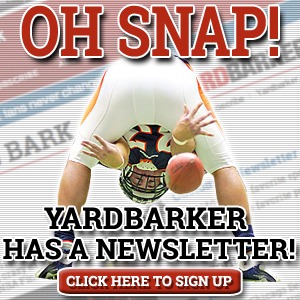 Latest Rumors
Best of Yardbarker

Today's Best Stuff

For Bloggers

Join the Yardbarker Network for more promotion, traffic, and money.

Company Info

Help

What is Yardbarker?

Yardbarker is the largest network of sports blogs and pro athlete blogs on the web. This site is the hub of the Yardbarker Network, where our editors and algorithms curate the best sports content from our network and beyond.