PHILADELPHIA - DECEMBER 03: Roberto Luongo #1 of the Vancouver Canucks defends against the Philadelphia Flyers on December 3, 2009 at Wachovia Center in Philadelphia, Pennsylvania. The Canucks defeated the Flyers 3-0. (Photo by Jim McIsaac/Getty Images)
Once again, Vancouver Canucks goaltender Roberto Luongo is facing a lot of criticism. His backup, Cory Schneider, could start for numerous NHL teams. Sooner or later, the Canucks will have to decide between one or the other. Should they decide to keep Luongo or Schneider in the future? Patrick and I debate…
Roberto Luongo
By Patrick Hoffman
Since joining the National Hockey League, many eyes have been on Vancouver Canucks' netminder Roberto Luongo.
For many seasons whether it was with the New York Islanders, Florida Panthers or Vancouver Canucks, the eyes were positive ones. In many people's opinions, Luongo was one of the best goaltenders in the world and was destined to win the Stanley Cup one day.
Luongo got the chance last season and fumbled it against the Boston Bruins with three subpar performances at TD Garden in Boston. He allowed several soft goals and was pulled in favor of backup netminder Cory Schneider, drawing ire from both Canucks' fans and media.
To make matters worse, Luongo has not gotten off to a great start to this season. Yes, he is typically a slow starter, but his start to this season is causing fans to want to play Schneider more than Luongo – or even ship Luongo out of town completely.
This would be a mistake for the Canucks. It may make sense because Luongo struggled in the Stanley Cup Final last season and is off to a horrific start this season, but trading him would solve nothing for the Canucks.
For starters, Luongo is still one of the best goaltenders in the world. He has proven so by being a Vezina Trophy finalist as the league's best goaltender, winning a Gold Medal at the 2010 Winter Olympic Games in Vancouver, being an NHL All-Star and by getting the Canucks to within one game of winning hockey's Holy Grail.
Secondly, you need two good goaltenders to be successful in the NHL. Once Luongo gets going and Schneider continues his terrific play, the Canucks will easily have one of the best goaltending tandems in the National Hockey League.
Lastly, it is too early in the season to do anything rash. Luongo is typically a slow starter so the Canucks and their fans need to give him some time to get the mower started.
Give Luongo a chance this season, folks. You will not regret it.
---
Cory Schneider
By Ryan Porth
Luongo is a four-time Vezina Trophy finalist, including last season. Talent wise, he is a world class goalie. But that's not the point here. Schneider is young, talented and deserves a chance to eventually become a starter in the NHL. And that chance should come in Vancouver.
There is no denying Luongo's talents. As Patrick mentioned, he has an Olympic gold medal on his resume and posted a miniscule 2.11 goals-against average last season. But, even though Luongo helped the Canucks get within one win of the Stanley Cup last spring, he buckled on the big stage in the Cup final. He also fell apart in previous postseasons against Chicago.
Luongo has had his chance in Vancouver, where the expectations to win a Cup seemingly grow with each passing season. Also, the fan base has turned against Luongo to a point where even winning a Cup may not repair his reputation in that city.
Pundits may say Luongo's contract (which expires in 2022) is 'untradeable' and so forth. Well, Mike Richards and Jeff Carter supposedly had 'untradeable' contracts, but were traded this past summer. If the Canucks deal Luongo, it will open some quality cap room ($5.3 million) to bring in more depth in other areas.
Most importantly, though, Schneider is nearly as good as Luongo (and cheaper), and is only going to improve. Schneider, who will be a RFA next summer, went 16-4-2 with a 2.23 GAA and .929 save percentage last year, claiming a share of the Jennings Trophy. He is 25 years old, is very composed and possesses great skill between the pipes.
The Canucks aren't going to have both Luongo and Schneider forever. If the opportunity ever comes for Canucks GM Mike Gillis to deal Luongo, he should bite on it. 'Bobby Lu' could benefit from a fresh start in a new market, while Schneider has potential and could be the goaltender that helps lead the Canucks to the promised land… because Luongo certainly isn't.
Photo credit: Getty Images
Original Story:
http://www.rldhockey.net/2011/10/satu...
MORE FROM YARDBARKER
NHL News

Delivered to your inbox

You'll also receive Yardbarker's daily Top 10, featuring the best sports stories from around the web. Customize your newsletter to get articles on your favorite sports and teams. And the best part? It's free!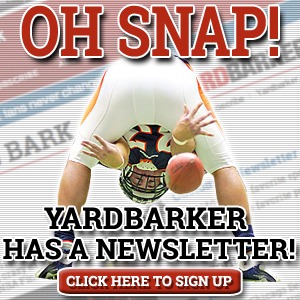 Latest Rumors
Best of Yardbarker

Today's Best Stuff

For Bloggers

Join the Yardbarker Network for more promotion, traffic, and money.

Company Info

Help

What is Yardbarker?

Yardbarker is the largest network of sports blogs and pro athlete blogs on the web. This site is the hub of the Yardbarker Network, where our editors and algorithms curate the best sports content from our network and beyond.