Found August 16, 2013 on Pro Sports Daily:
The breakup of the Senators and Daniel Alfredsson has turned out to be one ugly divorce. Upset with accusations that the club botched negotiations for a new deal GM Bryan Murray told the Sun Thursday he felt like he'd been "thrown under the bus" during Alfredsson's departure news conference. Speaking less than an hour after the former captain told reporters his take on his decision to sign a one-year deal with the Detroit Red Wings on July 5 during a news conference at The Royal Murray said he didn't believe Alfredsson's account was correct. Murray said Alfredsson asked the Senators for a one-year deal at $7 million or two years at $12 million. The club offered one year at $4.5 million but didn't negotiate off that number because Alfredsson's camp never got back to them. "I don't know what I should and shouldn't say. I can say this: I'm disappointed" said Murray when reached in Shawville. "It seems Alfie isn't tota...
Original Story:
http://www.prosportsdaily.com/Headlin...
THE BACKYARD
BEST OF MAXIM
RELATED ARTICLES
Daniel Alfredsson signed a one-year, $5.5 million contract with the Detroit Red Wings on the first day of free agency this year. That's less money than he asked the Ottawa Senators for, but more than they were willing to offer. After Alfredsson's much-anticipated news conference Thursday at The Royal Mental Health Centre in Ottawa, the Ottawa Sun's Bruce Garrioch reported what...
Daniel Alfredsson will officially say his good-byes to Ottawa on Thursday during a news conference in the Winter Garden room at The Royal. Fittingly No. 11 will speak at 11 a.m. The release from the hospital sent out Wednesday stated that Alfredsson -- who ended his 18-year Senators career when he surprisingly signed a free agent contract with the Detroit Red Wings July 5 -- will...
After fourteen updates to the Daniel Alfredsson presser entry, OF COURSE Senators GM Bryan Murray had to do nothing less than speak to OttawaSenators.com's Chris Lund to set the record "straight" regarding what Murray seems to believe was misdirection by Alfredsson's agent, J.P. Barry... On the Alfredsson situation: Well, again, I'm disappointed that Daniel...
Yesterday afternoon, Bryan Murray tried to get his "last word" in on the Daniel Alfredsson situation, blaming Alfredsson's agent, J.P. Barry, for helping scuttle the ship, and now Senators owner Eguene Melnyk's tossing in his Toonie's worth to TSN: "For anyone to even suggest the remote possibility that Bryan Murray is not fully honest in his clear...
Oh boy. Red Wings forward and former Ottawa Senators captain Daniel Alfredsson will be speaking from Ottawa's The Royal hospital at 11 AM EDT, and TSN and Sportsnet will be streaming the press conference--presumably to discuss his significant commitment to The Royal's "You Kno Who I Am" campaign--but TSN and Sportsnet have decided to live-stream the broadcast, the...
Safe to say Daniel Alfredsson's departure from Ottawa was not a smooth one. (AP Photo) One of the biggest shocks of the past offseason's free agency was watching longtime Ottawa Senators winger and captain Daniel Alfredsson walk away from the team. Alfredsson chose to sign a one year, $5.5 million deal with the Detroit Red Wings after talks broke down between the Senators and...
Here's a slate of Tweet summations and articles regarding new Red Wings forward Daniel Alfredsson's "goodbye" presser at Ottawa's The Royal hospital, where Alfredsson has a significant charitable legacy as a member of the Ottawa Senators. I'll update this entry with more news stories and videos as they become available: Work with ROH has been his...
Fans looking for an answer why former Ottawa Senators captain Daniel Alfredsson left their team to join the Detroit Red Wings now have their answer: Money. At a press conference in Ottawa Thursday Alfredsson revealed he and the Senators structured his last contract under the assumption that he would retire before playing the last year for $1 million. That brought the average annual...
The Detroit Free Press has posited a pair of "emptying the notebook"-style articles regarding Red Wings GM Ken Holland and coach Mike Babcock's appearances on Detroit Sports 105.1 FM this past Tuesday. On Friday, Brian Manzullo noted that Holland is unconcerned about the Wings' relative lack of size as they move East, and today, Manzullo notes that Babcock was plain...
If you want to watch the Daniel Alfredsson presser, Sportsnet is streaming it in both the U.S. and Canada on their streaming page... Update: TSN is streaming the presser, too.
Daniel Alfredsson never ceases to amaze. Weeks after admitting to the world that he selfishly left the only NHL franchise he had known for a better opportunity to chase a Stanley Cup, Alfie took the stage shortly after 11:00 am this morning and delivered a broadside blow to the Senators organization worthy of his hit on Darcy Tucker. For fans expecting more of the same canned...
Even before Charles Wang and Sanjay Kumar bought the New York Islanders in 2000 (think: since the "Fishstick" jerseys and John Spano in the mid-90's), the New York Islanders were embroiled in a battle to renovate the Nassau Coliseum, and thoughout the Wang era, whether it was through Wang's "Lighthouse Project" or various referendums, the Islanders were...
Red Wings News

Delivered to your inbox

You'll also receive Yardbarker's daily Top 10, featuring the best sports stories from around the web. Customize your newsletter to get articles on your favorite sports and teams. And the best part? It's free!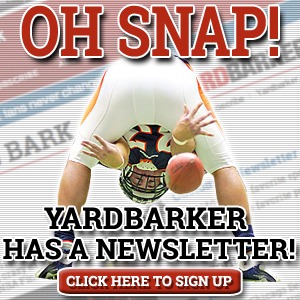 Latest Rumors
Best of Yardbarker

Today's Best Stuff

For Bloggers

Join the Yardbarker Network for more promotion, traffic, and money.

Company Info

Help

What is Yardbarker?

Yardbarker is the largest network of sports blogs and pro athlete blogs on the web. This site is the hub of the Yardbarker Network, where our editors and algorithms curate the best sports content from our network and beyond.