Found December 27, 2011 on Larry Brown Sports:
What is it with hockey fans and throwing dead stuff on the ice? Better yet, what is it with security at hockey games and allowing people to smuggle dead animals into the arena?  The only thing I can think of is that these people stink so badly with the dead thing under their shirts that security just lets them through.  Who wants to go near someone who smells like a dead duck? You obviously don't think it's possible they're carrying a dead duck, you just assume they reek.  Anyway, you can see where this is going.  Check out this video of a San Jose Sharks fans throwing a dead duck onto the ice during a game against Anaheim: Too far?  At least the octopus toss is a tradition in Detroit, albeit an extremely weird and unnecessary one.  The best part about the video is definitely the goalie wanting nothing to do with it.  As referees, sometimes you're face with unexpected dirty jobs.  And you know what they say about dirty jobs. Thanks to Sports by Brooks Live for sharing the story.
Original Story:
http://larrybrownsports.com/hockey/sh...
THE BACKYARD
BEST OF MAXIM
RELATED ARTICLES
THE WAY TO SAN JOSE
Are toddlers and young children inherently smarter these days or are we just doing a better job of capturing their flashes of brilliance on camera? On the surface, it looks like kids are taking up a huge interest in their parents' favorite sports teams. That isn't a new phenomenon, but their knowledge of said sports teams is. What baffles me is how a 3-year-old's memory could...
The NHL's San Jose Sharks have made it a habit for the past couple of seasons to make the most hilarious holiday videos in the National Hockey League. This year's version might be the best as the San Jose Sharks Shopping Network enter our lives for the better:
On the adorability scale, this 3-year-old San Jose Sharks fan ranks somewhere between Joey Junior Blackhawks Reporter and that little Penguins fan that freaked out when his parents revealed themselves as loyal to the Red Wings. Here is hockey parenting at its finest: You nearly had us at "Patwick MAHLEAU!" You definitely had us at "Marc-Edwah VLASIC!" OK, so...
Many, many things have been thrown onto the ice during hockey games. Hats, catfish, octopi, even the occasional waffle. But one San Jose Sharks fan took things to the next level by throwing a dead duck onto the ice when the Anaheim Ducks visited the HP Pavilion. According to CSNBayArea.com, one fan threw an actual duck onto the ice, ostensibly in an attempt to rile up the crowd and...
The Sharks Live Blog for the December 28, 2011 game between the San Jose Sharks and the Vancouver Canucks on CSN California and KFOX 98.5/102.1 FM. a<a href="http://www.coveritlive.com/mobile.php/option=com_mobile/task=viewaltcast/altcast_cod...
The Anaheim Ducks beat the San Jose Sharks 3-2 to break a 13-game road winless streak at the HP Pavilion at San Jose. But that wasn't the only news to hit social media on Monday night. "There's a stoppage in play as someone threw an apparent dead duck on the HP ice. Now that's fowl....Read the Rest...
But team seems content to stand pat with its trio
The Sharks Live Blog for the December 26, 2011 game between the San Jose Sharks and the Anaheim Ducks on CSN California and KFOX 98.5/102.1 FM. a<a href="http://www.coveritlive.com/mobile.php/option=com_mobile/task=viewaltcast/altcast_code=e2...
Last-place Ducks beat San Jose for third consecutive time
By now you have likely seen the video or at least heard about what occurred Monday night at HP Pavilion when a Sharks fan threw a dead duck on the ice during a game between Anaheim and San Jose. Further, I imagine most of you out there were able to connect the dots about why [...]
Should be a fun one. We're gonna see the Sharks a lot more starting next year when the conferences re-align so get ready to get your hate on. Ryane Clowe and Douglas Murray already hate the Canucks. No Higgins for Vancouver, so Mark Mancari is back on the team. Hodgson will centre Ebbett and Weise while Lapierre will centre Malhotra and Mancari. Go Canucks Go.
Sharks News

Delivered to your inbox

You'll also receive Yardbarker's daily Top 10, featuring the best sports stories from around the web. Customize your newsletter to get articles on your favorite sports and teams. And the best part? It's free!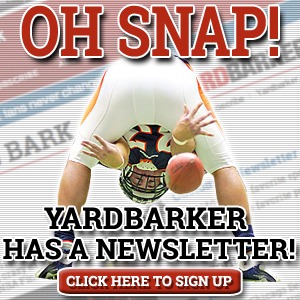 Latest Rumors
Best of Yardbarker

Today's Best Stuff

For Bloggers

Join the Yardbarker Network for more promotion, traffic, and money.

Company Info

Help

What is Yardbarker?

Yardbarker is the largest network of sports blogs and pro athlete blogs on the web. This site is the hub of the Yardbarker Network, where our editors and algorithms curate the best sports content from our network and beyond.