Posted March 23, 2012 on AP on Fox
PLAYERS:
Daniel Winnik
,
Todd Mclellan
,
Joe Pavelski
,
Antti Niemi
,
Zdeno Chara
,
Joe Thornton
,
Tim Thomas
,
Thomas Thomas
,
Dan Boyle
,
Milan Lucic
,
David Krejci
,
Andrew Desjardins
,
Tyler Seguin
,
Patrick Marleau
,
Claude Julien
,
Michal Handzus
,
Tommy Wingels
TEAMS:
Colorado Avalanche
,
Boston Bruins
,
San Jose Sharks
The defense tightened, the bottom lines contributed and the San Jose Sharks put together the kind of complete performance that was lacking in two lackluster losses earlier in the week. Now they need to figure out how to duplicate this performance down the stretch if they want to make it back to the postseason. Daniel Winnik scored his first goal with San Jose to give the Sharks' playoff hopes a needed boost with a 2-1 victory over the defending Stanley Cup champion Boston Bruins on Thursday night. ''When you're in stressful situations it can slow you down, it can make you lethargic, it can make you tired if you allow it to,'' coach Todd McLellan said. ''But if you play free and put it aside and accept the challenge, then you're a little bit faster and you're a little bit fresher. I thought we had that tonight. We didn't have that in the last two games.'' Joe Pavelski scored early in the first period to let San Jose play from ahead and Winnik added insurance early in the third when he ended his 43-game drought without a goal as the Sharks showed much more life than they had against Anaheim and Los Angeles earlier in the week. Antti Niemi made 16 saves as the Sharks allowed a season-low 17 shots. The Bruins, coming off an 8-0 win Monday night against Toronto, didn't get on the board until Zdeno Chara scored with 4:15 remaining to cut the deficit to 2-1. They couldn't get any more and dropped their fourth straight road game - their longest skid since December 2009. Boston remained three points ahead of idle Ottawa for the Northeast Division lead with one game in hand. The Sharks had lost two straight and eight of 11 to put their playoff hopes in peril after making it all the way to the Western Conference finals the past two seasons. They remained in 10th place in the race for one of the eight playoff spots, but trail Dallas and Colorado by one point and are two points behind division-leading Los Angeles and Phoenix. ''We'll just take any win,'' captain Joe Thornton said. ''It was a good win tonight. We still have eight games to go and have a lot of work to do. We know what's at stake. Enjoy this but the next one is the most important game of the year and we'll be ready.'' The Sharks had the better of the play through two periods, outshooting the Bruins 20-9. But San Jose only led 1-0 on Pavelski's early goal because of strong play from Tim Thomas. Thomas made two tough stops on Dan Boyle in the second period before the Bruins nearly got the equalizer when Milan Lucic's deflection of a pass from David Krejci got past Niemi but hit off the crossbar. They finally got the lead early in the third when Andrew Desjardins took the puck from Tyler Seguin on a strong backcheck to start a three-on-two rush. He sent a cross-ice pass to Winnik, who beat Thomas with a high wrist shot for his first goal in 13 games since being traded from Colorado to San Jose. ''I'm not a guy that racks up the points,'' Winnik said.'' I thought since I came here I've been making some nice plays setting guys up. I know it's just a matter of timing.'' That gave the Sharks some breathing room that they needed when Chara banked a shot from behind the net off Niemi and in for the score. San Jose held on for the key win. ''The first half of the game we didn't generate enough in the offensive zone,'' Chara said. ''We were playing a lot on the outside. We were better as the game went on and started creating traffic and putting a lot of pucks on the net. The first half we did not play up to our potential and it was still a close game. But to win, you can't rely on playing well for 30 to 40 minutes, you have to go all out for 60 minutes.'' Now the Sharks need to duplicate that kind of performance against their Western Conference rivals. Seven of their remaining eight games are against the teams in direct competition for the final playoff spots. The Sharks struck first, capitalizing on a strong shift from their top line early in the opening period. Thornton fed Patrick Marleau from behind the net and Thomas made the initial save. But Pavelski was standing all alone at the edge of the crease and knocked in the rebound for his 27th goal that was the only score in the first period. ''They set the pace early in the game and it took us a long, long time to catch up to it,'' Boston coach Claude Julien said. ''We had a lot of players on the top lines looking sluggish. That makes it tough to generate anything. Even when we had the puck they came at is and took away our space.'' Notes: Boston has not won three straight games since a seven-game winning streak in December. ... Winnik's last goal was Dec. 15, 2011, against San Jose for Colorado. ... F Michal Handzus returned to the Sharks' lineup after missing six games with a lower-body injury and F Tommy Wingels was back after missing five games with an upper-body injury.
Original Story:
http://msn.foxsports.com/nhl/story/sa...
THE BACKYARD
BEST OF MAXIM
RELATED ARTICLES
<a href="http://www.mogreet.com/moshare/it/" class="moshare-button-21" data-message="This is quite stupid, but for some reason I found it very entertaining. Probably because seeing an unhappy Sharks fan brings me more joy than...well, just about anything. In LA's crushing 5-2 defeat over San Jose on Tuesday night, the Kings crew decided to prank a...
  Daniel Winnik's third period tally ended a personal scoring drought and propelled the San Jose Sharks to a 2-1 victory over the defending Stanley Cup Champion Boston Briuns. Following a stagnant middle frame in which the Sharks allowed Boston too slowly and didactically gain momentum, San Jose's checking line scored an early third period [...]
Joe Thornton, by almost every account, is one happy dude. But what about Zombie Joe Thornton? Well, more of the same really. The Sharks center appears in cartoon form -- as a zombie -- in a clever little promotional video for RISK:Factions, a video game made by EA Sports. According to the game's Facebook page, RISK:Factions is "a game of world conquest! Take over the world...
In their 5-2 loss to the Kings Tuesday, Martin Havlat may have made a case for a new user-controlled celebration that EA Sports should really consider adding to their NHL series. You tell me, after scoring the tying goal at 15:48 of the 1st period, did Martin Havlat flip out on the Kings fans and give them the middle finger? That screenshot sure looks like it.Here's the clip...
from Eric Duhatschek of the Globe and Mail, The Sharks were a 105-point team a year ago, won two rounds, qualified for the conference championship for a second consecutive year and then ultimately lost to Vancouver, in part because Thornton, their top centre, was injured and could hardly play in the third round because of a separated shoulder. The Sharks were so convinced of their...
Hope you've got a pot of coffee brewing -- this is going to be a late night. A 10:30 p.m. puck drop for the Bruins announces the beginning of the team's road trip out West, and presents them with the challenge of playing the San Jose Sharks. At least, it should be, but the Sharks haven't been playing all that well this year. NESN Nation's Dan Duquette is looking forward...
It's been a tough year for Conference Final losers. The Tampa Bay Lightning are lounging around in the bottom of the Eastern Conference standings while the San Jose Sharks somehow find themselves fighting for their playoff lives in the West with a little over two weeks left in the regular season. The Sharks, widely expected to be a top contender for the Cup this season, have...
The Bruins were coming off two-straight wins and strong defensive performances, heading into their three-game road trip out West. The same defensive swag and intensity that the B's had played with for much of the past few weeks was lacking at points in Thursday's game agains the San Jose Sharks. And Sharks forward Joe Pavelski made Zdeno Chara and the D pay for their sloppy...
San Jose played their most complete game of the month as they beat the Boston Bruins in an exciting 2-1 battle with the game winner coming on Daniel Winnik's first goal as a Shark. "That's probably our most complete game in a long long time" said Joe Thornton after the game "It was just a great effort tonight." The Sharks showed the desperation...
There was a good discussion on Twitter today regarding what changes could be made to the team should the Sharks' season end early. There were a lot of good ideas thrown around and I wanted to highlight a few for those who did not have a chance to participate earlier. I want to thank SirSharkie, @xMostWanted559x, @shampeon, @joedunlavy, @stalockrox, @billythesid, @zeroindlugence...
The Bruins have struggled early against the San Jose Sharks, but maybe it's not their fault. After all, the schedule isn't doing them any favors with this being their latest game on the calendar all year. Coast-to-coast flights can be tough, after all. Just ask Milan Lucic about that. NESN Nation's Dan Duquette is willing to cut the B's some slack for their slow start...
8 a.m. ET: The Bruins open a key West Coast trip with a stop in San Jose on Thursday to face a desperate Sharks club. While the Bruins have gotten back on track with back-to-back wins over Philadelphia and Toronto, the latter an 8-0 whitewash on Monday, the Sharks have dropped two straight and are just 3-5-3 overall in March. That slump has dropped San Jose out of a playoff spot...
NHL News

Delivered to your inbox

You'll also receive Yardbarker's daily Top 10, featuring the best sports stories from around the web. Customize your newsletter to get articles on your favorite sports and teams. And the best part? It's free!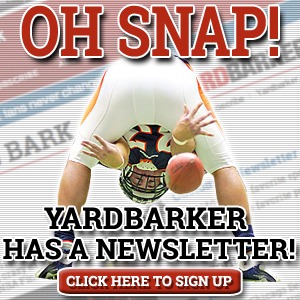 Latest Rumors
The Backyard

Today's Best Stuff

For Bloggers

Join the Yardbarker Network for more promotion, traffic, and money.

Company Info

Help

What is Yardbarker?

Yardbarker is the largest network of sports blogs and pro athlete blogs on the web. This site is the hub of the Yardbarker Network, where our editors and algorithms curate the best sports content from our network and beyond.