Found January 12, 2013 on Days of Y'Orr:
  More great news, folks.  Earlier in the week we announced Shawn Thornton would be making a special guest appearance at the Hockey Resurrection Party. We can now announce that Garden Legend Rene Rancourt, former Bruin Lyndon Byers, and MIke Callahan will also be attending our event at the Harp to help kick off the 2013 Bruins Season. Count us as super-stoked. Rene will be kicking things off with the National Anthem, and will be debuting a new t-shirt in partnership with SupahFans Streetwear. From SupahFans: SupahFans Streetwear and The TD Garden's Boston Bruins' National Anthem singer Rene Rancourt have partnered to design and sell a new officially licensed "Rene Rancourt Tuxedo T-shirt" with his famous silhouetted fist pump and facsimiled Rene Rancourt signature.    Rene Rancourt is eager to welcome hockey fans back this Thursday January 17th opening a free "Hockey Resurrection" party by singing the Nation Anthem at 7 pm at ...
Original Story:
http://www.daysofyorr.com/2013-articl...
THE BACKYARD
BEST OF MAXIM
RELATED ARTICLES
A handful of Bruins went overseas to stay in game shape during the lockout. Milan Lucic wasn't one of those players. Instead, Lucic stuck around Boston to work out and skate on his own, and according to the big winger, he managed to stay in shape. "I haven't gotten fat, I know that much," Lucic said on Toucher and Rich. "I will say, after not playing a game since the end...
The Bruins weren't too thrilled with the way their 2012 ended, especially after their incredible Stanley Cup run in 2011. That means they should be all rested up and ready to tear through the shortened 2013 season. The Bruins will open their 48-game schedule Saturday, Jan. 19, with a 7 p.m. game against the Rangers at TD Garden. Like the rest of the NHL, the Bruins will then play...
Nathan Horton has had to deal with concussion problems each of the last two seasons, but the Bruins forward is back and ready to make an impact. Horton, who is now symptom free, returned to the ice for Bruins practice, and he said he's feeling "really good" despite the long layoff. That's good news for B's fans, as Horton figures to play a crucial role in Boston's attempt...
It appears Rolston, 39 will hang up the skates after not being able to find work before the former CBA expired.Rolston had two stints with the Bruins during his 17 year NHL career. His first was from 1999 to 2004 in which he recorded 101 goals and 135 helpers.Rolston came on board late last season to try and help the Bruins make another cup run. He played in 21 games, scored 3 goals...
The Boston Bruins are well rested and had more players overseas than anyone else in the NHL. So they're well positioned for what should be a sprint of a season following the NHL's 119-day lockout. When the lockout finally ended Saturday, the league announced a busy 48-game schedule beginning Saturday January 19. The Bruins and most other teams opened their shortened training...
If the NHL is the bad spouse and hockey fans are the jilted lover, it will take a lot of chocolate and roses to make up for the pain of a months-long lockout. The Bruins are trying to do their part, although not with confectionary goodies. Instead, Bruins fans coming to home games in January can expect to see free concession vouchers, discounts and giveaways galore. The Bruins announced...
There has been a lot of talk about how players are going to handle the 48-game slate this season. But while some might find the adjustment to be difficult, there is a good chance that David Krejci will hit the ground running. Krejci is undoubtedly one of the more talented players on the Bruins' roster, but consistency has sometimes been a concern. The B's center typically elevates...
The NHL season officially begins Jan. 19. But if you can't wait that long for Bruins hockey, there's good news. The Bruins are opening training camp starting Sunday at TD Garden, with a 1 p.m. on-ice session free and open to the public. Fans can come at noon, and free parking is available in the North Station garage from 11 a.m. to 4 p.m. The Bruins will also be offering a fan...
Will the Bruins trade Krejci before the end of the season?Over the summer there was a lot of speculation over whether or not the Bruins would trade skilled, but sometimes inconsistent center David Krejci. One of the names linked to Krejci was Anaheim's Bobby Ryan.I weighed in on this back in July, when Chiarelli said he was not going to swap Krejci for Ryan. Well here is my take...
It's officially Tuukka time. Tim Thomas' decision to sit out the 2012-2013 season has removed any controversy in the Bruins net minding department.Rask, 25 is done being a back-up and is ready to be an everyday starter in the NHL. Tuukka has waited patiently for the last two years while Thomas dominated time in the crease.Tuukka-mania began in the 2009-2010 season when the...
After finishing first in the division last year with a 10 point lead over Ottawa is there any chance the Bruins fail to repeat as Northeast champs? Besides a slot up for grabs on the left wing of the third line and a new pair of defenseman at the end of the bench the Bruins skaters will look identical to last year.  Assuming Claude doesn't get cute and try to mix things up off...
The Bruins hold their first official practice at the Garden tomorrow at 1pm. This is a free event and there will be free parking at the North Station Garage at a first comes first serves basis. Doors open at noon, so if you are planning on attending before the pats game, i suggest get there early. You can see the rest of the training camp schedule here. Also to note tickets go on...
Bruins News

Delivered to your inbox

You'll also receive Yardbarker's daily Top 10, featuring the best sports stories from around the web. Customize your newsletter to get articles on your favorite sports and teams. And the best part? It's free!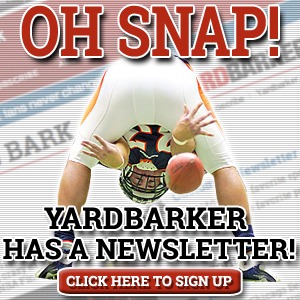 Latest Rumors
Best of Yardbarker

Today's Best Stuff

For Bloggers

Join the Yardbarker Network for more promotion, traffic, and money.

Company Info

Help

What is Yardbarker?

Yardbarker is the largest network of sports blogs and pro athlete blogs on the web. This site is the hub of the Yardbarker Network, where our editors and algorithms curate the best sports content from our network and beyond.