Found April 11, 2013 on With Leather:
Pittsburgh's 96.1 KISS FM Morning Freak Show, presumably hosted by Wet Spot and the Beej, decided to quell some boredom yesterday by starting a Twitter rumor that Pittsburgh Penguins star Sidney Crosby is dating country-turned-pop star Taylor Swift. Normally, I'd be like, "Stupid morning radio dinosaurs startin' poop with awful photoshops" but not this time, because this rumor totally seems like it could be true.For example, Swift is playing at the Amway Center tonight in my beloved Bethlehem of the meth belt, Orlando, and I wouldn't even flinch if someone walked up to me in a strip club and said, "Hey I heard Sidney Crosby's in town because Taylor Swift is playing a show tonight" because she has a different boyfriend every week. In fact, I'm shocked that she hasn't dated Crosby yet. Hell, any pro athlete for that matter.So because it's eventually going to happen, and Swift will break up with whichever athlete she gets her talons on (please be Tebow, please be Tebow…) and then she'll write an entire album about him, I took the liberty of writing her first hit single off that album."Three Strikes and You're No Good"Music by Taylor Swift Lyrics by Ashley "Colonel Lovejuice" Burns Inspired by [Insert Athlete's Name](First verse)You may lead the league in blocks But there's no time left on my clocks Your home runs may pack the stands But honey we ain't holdin' hands No moooooooooooore(Chorus)Strike one, you're no fun Strike two, who the heck are you? Strike three, to be mean to me Strike four, you're out the door My heart split the uprights but you're no good(Second verse)It's a good thing I'm not an ump Because I'd give your head a lump I'd check you into the glass And you'd never touch my… *shhhhh* No moooooooooooore(Chorus)Strike one, boy, you're done Strike two, lace up your shoe Strike three, bring on the punt team Strike four, my heart strings just tore Put me on the 60 day DL because you're no good(Bridge)You said you're from the school of hard knocks But now you're in my penalty box You'd rather judge a wet t-shirt party Then treat me like your Lombardi Now I'm cutting you from my roster before opening day Because you just hit into a triple play You're my lousy Scott Norwood, cuz you're no good, no good no gooooooooood(Third verse)So go use performance-enhancing drugs While you're out there endorsing UGGs Cuz you ain't on my lineup card tonight And these benches won't clear to fight No moooooooooooore(Chorus)Strike one, I'm calling an audible to shotgun Strike two, my whistle blew Strike three, don't blame the referee Strike four, get off the floor That's someone else with me on the Kiss Cam, cuz you're no gooooooooodThe post Sidney Crosby Is Not Dating Taylor Swift, But If He Was It Might Go Like This… appeared first on With Leather.
Original Story:
http://feedproxy.google.com/~r/uproxx...
THE BACKYARD
BEST OF MAXIM
RELATED ARTICLES
Via theFreakshow  Around 11pm on Wednesday twitter started to crap its pants with the rumor that Sidney Crosby and Taylor Swift are dating. It actually was trending. Who is Sid dating... We don't know and honestly don't care Lets play mythbusters here.... Below is the horrible photoshop that started the Taylor/Crosby rumor on tumblr that quickly spread to...
By Greg Thornberry 4/11/2013 Pittsburgh Penguins Sidney Crosby is out indefinitely with a broken jaw, but he can still win the NHL scoring title. How, do you ask? Well I will tell you how! The most likely candidates to overtake Crosby are Tampa Bay Lightning stars Steven Stamkos and Martin St. Louis. Sidney Crosby: 56 [...]
The arrival of the NCAA Frozen Four in Pittsburgh this week is letting the city showcase its blossoming love of the game. Pittsburgh already has one of the NHL's best teams in the Penguins and the game's brightest star in Sidney Crosby. The team's popularity has helped hockey flourish at a grass roots level. Youth leagues are burgeoning and western Pennsylvania is annually...
Pittsburgh Penguins center Sidney Crosby's broken jaw is healing and showing no signs of post-concussion syndrome. But he remains, as does elite winger James Neal – who is recovering from a concussion suffered against the New York Rangers.That is forcing the Penguins to shuffle their lines and give bigger roles to newcomers Jarome Iginla, Brenden Morrow and Jussi Jokinen during...
The Pittsburgh Penguins are in their worst scoring drought in a 10 game span in years and it's getting worse.   The Penguins have registered only 3 goals over the last three games and have just announced that their leading goal scorer over the last two years, James Neal, is out with a concussion. Nobody can say for sure whether the elbow Rangers defenseman Michael Del Zotto...
Pittsburgh Penguins (30-10-0) @ Tampa Bay Lightning (17-20-2) ROOT, NBCSN, TSN - 7:30 pm/et Tampa Bay Times Forum - Tampa, FL Kris Letang is back. Season Series: 2-0-0 Last meeting that counted: March 4, 2013. Penguins won 4-3. What we said in our recap: Two years ago, Sidney Crosby returned from a concussion against the Lightning, and...
Penguins News

Delivered to your inbox

You'll also receive Yardbarker's daily Top 10, featuring the best sports stories from around the web. Customize your newsletter to get articles on your favorite sports and teams. And the best part? It's free!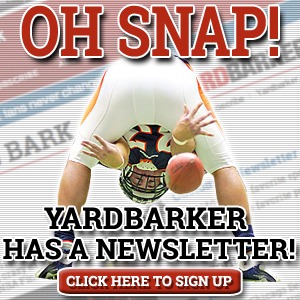 Latest Rumors
Best of Yardbarker

Today's Best Stuff

For Bloggers

Join the Yardbarker Network for more promotion, traffic, and money.

Company Info

Help

What is Yardbarker?

Yardbarker is the largest network of sports blogs and pro athlete blogs on the web. This site is the hub of the Yardbarker Network, where our editors and algorithms curate the best sports content from our network and beyond.