Found June 15, 2013 on Boston's Bettah:
Nathan Horton may or may not play tonight in game two of the Stanley Cup Final. Turns out he has a shoulder that has been dislocating over the past two months more than Mel Gibson's in Lethal Weapon 2. If there was ever more proof that hockey players are the toughest players in the world, Nathan Horton would be up there on that list. Losing him would hurt. He has been the top +/- guy in the playoffs to this point and he has scored many a timely goal in this playoffs. In addition, his chemistry with his line-mates has led to goals like this: A baby will be born nine months from now because of that goal, but I digress. Tyler Seguin is almost the exact opposite of Nathan Horton, but bless his soul he is trying. Seguin has scored once in the playoffs, in game four of the Eastern Conference Semi-Finals. He's supposed to be the Boston Bruins most natural goal-scorer, but clearly that hasn't happened for him this post-season. Getting moved down to the third line with the corpses of Rich Peverley and Chris Kelly certainly didn't help Tyler's cause, but it doesn't excuse the fact that Tyler Seguin needs to start putting the puck in the net. It isn't as if Tyler is playing poorly. He is getting plenty of chances and he is skating hard and doing (hockey cliche alert!) little things, he just hasn't put it all together. Sometimes all a player needs is to let someone else do the playmaking. If Horton is out, that's exactly what Tyler will be able to do. See, on the third line, Seguin is the only offensive player. Chris Kelly is really a penalty-killer and defensive player only at this point and Rich Peverley died last April in the Eastern Conference Quarterfinals. For the third line to score, Tyler Seguin not only has to get himself open, but he also has to score the goals too. A lot to ask for sometimes. With Horton out, Seguin will skate with #BestPlayerInTheWorld (God, kill me for that hashtag) David Krejci, the playoffs' leading scorer. He is because of his playmaking. With Krejci on his line, all Tyler would have to do is win some space in the circles, work hard in the cycle, and David Krejci will find him for easy opportunities. David Krejci is playing at a level that makes the game easier for everyone, something Tyler Seguin desperately needs. They need his production too. Since coming onto the scene in game two of the Eastern Conference Finals in 2011, Tyler Seguin has been somewhat of a playoff ghost. At some point, the highly touted Bruins scorer has to bring that 30-goal production with him into a playoff game. What better time to start than the Stanley Cup Final?
Original Story:
http://www.bostonsbettah.com/?p=6118
THE BACKYARD
BEST OF MAXIM
RELATED ARTICLES
Forward Nathan Horton practiced with the rest of his Boston Bruins teammates at United Center on Friday, showing no major signs he's hobbled by what reportedly is a serious shoulder injury. Bruins coach Claude Julien said Horton remains day to day. "If he feels good, he's in the lineup," Julien said. "Simple as that." Horton left the ice in obvious...
Boston Bruins forward Nathan Horton said he's ready to skate in Game 2 of the Stanley Cup Final on Saturday night at United Center. Just as crucial, his coach agreed hours before the puck dropped. "He feels really good, "Bruins coach Claude Julien said. "He looked really good out there, the last two days. There's absolutely no reason he shouldn't play...
The NHL has had some fantastic luck with the players they have chosen to mic up during their games.  In the triple overtime Game 1 thriller, the game-winning goal scorer Andrew Shaw was mic'd up.  This time in overtime of Game 2, Tyler Seguin was mic'd up and he set up the game-winning goal.  A lot of it had to be edited out because of Seguin swearing, but if I'm a Bruins...
Nathan Horton may be lying, just a little bit. At this time of the year, though, that's the way of the world in the NHL. Horton declared himself ready to go for Saturday night's Game 2 of the Stanley Cup Final despite leaving Game 1 with a shoulder injury, which he did not return from. However, he says he feels good, and he's going to give it a go against the Blackhawks. In...
Photo credit: Paul Bereswill CHICAGO—According to a report from DJ Bean of the Big Bad Blog on WEEI.com, Boston Bruins forward Nathan Horton has been dealing with a chronic shoulder subluxation, which is why he left Game 1 on Wednesday night in pain. In a cruel twist of irony, the injury was first suffered when the gritty forward fought Pittsburgh Penguin Jarome Iginla back on...
Nathan Horton is down but he's not out. Horton, who appeared to suffer a left shoulder injury during overtime of Game 1 of the Stanley Cup Final, was practicing on Friday afternoon. The winger was splitting time with Tyler Seguin on the first line alongside David Krejci and Milan Lucic. Horton, who has 18 points this postseason, never returned following his injury. Horton is reportedly...
Boston Bruins forward Nathan Horton left Wednesday night's Bruins-Blackhawks game in the first overtime due to what Bruins coach Claude Julien suggested was an, "Upper-body injury," but the Boston Bruins' beat writers believe that Horton aggravated a "subluxated" shoulder originally caused by an ill-timed fight with Jarome Iginla on April 20th. The Boston...
The Boston Bruins have gotten some good news, Nathan Horton will play in game two, so the Hulk Line will "start" the game in tact. It will be interesting to see how long Horton can go, his shoulder has been messed up during the 2013 Stanley Cup Playoffs. Hawks have won 8 of 9, including 3 in OT and 6 straight at home. Bruins have not lost in regulation since Game...
It's the Stanley Cup Final, so you have to take every injury update from a head coach with a grain of salt, but Bruins head coach Claude Julien sounds at least somewhat hopeful in regards to Nathan Horton. Horton had to leave Game 1 of the Cup Final against Chicago with an apparent upper-body injury and did not return. Julien offered no update on Horton following the game, and...
Immediately following Game 2 of the Stanley Cup Final between the Bruins and Blackhawks, ESPN's SportsCenter account figured they'd try their hand at tackling this whole "hockey" phenomenon with an exciting tweet recapping the game. Unfortunately, nobody told them that Daniel Paille, NOT Tyler Seguin, netted the game-winner for Boston. The tweet was quickly deleted and all...
The Bruins are coming off of a tiresome loss in game one. The game went in to triple overtime and as the Blackhawks scored the game winner, most people in both Chicago and Boston were fast a sleep. The Bruins blew a two goal lead in the third period and then passed on many chances to score in over time. The Bruins played great during intervals of the game and should have won. That...
The team that stands victorious at the end of a best-of-seven series is often the team with the shortest memory. After a loss — even a triple-overtime one — great teams learn from their mistakes, but do not dwell on them. After the Bruins dropped Game 1 of the Stanley Cup Final to the Blackhawks on Wednesday night (or, technically, early Thursday morning), the players underwent...
Bruins News

Delivered to your inbox

You'll also receive Yardbarker's daily Top 10, featuring the best sports stories from around the web. Customize your newsletter to get articles on your favorite sports and teams. And the best part? It's free!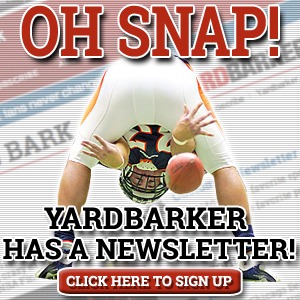 Latest Rumors
Best of Yardbarker

Today's Best Stuff

For Bloggers

Join the Yardbarker Network for more promotion, traffic, and money.

Company Info

Help

What is Yardbarker?

Yardbarker is the largest network of sports blogs and pro athlete blogs on the web. This site is the hub of the Yardbarker Network, where our editors and algorithms curate the best sports content from our network and beyond.