Found November 01, 2011 on Blue Seat Blogs:
In his post game interview last night, Joe Thornton was upset that his San Jose Sharks lost to a "very soft Rangers team." Thornton continued this by stating that the Rangers were the softest team they played on their road trip. Well, let's define soft. To me, soft is a team that is unwilling to do the dirty work to get the job done. They won't deliver hits, won't go into corners, won't block shots, and won't clear the crease. In essence, they just want to Roger Dorn their way through the game. Let's start with the two areas that have stats: hits and blocked shots. The Rangers are currently 10th in the league in hits with 238, which isn't too shabby. Hits are a tough stat to really measure, because the home scorekeeper generally inflates this stat a bit. Since the Rangers have only played three home games, expect this number to increase a lot. I would expect the Rangers to finish in the top-five in hits. As for blocked shots, well we all know the Rangers block shots. They have 151 blocked shots thus far, good for 16th in the league, way off from last year's league leading pace. Blocking shots is a double edged sword. It shows a certain toughness to be able to sacrifice your body to block a 90+ MPH shot, but it also takes a certain stupidity to do it against a Zdeno Chara slap shot (cough, Cally, cough). Not many players block shots regularly, but it seems almost every Ranger is willing to block a few shots for the team. As for working in the corners, well that's a tough area to really quantify with stats, so we have to go with the eye test. Looking up and down the Rangers roster, we know who will work in corners, and who won't. Every team has players on both sides of the fence. Let's call this one a wash. Where Thornton may have some accuracy is in the clearing the crease area. The Rangers have struggled with that for many years, as it seems that Henrik Lundqvist gets run on a daily basis. It is less of a problem lately with the additions of Mike Sauer and Ryan McDonagh, both of whom are willing to knock someone down. However, the injury to Marc Staal does leave something to be desired in terms of physicality on the blue line. Injuries happen though, and it's not an excuse. But has anyone really considered the source of this? Joe Thornton is not exactly known for his toughness, and for his willingness to do the dirty work. He's not a Ryane Clowe, or a Ryan Callahan, or a Ryan McDonagh, or (insert some guy named Ryan here). He's a finesse player, and a superb one at that. If Clowe were calling the Rangers soft, then there might be some credence to the statement. However, coming from Thornton, the only reaction should be "eh."
Original Story:
http://www.blueseatblogs.com/2011/11/...
THE BACKYARD
BEST OF MAXIM
RELATED ARTICLES
We can all debate the merits of what Joe Thornton said way back on Halloween, in the wake of a loss in New York to close the Sharks' long and successful road trip. Maybe not the wisest words ever uttered. I'm not debating. Definitely not critiquing. I'm just supporting: If... Continue reading...
Leading up to the Rangers/Sharks game Monday night, there had been a huge divide between Rangers fans on recalling Sean Avery. You had the one side that felt his antics have become tiresome, while the his cult-like followers felt he will add a much needed spark to a lifeless Rangers squad. Full disclosure, I am a card carrying member of the #AveryArmy.Most of the Avery fans solely...
John Tortorella didn't appreciate San Jose Sharks captain Joe Thornton calling his team "probably the softest team we played against." The New York Rangers had just defeated the Sharks by a 5-2 decision on Monday when Thornton noted that "we played some good teams, and I think we probably should have beat these guys, to be honest with you." Well, Tortorella...
It was an apologetic Joe Thornton who addressed the local media Wednesday, again saying that he wished he had chosen his words differently after the Sharks' 5-2 loss to the New York Rangers on Monday.
In the last two years, Joe Thornton has worked hard to shake the reputation he's earned in the NHL as a passive player. He's been tougher, more aggressive and more assertive. Joe Thornton has been clutch, which is something a lot of us probably thought we'd never associate with Joe Thornton. And yet, Joe Thornton calling someone or something else "soft" is like...
One could hear the clarification coming from miles away: Joe Thornton — frustrated by the San Jose Sharks' effort in the last game of their road trip, losing for the first time on that six-game swing to the New York Rangers — drops the S-bomb on the Blueshirts: "To be honest with you, they were probably the softest team we played against on this road trip." As we...
John Tortorella did not appreciate Sharks captain Joe Thornton calling the Rangers soft after the Blueshirts defeated San Jose, 5-2, Monday night. Not one bit.
… good for Torts that he didn't let the "soft" comment from Sharks center Joe Thornton slide.  Hat tip to Adam Rotter of SNYRangersBlog.com for the video. 
By Alexander Monaghan President  Following tonight's disappointing 5-2 loss to the New York Rangers, San Jose Sharks captain Joe Thornton felt the need to blow off steam. Instead of giving his opponent credit for playing a better game, he downplayed the victors. According to Chris Botta of the New York Times, via Twitter, Thornton said "They were probably the softest team we...
John Tortorella did not appreciate Sharks captain Joe Thornton calling the Rangers soft after the Blueshirts defeated San Jose, 5-2, Monday night. Not one bit.
Greg found this somewhere on the Internet.What a find this is. The Lost City of Atlantis wouldn't be as big.Question is. What is Luongo being so dramatic about?Our ideas after the jump... Tim Thomas being a badassA Sedin being a *****.Hearing the news Jon got engaged.Current NHL goaltending leader.Patrick Kaleta ******* a goat... again. Baby Pizz photoshop What Joe Thornton...
The Rangers won't face the Sharks anymore in the regular season, but coach John Tortorella got in his blows yesterday at San Jose center Joe Thornton for calling the Blueshirts "soft.'' An incensed Tortorella branded the 6-foot-4, 230-pound Thornton as a "classless'' individual who's never won anything and...
NHL News

Delivered to your inbox

You'll also receive Yardbarker's daily Top 10, featuring the best sports stories from around the web. Customize your newsletter to get articles on your favorite sports and teams. And the best part? It's free!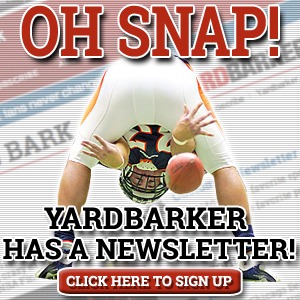 Latest Rumors
Best of Yardbarker

Today's Best Stuff

For Bloggers

Join the Yardbarker Network for more promotion, traffic, and money.

Company Info

Help

What is Yardbarker?

Yardbarker is the largest network of sports blogs and pro athlete blogs on the web. This site is the hub of the Yardbarker Network, where our editors and algorithms curate the best sports content from our network and beyond.