Found January 15, 2013 on Fox Sports Carolinas:
RALEIGH, N.C. -- This Saturday night should be a bit emotional for the Staal brothers. For the first time as professional hockey players, Eric and Jordan Staal will take the ice together as teammates when the Carolina Hurricanes visit the Florida Panthers, kicking off an NHL season that normally would have begun three months earlier. The wait, due to a lockout that lasted more than 100 days, has only heightened the sense of excitement for the Staals, who became teammates on June 22 when Jordan was acquired from the Pittsburgh Penguins in a trade. Jordan, 24, was basically waiting at the altar for his bride-to-be when he learned of the news. A star with the Penguins, he was joining his older brother, a perennial All-Star, on a team that has intriguing potential. "It was obviously a lot of emotions that day, and finding out Im moving here and get to play on a great team and getting to play with Eric was a really cool feeling," Jordan said. The pair is just two of four Staal brothers currently signed to NHL contracts. Marc plays with the New York Rangers, and Jared, the youngest at 21, plays for the Hurricanes minor league affiliate in Charlotte. Upon getting Jordan, the 'Canes locked him up with a 10-year, 60 million extension, so the brothers plan on being teammates for the foreseeable future. And thats a good thing for Carolina fans. Eric has scored 250 goals and handed out 324 assists in his career, which includes a Stanley Cup championship in 2006, and Jordan has 120 career goals and 128 assists. The 'Canes closed the season playing well last spring and made some interesting offseason moves that should put them in the playoffs come May. Carolina came up short a year ago, even though Eric Staal had 50 points in the teams final 43 games. He slumped early in the season, though, and getting Jordan should relieve some of the pressure to produce. The younger Staal had 25 goals and 25 assists with the Penguins and also scored six goals in the playoffs. Hes considered excellent at killing penalties and checking, an area the 'Canes needed improvement. He's also regarded as a terrific teammate. Initially, some Hurricanes executives wanted to play the brothers together on the same line, even though both are centers. But as it stands, Eric will lead the first line Saturday, with Jordan handling the middle on the second line. Carolina has considerable depth, but didnt want to put all of its eggs into the same basket. But theres no doubt that circumstance will demand the Staals will occasionally be on the ice at the same time. "Oh, no question, there'll definitely be moments when well be out there together," Eric said. "Theres a lot of games and theres a lot of different situations during games that arise, and Im sure in special teams or even 5-on-5 in the third period or certain nights to get things going well wind up on the same line." When they are, it will somewhat seem like old times in the Staal household. They grew up in Thunder Bay, Ontario, the sons of sod farmers. And as long as their memories can stretch, the Staals remember playing hockey together. It was in their DNA from day one. "It would be outdoors skating, really," Eric said when asked about his earliest memory. "We did everything. Outdoors in the winter, outdoors in the summer, mini-sticks in the house, anything that involved hockey when we were young we did. I have memories with all three of my brothers doing that sort of thing." Jordans early memories include mini-sticks and their mom playing referee. "We were all close in age, so when we were home we were always with each other, playing games, whether it was hockey or basketball or anything really," Jordan said. "It was always competitive and a lot of fun ... "Our mom made sure we stayed in line. There werent too many elbows thrown or sticks thrown, but there was a few times when it got a little heated. But our mom kept us in line usually." And here they are, about the start a season together in the NHL. This is a role they played out as kids, and now it's becoming a reality. Eric says the process has recently been a bit of a "whirlwind" and that its "tough to get a good sense of it, yet," meaning grasping the reality they are teammates for the long haul. But its here, prompting the question: Whats more exciting, adding a player with Jordans skills or simply adding Jordan? "A little bit of both," Eric responded. "For me, Ive been here a while and mostly as player I know how good he is, Ive played against him for a couple of years. Hes got presence on the ice and now hes on our squad. Its real exciting for me and Im looking forward to seeing what he can do going forward." Jordan, naturally, gave a similar answer to the same question. "Both, obviously its great for our family and to be able to play with your brother at this level," he said. "Its something special, and at the same time hes a really good player. He leads this team so well, hes so great on the ice and hes been a superstar in this league for a long time, hopefully I can elevate his game even more." Jordan admitted Saturday night won't be business as usual before the game and when he takes the ice. It will be emotional, and thats understandable. Saturday will be a special night for Henry and Linda Staal and everyone in the hockey-heavy family. It will be for the Hurricanes, too. They didn't make this family reunion happen for a feel-good story, they did it to better their chances at winning. It should work. The Staals are that good.
Original Story:
http://www.foxsportscarolinas.com/01/...
THE BACKYARD
BEST OF MAXIM
RELATED ARTICLES
Hockey was indeed alive and well in North Carolina during the lockout, as the Charlotte Checkers got off to one of their best starts in team history and have the second best record in the AHL at 23-11-2-3. Their performance during the lockout was very promising for the Hurricanes organization because most of Charlotte's top players were younger players who the Hurricanes drafted...
Earlier on Wednesday, the Carolina Hurricanes made the decision to put both Brett Sutter and Andreas Nodl on waivers, meaning that the Canes are very close to trimming their roster down to the 23 player limit.  Assuming they put Tuomo Ruutu on Long-Term Injured Reserve, the Canes would need to make one more cut to reach the limit and if they don't, then two players need to go...
On Sunday afternoon, the Carolina Hurricanes opened their training camp for this season, beginning what is sure to be an exciting week for the entire NHL. The Hurricanes camp in particular is going to be very fascinating to watch for a few reasons. Firstly, this is their first camp under head coach Kirk Muller and in addition to that, they have a few new players coming in along with...
The Hurricanes made their first round of roster cuts this afternoon by sending forwards Riley Nash and Jeremy Welsh to the club's AHL affiliate in Charlotte. Nash was a long-shot to make the team, but many expected Welsh to get a look at the third line center spot. He is going to have to wait until later in the season to get his shot there now. Some may say that neither player...
RALEIGH, N.C. -- The National Hockey Leagues Carolina Hurricanes, and the teams broadcast partner FOX Sports Carolinas, today announced that all 48 games of the Hurricanes 2012-13 season will be televised. Of the 48 games, 45 games will be carried on FOX Sports Carolinas, while three will be carried on FOX Sports Carolinas sister station, SportSouth. As always, John Forslund will...
Call the FBI! Carolina's Jim Rutherford was robbed! Kevin Westgarth, who wasn't going to play at all this season given the shortened schedule and the fact that the West doesn't have any heavyweights anymore was sent home to Carolina in exchange for first round bust (and waived but not claimed) Anthony Stewart (taken one slot ahead of Brian Boyle and 3 slots ahead...
The Carolina Hurricanes aren't content to simply build for the future. This year, they're going Staal in. This marks a big year for a small-market franchise that has made the playoffs just once since winning the 2006 Stanley Cup. The Hurricanes are looking to take a significant step forward in coach Kirk Muller's first complete season, and they spent some significant...
from Rory Boylen of The Hockey News, If you can't wait to see Dallas Star Jaromir Jagr, Carolina Hurricane Jordan Staal, New York Ranger Rick Nash, or Minnesota Wild Zach Parise and Ryan Suter, you're not alone. If you stand in eager anticipation for the return of NHL hockey on Saturday, whether you plan on sitting through a day's worth of games or simply nestle in...
from Scott Burnside of ESPN, What markets will suffer the most because of the lockout? Maybe none will. But we'll be interested in places such as Anaheim, which needs success to reinforce its place in the marketplace galvanized most recently by the 2007 Cup win. Dallas needs a strong start and a playoff berth to help new owner Tom Gaglardi realize his dream of restoring...
NHL News

Delivered to your inbox

You'll also receive Yardbarker's daily Top 10, featuring the best sports stories from around the web. Customize your newsletter to get articles on your favorite sports and teams. And the best part? It's free!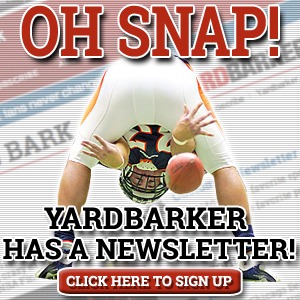 Latest Rumors
The Backyard

Today's Best Stuff

For Bloggers

Join the Yardbarker Network for more promotion, traffic, and money.

Company Info

Help

What is Yardbarker?

Yardbarker is the largest network of sports blogs and pro athlete blogs on the web. This site is the hub of the Yardbarker Network, where our editors and algorithms curate the best sports content from our network and beyond.