Found January 08, 2013 on Fox Sports Southwest:
FRISCO, Texas-- Like every other NHL general manager, Stars GM Joe Nieuwendyk doesn't really know when training camp or the upcoming shortened regular season will start as the schedule as well as the league calendar for what figures to be a 48-game regular season figures to be finalized later this week once the new collective bargaining agreement is ratified both by the NHL's Board of Governors and the NHL Players Association. But even with so much uncertainty swirling around his club, the 2011 Hockey Hall of Fame inductee still has a pretty big task at the top of his to-do list before the season starts-get a new contract for top young forward Jamie Benn. The 23-year-old wingercenterman comes off a season where he finished with a career-high 63 points and earned his first career trip to the NHL All-Star Game. Getting "Bennie" signed to a new deal, which can't officially happen until the CBA is ratified by both sides, is job one for Nieuwendyk before the puck drops on the new season and for good reason. Not only does he, along with fellow youngster Loui Eriksson, a 2011 NHL All-Star, comprise what is a talented young core for the Stars, but Benn also figures to be a face of the franchise for a number of years to come, so getting him locked up is imperative. According to Nieuwendyk, negotiations between the club and the Benn camp have been an ongoing thing for some time now. "We've had talks with Jamie for a year and a half now. We know the parameters. There's other players that are in the same boat with Jamie around the league. So I think we're all kind of going through the same thing. We're just sifting through all the information now. It's a little early and we don't know when training camp is. But we've made it clear to them that it is a priority to us," Nieuwendyk said. "They know that and Jamie knows the way we feel about him and the importance on our hockey club and we want to have him in camp." During the lockout, Benn spent time playing in Germany but according to the Dallas GM the talented all-star has been home in his native British Columbia for about three weeks now. With many of the Stars already in town or others, like newcomer Jaromir Jagr, Eriksson and Michael Ryder, who led the team with 35 goals last season, arriving by Thursday, the man in charge in Frisco definitely wants to see a deal get done soon so he can start skating with his teammates yet again. "Well, I think it's important but time will dictate that," Nieuwendyk said. "We want to get him in here as quick as we can and get him up and running because by Thursday I think everybody will be here-Jaromir Jagr, Loui Eriksson and Michael Ryder. So we'll have our full complement of guys."
Original Story:
http://www.foxsportssouthwest.com/01/...
THE BACKYARD
BEST OF MAXIM
RELATED ARTICLES
When we last left the Jamie Benn contract, the Dallas Stars were struggling to get the restricted free agent center signed to a new contract before the expiration of the NHL's Collective Bargaining Agreement on Sept. 15. Now that the lockout has been settled, the same situation still exists with the start of a short training camp and abbreviated regular season looming by Jan...
There's no doubt among Stars fans that the last four seasons have been pretty tough to watch since that's how long it's been since the club has participated in the Stanley Cup Playoffs. But now that the lockout is close to officially ending and the puck is about to drop on a truncated 48-game season, as is the case with the start of each new season, hope springs eternal...
The Stars enter this season with the forward position as good as it's been in a long time. The team actually has a true top-six instead of a top-four and two late line grinders and signed a couple of guys to shore up a horrific power play. It's a solid mix of veterans, a couple of guys in their primes on the verge of superstardom and a rather talented group of young prospects...
Originally, new Dallas Stars forward Jaromir Jagr was not going to play in yesterday's Extraliga game between HC Rytiri Kladno (Kladno Knights) and HC Litvinov. As with most returning NHL players, Jagr understood the need for caution. No one wants to risk injury right before heading back to North America. But Jagr isn't most players. He is an icon in the Czech Republic...
FRISCO, Texas -- In a lot of ways, the rough going Brenden Morrow experienced last season mirrored exactly how things went for the Dallas Stars as a team. The Dallas captain missed 25 games due to a combination neck and shoulder injury and finished the year with just 26 points (11-15-26) in 57 games, a sharp drop-off from the year before when he led the team with 33 goals. And once...
There are not too many players in the NHL for whom I feel the lockout was beneficial in the long run. But in the case of some players who were rehabbing injuries that would have forced them to miss time had the 2012-13 season begun on time, the added recuperation time could prove to be beneficial. One such player is new Dallas Stars center Derek Roy. After undergoing shoulder...
Yesterday we previewed the top-six forwards that will be playing for the Stars this season. Today's post is about the rest of the forwards that will or might see time with the Stars on the bottom two lines. Last season we saw guys like Radek Dvorak, Adam Burish and Jake Dowell occupying these spots. They provided some fine defensive work and a lot of these guys played on the...
from Daryl Reaugh at the Dallas Stars website, Going forward, the NHL and NHLPA 'partnership' can only sell so many more tickets, jerseys, hats, key chains, etc. The biggest potential growth area for them is eyeballs -television. But you can't grow something if you don't water it and allow it to flourish. Leave it in the same small pot, give it just enough water to survive...
You may remember this little hockey organization in our fair city called the Dallas Stars. They were once a team that held a special place in your heart, many years ago. But now, due to labor idiocy and mediocre results, they are just an organization that you used to know. Well, they are open for business in January 2013. The league barely figured out the solution to its labor...
Today's post on the Stars is over the defensive side of the ice for the team. Last season, Dallas was a mediocre (maybe even a poor) team defensively. Missed assignments were abundant and any team with some speedy forwards gave Dallas a lot of trouble. Their defensive numbers would have been much worse if not for the stellar play of Kari Lehtonen and at times, Richard Bachman....
Stars News

Delivered to your inbox

You'll also receive Yardbarker's daily Top 10, featuring the best sports stories from around the web. Customize your newsletter to get articles on your favorite sports and teams. And the best part? It's free!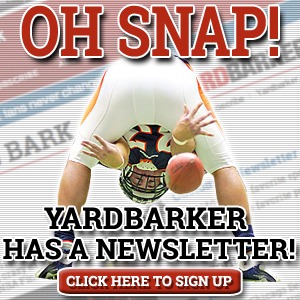 Latest Rumors
The Backyard

Today's Best Stuff

For Bloggers

Join the Yardbarker Network for more promotion, traffic, and money.

Company Info

Help

What is Yardbarker?

Yardbarker is the largest network of sports blogs and pro athlete blogs on the web. This site is the hub of the Yardbarker Network, where our editors and algorithms curate the best sports content from our network and beyond.