Found January 18, 2013 on Fox Sports Florida:
ESTERO, Fla. Life at the top in the NHL can be a precarious dance. A star forever tries to move forward, to shake the fingers eager to drag him down. His existence is a swift, high-stakes game of cat and mouse. Grow and evolve, and he has claws. Become complacent and stagnate, and he scurries to adapt. Tampa Bay Lightning center Steven Stamkos, the leagues reigning goal-scoring champion, knows a career on the ice exists within this cliffhanger. Breakout seasons, in time, lead to curiosity about what will follow. Theres always another chapter to be written. Theres always another plot twist with each puck drop, with each test of a players evolution. Questions facing Stamkos are simple, yet fascinating in this uncommon winter. The answers will go far in determining the Lightnings success after their stars career year: Will his sequel satisfy? Or will the Second Act fall flat? Youre always looking to improve, said Stamkos on Thursday, shortly after the Lightning closed their final training-camp session at Germain Arena before their season opener against the Washington Capitals on Saturday night at Tampa Bay Times Forum. For me, its being an all-around player. As a centerman, my face-offs have to continue to improve. I want to be a guy who can be counted on in the last minute of a tight game to be on the ice and secure that lead. Thats another step that Im willing to take. Already, Stamkos has taken many steps. Revisit what the 22-year-old Markham, Ontario, native accomplished last season, his fourth since Tampa Bay took him first overall in the 2008 draft: He became the 20th player in NHL history to score 60 goals (his previous career high was 51 from the 2009-10 campaign); he earned a career-best 97 points, 12 shy of Pittsburgh Penguins center Evgeni Malkins league-high mark; and he produced a plus-seven plusminus rating, topping his previous high of plus-three set the year before. Then there are the unseen benefits. With time, Stamkos has become a greater presence within the dressing room, a sign of his development since earning a career-low 46 points and 23 goals as a rookie. Teammates say he has grown as a leader as he has become more comfortable with his dart-and-score role. Coach Guy Boucher says Stamkos is the best Ive seen him after five days of training camp; to him, the stars strength and intensity and mental focus are superior when compared to previous years. Right now, he has really taken a role in terms of a two-way player, said Boucher, who guided the Lightning to a 38-36-8 record and 84 points last season. Thats extremely important to him, and it is to us. Hes a horse on the ice right now. Its really hard to stop him when he maintains it. Thats leadership in itself. But I think what he has gained in the last two years is how to manage games where he doesnt score a goal and things dont necessarily go his way. Hes able to refocus, and thats huge in terms of leadership. Stamkos progress as a leader on and off the ice is clear, but the abbreviated season will serve as a fast-forward button for his vision. This scenario presents more intrigue, both for those who dress alongside the young star and those who scheme against him. Starting Saturday, when Alex Ovechkin and the Capitals visit to place an embarrassing lockout in the past, time will be short but the chances plenty for Stamkos. He has forty-eight games to be the difference-maker he seeks to be. He has forty-eight games to use the pressure to produce to help advance his career. He has forty-eight games to continue to form a legacy with a franchise striving to contend in the Eastern Conference. Where will his quest lead? Another goal-scoring title, which would be his third? Tampa Bays second playoff berth in the last six years? Another spring without postseason hockey in the area? Whatever the result, Stamkos will find motivation from within. That, more than anything, hints at his ceiling. I put a lot of expectation and pressure on myself as a player to perform, said Stamkos, who hasnt missed a game since his rookie year. I know my role on this team. Every game, I want to go out there and generate offense and give my team a chance to win. I know where my game is at, and I know when things are going well and when things arent and how to correct them when theyre not, he continued. As a player, you feel the pressure from your teammates to perform, and you feel it from yourself the most, because I know the type of player I want to be in this league. I showed it last year. I was very consistent. Thats the same path I want to take. No path is the same from one season to the next, of course. The shortened campaign will introduce intriguing obstacles, both predictable and unexpected, for all involved. Its as if each team will begin with engines revved, and Saturdays opener will begin a final-lap sprint to the finish line. Leaders like Stamkos will have more value. He has a desire not only to be good but to be better every year, Lightning winger Martin St. Louis said. I think in this league, you need to keep reinventing yourself. If youre good at something, theyre usually going to take it away. You just have to think of different ways to beat people. As Stamkos spoke about new beginnings Thursday, it wasnt hard to envision a scenario where that process had begun. In a small dressing room, unpacked blue duffle bags were scattered on the floor. A mix of used gloves and sweaty jerseys, trash bins and laundry bins waited to be cleaned. Everything seemed possible. Everything seemed new. For Stamkos, it all was part of his next step. Such is life at the top. You can follow Andrew Astleford on Twitter @aastleford or email him at aastleford@gmail.com.
Original Story:
http://www.foxsportsflorida.com/01/18...
THE BACKYARD
BEST OF MAXIM
RELATED ARTICLES
Steven Stamkos knows reaching 60-goals again will be unlikely in this year's abbreviated 48-game season. But the Tampa Bay center feels the Lightning returning to the playoffs is well within reach in the lockout-curtailed campaign. ''Getting into the playoffs, that's our goal here,'' Stamkos said. ''We want to be a playoff team. It's going to...
As the Lightning have one day left of training camp, the team has announced the roster to start the season.  Here is the official release from the Bolts: The Tampa Bay Lightning have reassigned forward Tyler Johnson and defensemen Mark Barbiero and Radko Gudas to the Syracuse Crunch of the American Hockey League today, vice president and general manager Steve Yzerman announced....
A lockout shortened season will be a true test for the Bolts. Listed below is the 2013 roster, offseason moves, players to keep an eye on, and how they may finish this season. Roster Forwards #     Name 89   Cory Conacher 19   B.J. Crombeen 18   Adam Hall 76   Pierre-Cedric Labrie 4     Vincent Lecavalier 12   Ryan Malone 67   Benoit Pouliot 16   Teddy Purcell 11   Tom...
from Scott Butherus of the NaplesNews, It wasn't all hard work for the Tampa Bay Lightning during their time in Southwest Florida. Following Thursday's practice, the team spent some time at Fort Myers Beach to get to know each other a little bit better off the ice, enjoy the gorgeous weather, and have a little bit of fun. Part of the team-building activities included...
1) Steven Stamkos, C, Lightning – He scored 60 goals for a team possessing the 25th-best power play. Tampa Bay has taken steps to improve with the man advantage.2) Evgeni Malkin, C, Penguins – He elevated his game when Sidney Crosby missed much of last season.  Then he dominated the KHL during the lockout.3) Sidney Crosby, C, Penguins – He missed 101 games during the past...
The Tampa Bay Lightning reassigned forwards Mike Angelidis, J.T. Wyman and Kyle Wilson to the Syracuse Crunch of the American Hockey League on Friday to get down to the roster limit of 23 before the season opener. The Lightning open at home against the Washington Capitals on Saturday night.
Tampa Bay Lightning Season Preview Record Last Year: 38-36-8 Goal Differential: -46 Team 5v5 Fenwick: 48.31% (20th in NHL) 5v5 Sh%: 9.9% 5v5 Sv%:  .899 PP SF/60: 41.5 (28th in NHL) PK SA/60: 53.4 (25th in NHL) With the season set to begin a couple days, it's now a good time to see what the other teams in the NHL have been up to over the last six months...
After a painful few months of waiting for all parties involved, the 2013 National Hockey League season is about to begin. The Tampa Bay Lightning will start with a tilt at the Tampa Bay Times Forum against their division foe, the always dangerous Washington Capitals. Last season, the Lightning fared moderately well against the Capitals finishing with a record of 3-1-2. It...
Fifty goals in 50 games is one of the most impressive feats an NHL sniper can achieve. It's only been done eight times in the history of the game and only five players have done it: Maurice Richard (1944-45), Mike Bossy (1980-81), Wayne Gretzky (1981-82, 1983-84 and 1984-85), Mario Lemieux (1988-89) and Brett Hull (1990-91 and 1991-92). The 2013 NHL season will have 48 games but...
NHL News

Delivered to your inbox

You'll also receive Yardbarker's daily Top 10, featuring the best sports stories from around the web. Customize your newsletter to get articles on your favorite sports and teams. And the best part? It's free!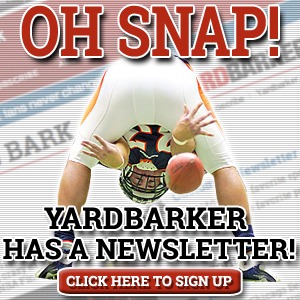 Latest Rumors
The Backyard

Today's Best Stuff

For Bloggers

Join the Yardbarker Network for more promotion, traffic, and money.

Company Info

Help

What is Yardbarker?

Yardbarker is the largest network of sports blogs and pro athlete blogs on the web. This site is the hub of the Yardbarker Network, where our editors and algorithms curate the best sports content from our network and beyond.