Found May 18, 2013 on Shutdown Line:
We will continue our player reviews from this past season by taking a closer look at the year that was for Tim Gleason. Recently signed to a four year, $16 mil. contract, Gleason is set to be a key cog in the Hurricanes defense corps for the next few season and is expected to provide a solid, veteran presence for players like Justin Faulk to learn after. Gleason has also established himself as a fine shutdown defenseman over the last few years. The Hurricanes have always leaned on him to do the bulk of the heavy lifting for the defense corps, as he is normally matched up against the opposing team's best forwards and is a regular on the team's first penalty killing unit and for the most part, his performance has been very good compared to similar defensemen. He was also coming off his best season in the NHL and was expected to anchor the team's "new" shutdown defense pairing with Justin Faulk for most of the year. Unfortunately, Gleason ended up being a different kind of anchor. There are a lot of different types of "shutdown" defensemen out there and I've always considered Gleason one of the more underrated in the league. As it was noted earlier, he managed to fare okay territorially in tough minutes, can skate well and not be a liability when it comes to things like leading breakouts and moving the puck out of the zone. This year was a different story, though as Gleason posted some very ugly underlying numbers for his standards and looked considerably slower this year compared to year's past. This led to him getting bumped off the top defense pairing for part of the year and even benched toward the end of a few games. Some of this wasn't exactly his fault since it was revealed at the end of the season that Gleason was playing a lot of the year with a broken foot, which is tough to deal with no matter what minutes you play. Gleason only missed six games this season despite this and that was the first time in over two years that an injury forced him to miss any action, so that says a lot about his toughness and pain threshold. Gleason's durability is very admirable, as I am sure this isn't the first time he's had to battle through an injury but I think it was pretty clear that the injury was affecting his play quite a bit since his performance this season was much lower than what is normally expected from him. Gleason is normally the type of shutdown defenseman who can take away space from opposing forwards, preventing shot attempts and be useful with the puck by helping drive the play forwards, but some of these qualities were there for most of this season and it had a chain reaction on the rest of the defense. Again, Gleason clearly was not at 100% for most of the year, so I can't be too hard on him but when you put this much weight on the shoulders of one player and he struggles, the rest of the defense suffers because they have to pick up the slack. When healthy, Gleason is easily this team's best shutdown option and capable of playing in the top-four but he wasn't healthy this year, so he was a little less than that. After the jump, we'll take a closer look at his season. Usage   Gleason Def. Rank GP 42   EV TOI/G 16:39 4th PP TOI/G 0:06 8th PK TOI/G 2:48 2nd QualComp 0.85 2nd OZ% 43.4% 1st Gleason was essentially the team's #2 defenseman for most of the year with Joni Pitkanen being injured and Justin Faulk taking over as the team's top blue-liner. He played top-four minutes, was on the first penalty killing unit and was given some of the toughest defensive assignments the team had to offer. This has been the norm for him over the last three years or so and he was basically the team's only "true" shutdown defenseman this season although, I think Faulk might challenge him for that spot very soon(but I'll get into that later). Gleason was a top-four defender on the Hurricanes but it was a rare instance when he was the team's leader in ice-time, showing that he has his limits and the coaches knew it. Gleason's ice time was somewhat inconsistent throughout the year where he normally averaged around 15-18 minutes at even strength and played about four or five minutes less than the top pairing did, but he got shifted around quite a bit. There were some games where he got to play 20+ minutes at even strength and led the defense corps in ice-time, but his minutes were cut down for a brief part of the season. Around Games 31-37, Gleason was given basically third-pairing minutes and was benched for almost the entire third period in some of these games. I'm not sure how much of it has to do with Gleason's play because the Canes were playing from behind in a lot of those games and Gleason isn't going to be used in a situation where the team needs offense, so that probably had something to do with his ice time reduction. Regardless, Gleason was given second pairing minutes for most of the year and the coaching staff was more likely to reduce his minutes on a given night rather than promote him. This is worth keeping in mind for next season because Gleason was not a top-pairing defenseman this season and the coaching staff didn't trust him to be one. His performance likely played a role in this, though. Performance   Gleason Def. Rank 5v5 Fenwick Dif/20 -1.962 8th 5v5 Chance Diff/20 -1.27 8th 5v5 SCF/20 3.66 8th 5v5 SCA/20 4.93 8th GF/60 2.64 4th GA/60 2.9 6th SAF/60 55.6 6th SAA/60 62.3 8th SAD/60 -6.7 8th ESG/60 0 8th ESPts/60 0.7 5th I usually cut Gleason some slack when looking at his underlying numbers because, as it was noted earlier, he plays tougher minutes than anyone else on the defense corps and is basically fighting an uphill battle whenever he is out there. His performance this year, however, was just ugly all-around. Gleason ranked last among regular Carolina defensemen in preventing scoring chances and shot attempts and to make matter worse, he was also very bad at controlling puck-possession at even strength. He is usually negative by this measure because of low offensive numbers, but his defensive performance was just as ugly this season and way worse than what is normally expected of him. The only defensive category that he didn't finish last in was goals against per 60 minutes and even then, he still ranked very poorly and was on the ice for nearly three goals per 60 minutes. Oddly enough, Gleason's offensive performance was about in the middle of the pack this season if you go by how many 5v5 goals he was on the ice for and how his point production at even strength, but Gleason's responsibility isn't offense. His role on the team is that of a shutdown defenseman and he struggled mightily in that regard this season. Although, as bad as his final numbers are, his performance this season was very uneven when you look at how well he was able to control puck-possession during 5v5 play. For much of the first half of the season, Gleason was doing a phenomonal job of controlling puck-possession and keeping the puck out of his own end, but as the season went on, his performance declined and he eventually ended up with the worst 5v5 Fenwick percentage among regular Carolina defensemen. This is why I think playing through an injury had a huge effect on his performance. He was dominant for the first half of the season but got worse as the year went on and really declined over the last 20 games or so. It's going to be interesting to see which version of Gleason the Hurricanes get next year. He is a perfectly capable shutdown defenseman when healthy but when playing through an injury, he wasn't any more effective than a third-pairing defenseman. That's a problem, but Gleason has been one of the more durable players in the NHL these past few years, so I think he will be better next year. Zone Entries   Gleason Def. Rank Entries/60 7.49 4th Controlled/60 1.64 6th Controlled% 21.8% 7th Graph I said this in my report about McBain, but defensemen aren't expected to carry the puck into the zone that much and a defenseman like Gleason is rarely expected to do that. As such, he ended up with one of the lowest controlled zone entry percentages among the defense corps. Most defensemen will be content to slam the puck into the zone rather than carrying it over the line and Gleason doesn't have much puck-handling skill, so he usually did just that on most of his zone entries. It's not neccesarily a bad thing because that isn't part of Gleason's job description and the Canes have other defensemen who can should have been able to do that instead. Season Grade: C- I'm trying not to be too hard on Gleason because he was carrying more defensive responsibility than almost the entire defense corps and playing through a bad injury on top of that, but his performance was just not good this year. Gleason is counted on to do a lot and his struggles had a negative effect on the rest of the defense because other blue-liners had to pick up the slack and not many of them were up to the challenge. The latter part isn't Gleason's problem but his performance was way below his normal standards this season and I think most would agree with that. The Final Word As I said earlier, it's going to be interesting to see which version of Gleason the Hurricanes get next year because when he was healthy, he did just about everything you could ask from a shutdown defenseman but once he got hurt, he became the "wrong" type of defensive defenseman. By that, I mean one who can't drive the play at even strength, constantly gets trapped in his own zone and is too slow to keep up with more skilled forwards. That's what he was for about half of the year but again, he was playing with a broken foot and that is not what we typically see from him on a year-to-year basis. I think Gleason will improve next year and I think the Canes need to invest in some insurance for him. A reason why Gleason's struggles led to the entire defense crumbling is because of how much weight they put on his shoulders and they don't really have anyone other than Faulk who can play the tough minutes he is assigned. Again, I think Gleason will be better next season but the Canes can't go into next season with that assumption. I've talked about how the team needs a contingency plan for Joni Pitkanen due to his health troubles, but finding another tough-minute defenseman to compliment Gleason might be just as important and something the team needs to consider this off-season.
Original Story:
http://www.shutdownline.com/hurricane...
THE BACKYARD
BEST OF MAXIM
RELATED ARTICLES
The Carolina Hurricanes say they expect captain Eric Staal to be ready to start next season after suffering a scary-looking knee injury during an international tournament. The team said Staal underwent an MRI on his right knee Saturday and it revealed a third-degree sprain of his medial collateral ligament. The team says Staal won't need surgery and he should need only three...
It's about that time of the year where we will look back at the season that was for the Hurricanes by taking a look at the individual performance of each player.  Last season I did this by showing how effective each player was at controlling scoring chances but I'm going to take a different route this time. Scoring chances are very important, but they're just part of...
Supporters of the Carolina Hurricanes can exhale in relief. TSN's Aaron Ward reports forward Eric Staal doesn't appear to be in too bad shape following a nasty knee-on-knee hit from Swedish defenseman Alexander Edler at the IIHF World Championship.  "Initial diagnosis by Carolina Hurricanes Medical Staff of Eric Staal is that No surgery is required for Eric Staal.....
RALEIGH, NC – Jim Rutherford, President and General Manager of the National Hockey League's Carolina Hurricanes, today announced that a magnetic resonance imaging (MRI) test on team captain Eric Staal's right knee revealed a third-degree sprain of the medial collateral ligament (MCL). Surgery will not be required to repair the ligament, and Staal's rehabilitation should last...
Carolina team website: RALEIGH, NC – Jim Rutherford, President and General Manager of the National Hockey League's Carolina Hurricanes, today announced that a magnetic resonance imaging (MRI) test on team captain Eric Staal's right knee revealed a third-degree sprain of the medial collateral ligament (MCL). Surgery will not be required to repair the ligament, and...
If you missed it yesterday, Canada was playing Sweden in the quarterfinals of the IIHF World Championships in Stockholm. In the first period, Carolina Hurricanes captain Eric Staal was the victim of an ugly knee-on-knee collision by Swedish defenseman Alex Edler of the Vancouver Canucks. The video of the incident is below. Whether you think it was a dirty hit is not the question...
The IIHF World Championship is a major tournament that takes place during the spring, yet is eclipsed here in North America due to the Stanley Cup Playoffs. Many players who either fail to qualify for the playoffs or get eliminated in the first round make their way onto their respective national rosters for a chance to win international gold. During a quarterfinal match on Thursday...
When I wrote about who the Hurricanes should select with with fifth overall selection in this summer's draft, I said that they should take the best player available. Defense might be their biggest need right now, but  thinking long-term, the Canes are going to have to replace Alexander Semin, Tuomo Ruutu and possibly Jiri Tlusty so taking a forward isn't the worst thing...
Eric Staal down on the ice after his collision with Alexander Edler (courtesy of cbssports.com) The injury bug strikes a member of the Staal family yet again! Carolina Hurricane's center and Team Canada forward Eric Staal was injured in a knee-on-knee collision with Vancouver Canuck's and Team Sweden forward Alexander Edler in the first period of the final Quarterfinal match...
from Tony Gallagher of the Vancouver Province, If you thought Edler had a brain-dead season this year — coughing up the puck and playing soft for a man of his tremendous physical abilities — you will be pleased to know that he at least tried to hit somebody in this one. Unfortunately for the Carolina Hurricanes and Eric Staal, it was a ridiculously lame hit on the Canadian...
Hurricanes News

Delivered to your inbox

You'll also receive Yardbarker's daily Top 10, featuring the best sports stories from around the web. Customize your newsletter to get articles on your favorite sports and teams. And the best part? It's free!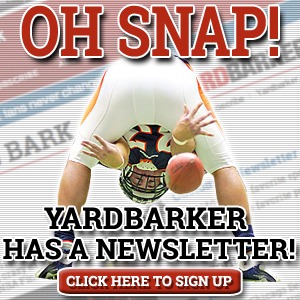 Latest Rumors
The Backyard

Today's Best Stuff

For Bloggers

Join the Yardbarker Network for more promotion, traffic, and money.

Company Info

Help

What is Yardbarker?

Yardbarker is the largest network of sports blogs and pro athlete blogs on the web. This site is the hub of the Yardbarker Network, where our editors and algorithms curate the best sports content from our network and beyond.