Found June 07, 2013 on Shutdown Line:
An ongoing complaint about the Hurricanes this year was that they weren't a tough team and they didn't have enough "gritty" type players. Tim Wallace was an exception, though. Signed to a one-year, two-way deal last off-season, Wallace was brought in to give the Hurricanes somewhat of a physical presence and if he couldn't make the team, they at least had a proven AHL forward their disposal to help the Checkers. Since earning a spot on Carolina's fourth line is fairly easy to accomplish, it was a given that Wallace would get his chance eventually and he ended up spending a little over half of the season in the NHL. With the Hurricanes, Wallace made an impact and did something to stand out just about every game. Whenever I saw someone on Carolina ram into an opposing player my first thought was always "Yep, that was probably Wallace" and most of the time I was right. Wallace was second on the team in hits despite playing only 28 games and he was usually one of Kirk Muller's "go-to guys" if the team needed an "energy shift." There is some debate about how critical physical players are in the NHL, but it's hard to deny that Wallace added that element to the Canes this year. Being a physical player will only get you so far if you can't contribute in other areas, though. As much as I liked Wallace's tendency to hit anything that moves, there was a reason why he has spent most of his career in the AHL. Whether he was with the Penguins, Islanders or Lightning, it was hard for these teams to consistently put Wallace into the lineup because he didn't bring a whole lot to the table. While it's hard not to love Wallace's effort, it's also hard to play him over more skilled options and his prior teams were in that position. Was that any different this year? Somewhat. As a fourth liner on the Hurricanes, Wallace didn't need to be a skilled player to get a jersey on most nights, but he ended up being sent down to Charlotte a few times because the Hurricanes had better players who they could play over him. Wallace may have given the Hurricanes a physical element but outside of that, his contributions were miniscule and replaceable. Usage   Wallace Fwd. Rank GP 28   EV TOI/G 9:03 13th PP TOI/G 0:01 N/A PK TOI/G 0:56 6th QualComp 0.155 11th OZ% 55.6% 9th The Hurricanes fourth line wasn't expected to do much. They played 8-10 minutes per game and were mainly relied on for physical play and good forechecking. Basically, their role was to not be a liability at even strength, something Carolina's fourth line was last season, and any scoring they provided was gravy. Wallace's usage fell into this category for most of the year, although there were a few games where he was promoted to the top line but those stints didn't last very long. As a fourth liner, Wallace was given the most sheltered minutes among Carolina forwards, regularly being sent out against other teams forth lines and he wasn't trusted with any tough minutes at even strength. The one area outside of this where Wallace contributed was the penalty kill, as he was on the team's second unit for a good portion of the year. So we know that Wallace was playing soft minutes and was expected to not "hurt' the team by being a sinkhole in terms of possession or take stupid penalties. Wallace actually drew more penalties than he took (yay!), but driving the play was not his specialty. At all.  Performance:   Wallace Fwd. Rank 5v5 Fenwick Diff/20 -3.264 14th 5v5 Chance Diff/20 -1.3 14th 5v5 SCF/20 2.36 14th 5v5 SCA/20 3.67 2nd GF/60 0.71 14th GA/60 2.85 7th SAF/60 45.41 14th SAA/60 51.56 3rd SAD/60 -6.24 14th ESG/60 0.24 12th ESPts/60 0.48 13th Wallace was a very good defensive player compared to the rest of Carolina's forwards but in terms of puck-possession, he was a liability. Why? Because he produced little to no offense. Among forwards who played at least 20 games in the NHL, only two of them were on the ice for fewer 5v5 goals for than Wallace and only Chad LaRose had a lower scoring rate at even strength on the Hurricanes. Wallace's two points in 28 games were not just the result of bad shooting luck either, because he was one of the team's worst forwards at producing offense in terms of creating chances & shots on goal. It probably isn't fair to say that Wallace is a complete liability at even strength because he was a good defensive player, the problem was that the Hurricanes could not move the puck out of their zone whenever Wallace was on the ice. This kind of goes against the eye-test because I recall Wallace having a few notable shifts where he would get the puck deep and played the body to keep the play in the opponent's zone. It appears that the bad outweighed the good for Wallace, though and not many of his shifts resulted in sustained offense or zone time for the Hurricanes. This is what Wallace's limitations are as an NHL-er. He might be able to energize his teammates with a few big hits, but he has to play this style because the other team usually has the puck when he is on the ice. This results in him producing minimal offense and the Hurricanes being a worse territorial team overall because of it. Not that fourth liners have to be amazing puck-possession players but they should be able to come away a positive with the assignments they get. Wallace did not. Being a a solid defensive player is good, but it isn't when you are defending for 80% of your ice time. It's also very concerning that almost every player on the team was better at controlling territorial play when they were not on the ice with Wallace, because that indicates that he was somewhat of a millstone at even strength. 5v5 Zone Entries   Wallace Fwd. Rank Entries/60 17.74 11th Controlled/60 14.93 13th Controlled% 25.3% 13th Another reason why the Hurricanes did not create much offense when Wallace was on the ice is because he resorted to dumping the puck in on most of his entries. It's expected for someone with his skillset to play dump-and-chase more often, but we've been over the negatives of this before. Dumping the puck usually results in the forechecking team surrendering possession and not much offense. Wallace dumped the puck in on 75% of his 5v5 zone entries and going by what we know about dump-and-chase play, it's safe to assume this contributed to him being a poor puck-possession player. It might have been different if he had better linemates but on the fourth line, dumping the puck in doesn't lead to much. Season Grade: C- Since Wallace was a career AHL-er signed to a two-way deal, I did not expect much from him this year so I'm not being too hard with the grading. I also thought his toughness and defensive play was a nice addition to the team but outside of that, he did not contribute much. Having only one goal over 28 games is pretty bad even for a fourth liner and his decent defensive play was mitigated by the fact that the Hurricanes barely had the puck in the offensive zone whenever he was on the ice. Carolina needed to improve their fourth line heading into this season and while Wallace did some good things, he was hardly an upgrade either. The Final Word Being an unrestricted free agent this July, it's hard to imagine Wallace back with the Canes next season. His toughness is a nice boost, but the Hurricanes need players who can play physical and drive the play forward on top of that. Wallace could only do one of those things. I'm sure he'll find an NHL job next year because there going to be a lot of teams who can use a player like him but the Hurricanes need better players on their fourth line if they want to be a contending team next season.
Original Story:
http://www.shutdownline.com/hurricane...
THE BACKYARD
BEST OF MAXIM
RELATED ARTICLES
When the Hurricanes signed Alexander Semin to a one-year deal, many fans weren't sure how to feel about it. On one hand, the Hurricanes filled a huge void in their top-six by adding one of the NHL's best goal-scorers and a player who has consistently produced at a first-line rate for most of his career. That alone should have been enough to get fans on board, but there were...
By Dylan Howlett (@DylanHowlett) Getty Images Jim Rutherford has made his list. He doesn't need to check it twice. The venerable Carolina Hurricanes General Manager has placed a top-four defenseman atop his offseason agenda and is willing to dangle the team's fifth-overall draft selection to get his hands on one. "It would be difficult for us to move our pick at five, but I'll...
Ask anyone what the "turning point" of the season was for Carolina and I would bet money that at least seven out of ten people will say that their playoff hopes were doomed once goaltender Cam Ward got hurt. The Canes went 7-17-3 with him out of the lineup and were on the losing end of a lot of blowouts down the stretch, so it's easy to jump to this conclusion. While...
Carolina Hurricanes GM, Jim Rutherford, has done an about-face. He used to think that the 2013 Entry Draft was a five horse race. He has now changed his mind. "For a long time, I've suggested that it's really the top six (overall) players that have that chance for next year," Rutherford told Hurricanes.com earlier this week. "Based on information...
By Dylan Howlett (@DylanHowlett) The Hurricanes awakened March 3 to a day of alluring possibilities. The sun shone brilliantly in Sunrise, Fla., as they awaited that evening's tussle with the downtrodden Florida Panthers. They were firmly entrenched in the Eastern Conference playoff race. Carolina would build a three-goal lead early in the second period. Then, Florida defenseman...
So I wrote a candid assessment of Jordan Staal's 2013 season. It was not all bad, but I also did not take the easy way out and write a fluffy "We love Jordan...He's great" blog either. Next up is a similarly difficult blog assessing Jeff Skinner's 2013 that was also very mixed to put it positively. So for a little bit of fun in between and riding a little...
There has been much talk recently about the scheduling at PNC Arena and most of it seems to be coming from the Carolina Hurricanes camp.
Hurricanes News

Delivered to your inbox

You'll also receive Yardbarker's daily Top 10, featuring the best sports stories from around the web. Customize your newsletter to get articles on your favorite sports and teams. And the best part? It's free!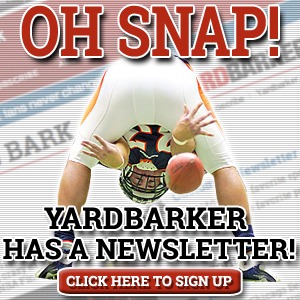 Latest Rumors
The Backyard

Today's Best Stuff

For Bloggers

Join the Yardbarker Network for more promotion, traffic, and money.

Company Info

Help

What is Yardbarker?

Yardbarker is the largest network of sports blogs and pro athlete blogs on the web. This site is the hub of the Yardbarker Network, where our editors and algorithms curate the best sports content from our network and beyond.