Found February 21, 2012 on Kukla's Korner:
from Doug McIntyre of ESPN The Magazine, It's taken P.K. Subban less than two seasons to establish himself as one of the NHL's most exciting—and controversial—young stars. The 22-year-old Canadiens defenseman has antagonized opponents with flashy puck skills, devastating checks and endless trash-talk, all with a grin. But while Montreal has fallen for the Toronto native, many opposing fans love to hate him, at least according to what we found on hockey message boards. Subban was happy to hit right back. "[The Jan. 12 game vs. the Bruins] is a prime example of the punk that Subban is. He throws the cheap shot at David Krejci, turtles when Andrew Ference confronts him, then laughs as he's escorted to the penalty box." -posted on dropyourgloves.com Subban: "This is obviously coming from a Bruins fan. It's pretty simple: My job isn't to fight. I'm playing the most minutes out of any player on my team right now. My job is to get a guy like Krejci off his game. Anybody I wouldn't want to b
Original Story:
http://www.kuklaskorner.com/index.php...
THE BACKYARD
BEST OF MAXIM
RELATED ARTICLES
When Danny Geoffrion was growing up in Canada, playing junior hockey, he heard the comparisons, the whispers. "'He's good, but he'll never be like his father,'" he said. Such is the blessing and the curse of being born into one of hockey's most famous families. His father Bernie "Boom Boom" Geoffrion is in the Hockey Hall of Fame, as is his...
from Sean Gordon of the Globe and Mail, Perhaps the situation is best described in economics-ese, by borrowing a term like "seller's dilemma." Whatever frame you choose, the Montreal Canadiens are in the full throes of whatever "it" is. In the countdown to the Feb. 27 NHL trade deadline, the Habs are six points out of the final playoff spot in the Eastern Conference,...
The Logical Choice: Current Asst. Coach & GM, Larry Carriere While the trade deadline is beginning to stir up some seriously interesting story lines, one that has been pushed to the back burner in Montreal is who the best candidate to succeed Pierre Gauthier as GM will be. While I've held my tongue on this for awhile, I feel that there is an obvious choice sitting...
Before Sunday's NHL game in Montreal, the Canadiens paid tribute to former Montreal Expos catcher Gary Carter, who passed away Thursday at the age of 57. Carter was the first player to be inducted into the Baseball Hall of Fame with the Montreal Expos logo on his cap. The Bell Centre went dark and still pictures of Gary Carter were shown on the ice as the PA announcer summarized...
Back from six days away and without internet access almost the entire time. A few quick things to catch up on: - Pierre Gauthier made a great deal with Nashville. Getting two young players along with a 2nd, let alone a Geoffrion who could be motivated by the legacy of being the fourth generation to play in Montreal, was more than I felt the Canadiens would get for Hal Gill. Geoffrion...
So how are you feeling about your Montreal Canadiens this morning, Hab addicts? It's a bit rough, isn't it? Montreal dropped a disappointing decision to the Dallas Stars last night. It was a game in which the Habs simply didn't show up. Sure they had a few flashes but were, overall, flat. A lot of fans are scratching their heads this morning, wondering how a...
NBC Sports Network has some issues on more than just the ratings front. One of their biggest programming hits thus far is live hockey games, and they generally have done a pretty good job thus far with those broadcasts, but there was a notably questionable decision Sunday night on their coverage of the Montreal Canadiens - New Jersey Devils game. The Canadiens started with a moving...
Slow starts have plagued the Montreal Canadiens recently, and put their playoff hopes in peril. Ryan Garbutt scored his first NHL goal and Kari Lehtonen made 31 saves as the Dallas Stars blanked the Canadiens 3-0 on Tuesday night. ''We're looking for a lot of energy to start the game, and keep things real simple and throw a lot of pucks at the net,'' Canadiens...
from Dave Stubbs of the Montreal Gazette, His mentorship last season of rookie defenceman P.K. Subban was incalculable. On the rink, when paired with Subban, Gill was the fallback, dependable steed when his partner, a frisky colt, strayed or got into trouble; off the ice, Gill helped teach Subban how to be a professional. Now Gill takes those qualities to Nashville to nurture young...
TUESDAY'S GAME: Dallas Stars (29-26-4, 62 points – 10th, Western Conference) at Montreal Canadiens (24-26-10, 58 points – 13th, Eastern Confe...
The Dallas Stars will try to win their first game in Montreal in nearly a decade, as they visit the Canadiens for tonight's interconference clash at the Bell Centre.
NHL News

Delivered to your inbox

You'll also receive Yardbarker's daily Top 10, featuring the best sports stories from around the web. Customize your newsletter to get articles on your favorite sports and teams. And the best part? It's free!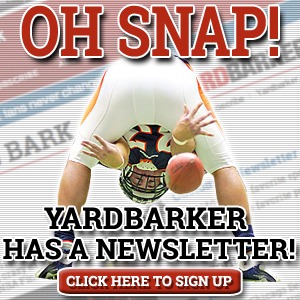 Latest Rumors
The Backyard

Today's Best Stuff

For Bloggers

Join the Yardbarker Network for more promotion, traffic, and money.

Company Info

Help

What is Yardbarker?

Yardbarker is the largest network of sports blogs and pro athlete blogs on the web. This site is the hub of the Yardbarker Network, where our editors and algorithms curate the best sports content from our network and beyond.