Found April 01, 2012 on NorthWest Sports Beat:
Dark Roast
The results are in and your Vancouver Canucks are officially ________!
Fill it with what you will.
With what happened this past week and Saturday night, the reactions are endless.
Below is the customary list of best AND worst Canucks related writing from all over the interwebz the last few days.
What are the HERMETIC NWSB staff saying?
For the flat our best Canucks coverage anywhere in the world, click right HERE!
What are the LOCAL guys saying?
Province Sports: Ebbett Back in Lineup after Broken Collarbone – The small but feisty winger made his return last night against Calgary and didn't look any worse for wear. By Jim Jamieson
Province Sports: Canucks' Assistant GM Gilman Epitomizes Modern Day NHL Exec – Gillis has been great but he wouldn't be half the GM without his sidekick Laurence Gilman
Vancouver Sun: Samme Pahlsson an Offensive Force? Who'd have thunk it? - The Canucks 3rd line has been dynamite lately and centering that line is newcomer Pahlsson who wasn't really expected to provide much input on the scoresheet. By Cam Tucker
Pass it to Bulis: VIDEO ~ The Canucks once gave Orland Kurtenback a puppy - Say what? By Harrison Mooney
Nucks Misconduct: Do the Refs Really Put the Whistles Away in the Playoffs? - There seem to be different standards for every part of the season. What gives? By Dan the Stat Man
The Birthing Whale says, "Well I'll be damned. Someone stole my plankton snacks!"
Smug Nation: 5 Specialists You Didn't Know the Canucks Employ – Politicians? Actors? A friend of Trevor Linden's? By Brian Beitz
Canucks Hockey Blog: CHB Luongo PSA – With the Canucks coming out with their Anti-Riot video, CHB kicks it up a notch with these funny photos featuring players begging you not to riot. By Ed Lau
What are the NATIONAL guys saying?
The National Post: Canucks' Ballard Finally Symptom Free after Concussion – He could be a major piece with the playoffs right around the corner. By Ben Kuzma
The Globe and Mail: Slump a Distant Memory for Canucks – The panic button took a beating but Vancouver's team is just fine now. By David Ebner
What are the ENEMIES saying?
The Calgary Herald: Flames all but Done after Falling Flat to Avs - Last night's game against Vancouver didn't even really matter. It' s just not been their year. By Scott Cruickshank
The Orange County Register: To Retire or Not to Retire ~ Selanne Speaks – The man is a living Finnish and hockey legend but he's still producing like a 30 year old at 40+. Does he stick around? By Jeff Miller
The Morning Java will be posted regularly Wednesday and Saturday mornings (with some exceptions) so check us out then to find some of the best local and national Canucks material on the web!
CLICK HERE TO CHECK OUT THE VANCOUVER CANUCKS CLUBHOUSE TODAY ON NWSB!
© Vancan19 for North West Sports Beat, 2012. | Permalink | No comment |
Follow NWSB on Twitter or join US on Facebook for real-time updates OR... | Share This on Twitter | Share NWSportsBeat.com on Facebook
Post tags:
calgary herald
,
Canucks
,
Canucks Army
,
Canucks Blog
,
canucks corner
,
Canucks gossip
,
Canucks hockey blog
,
canucks morning java
,
Canucks news online
,
Chris Higgins
,
denver post
,
Headlines
,
headtothenet
,
hockey blogs
,
iain macintyre
,
links
,
morning java
,
national post
,
NHL
,
NorthWest Sports Beat
,
nucks ice man
,
Nucks Misconduct
,
orange county register
,
pass it to buils
,
Pass It To Bulis
,
province sports
,
Rumors
,
sunday links
,
the globe and mail
,
the national post
,
The Province
,
The Vancouver Sun
,
Trade Deadline
,
Vancouver Canucks
,
vancouver province
,
Vancouver Sun
Original Story:
http://www.nwsportsbeat.com/canucks/s...
THE BACKYARD
BEST OF MAXIM
RELATED ARTICLES
Vancouver Canucks Sami Salo gritty new 'Iron Man' Quote: "For sure, I'll be playing somewhere next year," said Salo. "I feel really good and the key has been being healthy and playing with a lot of good teammates has made it fun."
The Canucks took back top spot in the conference Saturday night with a 3-2 win over the Calgary Flames. With only three games remaining in the regular season, the Canucks sit one point up on the St Louis Blues and tied in points with the New York Rangers for top spot in the entire league (although the Canucks would lose the tie breaker). So the question burning in my head right...
From a gameday report at the Vancouver Canucks website Canucks.com. Andrew Ebbett hasn't played for 3 months. He gets some game action tonight versus Calgary Flames. With just four games remaining, Ebbett will get a chance to find his role in the lineup and get some game action in before the post-season and give the coaches just one more option on a very full roster. ...
25-8-7 since Jan 1st The Vancouver Canucks struggled to bring their playoff intensity on Saturday, but managed to make the most of their performance against the Flames, forcing overtime in a 3-2 comeback over Calgary on Hockey Night in Canada. Roberto Luongo had a shaky return to the crease after sitting out Friday's game with a sore neck and Marc-Andre Gragnani buried his first...
Flames vs Canucks Game Recap Did you miss the Calgary Flames vs. Vancouver Canucks Saturday night on Hockey night in Canada? BOXSCORE | Q's POST GAME RECAP We've got the highlights for you. Flames vs. Canucks highlights courtesy NHL.com. CLICK HERE CHECK OUT THE CANUCKS CLUBHOUSE TODAY AT NWSB! © NWSports "Q" for North West Sports Beat, 2012. | Permalink | ...
Vancouver Canucks Playoff Chances - Sports Club Stats According to Sports Club Stats, it will be a team from the Pacific division. Can't really say any of those teams scare me, though none will be easy. If I had to rank them for preferability... Phx/LA/Dal/SJ?
Canucks host the Not Out Flames Saturday night The Vancouver Canucks extended their win streak to five games last night and in the process they returned to the team that resembled the one that won the President's trophy last season. On Saturday night the Canucks host a Calgary team that saw their playoff chances all but disappear with their seventh loss in eight games on Friday...
Friday Night Full of Stars The Vancouver Canucks recent schedule has allowed them to play kingmaker in the race for the final playoff spots in the Western Conference. A run of games against Dallas, Colorado, and Los Angeles has helped the Canucks not only effectively eliminate the Avalanche from the race but also helped give the team a week long litmus test to see how they measure...
A Slow Burn It's hard to find much fault with the Vancouver Canucks these days, which is obviously fantastic news with the post-season a week and a half away. The team has flipped the switch that so many thought would be impossible to achieve and more amazingly took over first place in the Western Conference last night thanks to Columbus somehow beating St Louis. Getting excited...
Well this is good…. The Canucks can score. The Canucks can score on the powerplay. The Canucks can put together a pretty impressive winning streak. To think that such a large portion of Canucks Nation was pressing the panic button not more than a week ago is comical. Sure there are still some kinks to be worked out but come on; any sane being could've foreseen them bumping the...
Loungo's in net, Ebbett is back from that collerbone injury suffered in the Boston game. Weise and Bieksa are out.
Superb goaltending is one reason the Vancouver Canucks are already Northwest Division champions for a fourth consecutive season, and are attempting a run at another Presidents' Trophy. It looks like the Calgary Flames may miss out on the playoffs for a third straight season. The Canucks look to extend their longest winning streak of 2011-12 and officially eliminate the Flames...
Canucks News

Delivered to your inbox

You'll also receive Yardbarker's daily Top 10, featuring the best sports stories from around the web. Customize your newsletter to get articles on your favorite sports and teams. And the best part? It's free!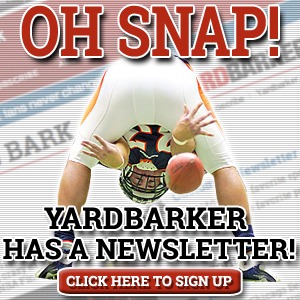 Latest Rumors
Best of Yardbarker

Today's Best Stuff

For Bloggers

Join the Yardbarker Network for more promotion, traffic, and money.

Company Info

Help

What is Yardbarker?

Yardbarker is the largest network of sports blogs and pro athlete blogs on the web. This site is the hub of the Yardbarker Network, where our editors and algorithms curate the best sports content from our network and beyond.