Found November 12, 2012 on The Prospect Park:
Samuel Noreau (Baie-Comeau Drakkar) Sunday hockey for the New York Ranger and New York Islander prospects was about streaks; mostly losing streaks but the one with a winning streak is really making noise. Samuel Noreau (NYR 2011 5th) is a prospect that I have to admit that I am still surprised to improvements that he has made to his game. On Sunday, Noreau and his Drakkar teammates were on the road to face the Val-d'Or Foreurs for the 2nd straight game. Saturday the Drakkar defeated the Foreurs 4-2 with Noreau credited with 2 assists. On Sunday Noreau only had 1 assist but it was the primary assist on what turned out to be the game winning goal as the Drakkar defeated the Foreurs 5-2. The win extended the Drakkar's unbeaten streak to 12 games (10-0-0-2) which is the longest current streak in the QMJHL. Noreau has a modest 3 game scoring streak of his own (1-4-5) and in 5 games has already matched his point production for all of October (2-5-7 in 11 games). Noreau at 4-11-15 in 20 games needs 1 goal to tie his career best in goals and 2 points to do the same in points. The Drakkar are also working their way up the QMJHL standings as their 14-4-0-2 is good for 30 points and has them knocking on the door of 3rd place Quebec. On the other end of the streaking is Loic Leduc (NYI 2012 4th) and his Cape Breton Screaming Eagles who were in Quebec to face the Quebec Remparts. The Screaming Eagles actually played rather well against the Remparts and forced the game into overtime then the circus (AKA the shootout) where they were edged 5-4. The circus point takes the Screaming Eagles 3 game losing streak and turns it into a 4 game winless streak. It is playing games with the wording but for a team like Cape Breton who are 5-11-2-3 on the season, every point really does matter. Leduc did not score but he was a +2 and had 1 hit. In Mississauga, Peter Ceresnak (NYR 2011 6th) and his Peterborough Petes can't catch a break no matter how hard they try. Against the Mississauga Steelheads, the Petes were outplayed in the 1st period (out shot 15-3) then returned the favor in the 2nd (17-8) and entered the 3rd period 0-0. Mississauga got an early goal to take a 1-0 lead but the Petes hung in there and eventually tied the game on a power play goal at 15:57. But the Petes got to enjoy the tie for 18 seconds as Mississauga scored to grab a 2-1 lead and that was it. It was the 7th straight loss for the Petes and Ceresnak had it rough being on the ice for both Steelhead goals to take a -2 for the night. Andrey Pedan (NYI 2011 3rd) playing in his second game back from suspension got his Guelph Storm going by scoring his 6th goal of the season. It gave the Storm a 1-0 lead against the Brampton Battalion; it was a lead that the Storm kept until 8:17 of the 2nd period when the Battalion tied the game up. The Battalion would then go on to score 4 more unanswered goals to earn a 5-1 win over the Storm. It was the 2nd straight loss for the Storm since Pedan returned (no I am not blaming Pedan for the losses). Speaking of Streaks The light schedule left me time to watch the Portland Winterhawks take on the Kamloops Blazers in a matchup of WHL Division leaders. Now Blazer fans are going to this was 3 games in 3 nights for the Blazers but I will counter that by saying it was also 3 in 3 for the Winterhawks. Portland won 3-1 to push their unbeaten streak to 12-0-1-0) and move to within 2 points of the Blazers who are the WHL Western Conference leaders. The Winterhawks hold 3 games in hand and their 0.825 winning percentage is topped only by Halifax of the QMJHL. Anyone who knows me knows that I am a firm believer in the belief that while offenses win games; it is defense that wins you championships. The Winterhawks have given up all of 40 goals in 20 games which is the best in the CHL. I call it the Ranger's biggest mistake of the 2012 NHL Entry Draft; trading the 80th pick (3rd round) to Nashville when they should have selected Brendan Leipsic. Leipsic who really I say could be the younger brother of Ryan Callahan as they are alike in almost every way is 11-13-24 in 17 games had a 7 game goal scoring streak end on Sunday. The Rangers can make up for this mistake by using a 2nd round pick on Thomas Spelling's former teammate Oliver Bjorkstrand. Bjorkstrand has been a real surprise going 11-9-20 in 20 games with a +15. At this rate the young man from Denmark won't be a surprise for very long. A Circus Ok call me late to the party but like several of my peers who have not liked the shootout; instead of calling it a shootout have taken to calling it a "circus." It is better than calling the 1 point the losing team receives the "loser point." Too many teams don't try to win games in the 5 minute overtime and will take their chances in the shootout. If I had my way then I would like to see the NHL and the CHL adopt what the CCHA has. Teams are awarded three points for each win in regulation or overtime, and one point for an overtime tie. Conference games tied after 65 minutes advance to a three-player shootout with the winning team receiving an extra point in the standings (denoted in the SW column). Make winning in regulation or overtime have some real meaning to it by awarding 3 points. Want to see teams going for it in regulation and/or overtime? This is how you do it. Speaking of circuses ESPN which has had opportunity after opportunity to offer coverage of college hockey during the regular season is once again making a big deal about covering the NCAA regionals and Frozen Four. Barry Melrose somehow gets transformed into an expert in college hockey? No he botches that just like he does the NHL coverage which is why I for one would rather see the 2 networks (about to be 3) that regularly offer college hockey to be the ones covering the NCAA tournament. Both CBS Sports and NBC Sports Networks have made an investment to cover the regular season and they would bring a much more knowledgeable announcing crew to the event. End Rant.
Original Story:
http://feedproxy.google.com/~r/ThePro...
THE BACKYARD
BEST OF MAXIM
RELATED ARTICLES
Last night, Christian Thomas began showing why the Rangers selected him in the second round of the 2010 draft. Thomas wasn't exactly a slouch on the score sheet prior to last night, with five points (2-3-5) in the first ten games, but last night Thomas added two goals and led the Whale to a 6-2 victory over Worcester. Both of Thomas' goals came on the powerplay. Chris Kreider...
Will the Rangers be celebrating this summer? Recently, Ryan Lambert suggested that the Edmonton Oilers would be looking to shake things up in the near future and suggested the Rangers as a trading partner. This prompted Dave to look at some possibilities between the two clubs and correctly noted there would need to be a lot of work done to get a deal done. Basically a deal between...
It's always very interesting to see how previous draft picks and trades pave the way for a big name player to be acquired. We looked into how Brandon Dubinsky became a Ranger, how Marc Staal became a Ranger, and how Tim Erixon wound up with the Rangers organization. Now, we look at a few of those deals, and how they all led to the Rangers acquiring Rick Nash. It's interesting...
Alex Nunn at Pro Hockey News reports that Carl Hagelin returned to New York to recab his injured shoulder and is likely to miss the entire month of November for Södertälje. Larry Brooks at the New York Post adds that Hagelin does not need surgery on the shoulder. Per rules of the NHL lockout is is not allowed to rehab with Rangers trainers. ...really enjoy blogging about...
Another Ranger is heading overseas. This time around, it's Derek Stepan, who will be heading to Finland to play with Kalpa Kuopio of SM-Liga. Off to play in Finland! #kalpa Notable NHLers on Kalpa are Sami Kapanen and Craig Smith (Nashville).   Tweet
In an interview with Finnish media, it's pretty obvious Derek Stepan, who's never been to Finland before, knows nothing about his new team KalPa or how he was setup up with the club... "I don't really know how it got hooked up. But someone through my agent, contacted him and we took off from there. Once they were interested, I was interested knowing what kind...
KalPa confirmed @derekstepan21 signing. Arrives tomorrow. Turns out they ended up upgrading from Craig "1 PPG" Smith. bit.ly/SV7qkP — Matias Strozyk (@MaStrozyk) November 11, 2012 I'll let my partner at TheNYRBlog take this one... In a sign that the NHL lockout is ending soon, Derek Stepan signs with Kalpa of Finland. Oh wait, that signals the complete...
This pic of his new mask says yes... From DaveArt, the creator of the mask (via Facebook)... "We have the pleasure to present a very special creation… Henrik Lundqvist gave me a call a while ago, he wanted a new mask in case he would start playing for Frölunda during the lockout..." ...you've got to figure it's only a matter of time before Hank...
Like most NHL fans I am growing more frustrated by the day as this lockout nears the two month mark in duration. At this point the Rangers have missed 13 regular season contests while another nine have been cancelled officially. That's already more than a quarter of the regular season. Sure, if they suddenly were [...]
Rangers News

Delivered to your inbox

You'll also receive Yardbarker's daily Top 10, featuring the best sports stories from around the web. Customize your newsletter to get articles on your favorite sports and teams. And the best part? It's free!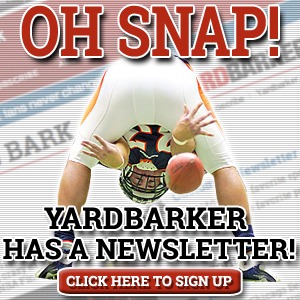 Latest Rumors
The Backyard

Today's Best Stuff

For Bloggers

Join the Yardbarker Network for more promotion, traffic, and money.

Company Info

Help

What is Yardbarker?

Yardbarker is the largest network of sports blogs and pro athlete blogs on the web. This site is the hub of the Yardbarker Network, where our editors and algorithms curate the best sports content from our network and beyond.