Found July 17, 2013 on NorthWest Sports Beat:
ITALIA ITALIA!!! After John Tortorella signed up to be the Vancouver Canucks' head coach, a pattern started to emerge in recent signings. Enter Ben Ferriero. Brandon DeFazio. and Mike Santorelli. Then we had the retention of Roberto Luongo. Going back farther we had players on the roster in 2012/13 Frank Corrado, Tom Sestito, Aaron Volpatti and Steve Pinizzotto. These Canucks are going Italian, either consciously or subconsciously, as the Aquilini family hits the mattresses to try to re-capture whatever it was that propelled this team through the spring of 2011. It's a subtle shift, where most of these depth guys will find their way in Utica this year, but a shift perhaps for the Canucks from Team Sweden over to Team Italy. Perhaps it's a way to smooth things over with Roberto, giving him an Italian posse to hit up places like Farina or Uncle Fatih's or enjoy a cappucino on Commercial Drive while watching some Serie A. Hell, imagine next year's Italian Day on the drive. It can't be for purely hockey reasons, because anyone who's played NHL 99 knows the Italian team is a joke. Surely they can't believe that some of this is the key to a cup. (You Tube Video) A shift perhaps for the Canucks from Team Sweden over to Team Italy We can also go one step further and make the connection between the reputation of the Italian national soccer team for defensive play and diving and then go ahead and tie that into the Canucks of recent years. Or perhaps the Canucks can identify with those famous Italian plumbers who fought tooth and nail level after level only to find their princess, or cup, was still out of reach. Whatever the reason, the Canucks made them offers they couldn't refuse and now these depth signings will hang around in Utica waiting for the call to help the family. Some, like Ferriero, are loyal Tortorella-ites from New York. Others, like Santorelli, are shootout crack shots from Florida. All of them probably fueled on pasta or something. All of them have a simple job, do whatever it takes to win a cup and help the Aquilinis further turn the Canucks into their own monetary printing press. I, like probably many other fans, am on board with whatever may help the team reach that goal, whether it be signing pockets of Swiss, French, or even those charming Irish. The cup, after all, is the spiciest meatball of all. CLICK HERE CHECK OUT THE VANCOUVER CANUCKS CLUBHOUSE TODAY ON NWSB!
Original Story:
http://www.nwsportsbeat.com/canucks/i...
THE BACKYARD
BEST OF MAXIM
RELATED ARTICLES
Part I Generally speaking, when most general managers outline their plan to build a competitive team they will start by building from the crease out. The Vancouver Canucks are no exception. Hell, you could even have made the case last season that too much was made of that philosophy, what with the whole two elite goaltenders thing playing out all season… So when projecting the...
Air For A Closing Window How long until this window closes completely and Canucks fans are left without the calming breeze of an opportunity for a Cup? It has been acknowledged that this team's core isn't getting any younger and that the opportunity to achieve Lord Stanley's mug only exists for a certain timeframe for a given roster. GM Mike Gillis has said himself that as...
from Tony Gallagher of the Vancouver Province, When you hear a coach or a general manager talking about his team or one of his players as "going forward" you are tempted to ask if there is any other possible direction in which said team or player could go? But the one that kills you is "accountability" and its variation, "accountable." Take the...
Alarmist headline, but here me out! Next year is the first year of re-alignment where the Canucks are moved out of the cozy Northwest Division and the ragtag group of teams that have failed to make the playoffs for years are plucked in a brand new as-of-yet unnamed division that for this article's sake, we'll call the Pacific*. The Albertan teams remain but Colorado and Minnesota...
There's video evidence to suggest unrestricted free agent defenceman Andrew Alberts can play the "more bite" game demanded by John Tortorella. But those clips are a little dated and a little faded. Those heavy YouTube hits on Pavel Datsyuk, Sidney Crosby and Logan Couture — bone-jarring collisions that either denied those opposition forwards the blueline or forward movement...
Forward usage chart John Tortorella loved his matchups. One of the major points of his coaching style is giving tough minutes to those he could rely on defensively. If there is one area where he and new coach Alain Vigneault are similar, it is here. Both coaches are known for matchups and zone-starting, deploying the offensive players in the offensive zone draws and defensive players...
For several off-seasons running, I've been creating these "master plans" that talk about the future rosters of the Rangers. The purpose of these posts is to really come full circle on all of the topics and rumors we've been covering over the course of the season. During prior offseasons, creating these plans was pretty easy for me as John Tortorella frequently talked about...
NHL News

Delivered to your inbox

You'll also receive Yardbarker's daily Top 10, featuring the best sports stories from around the web. Customize your newsletter to get articles on your favorite sports and teams. And the best part? It's free!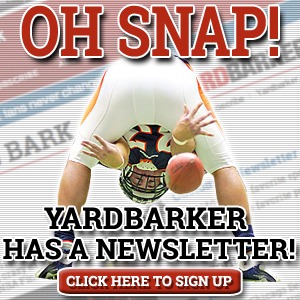 Latest Rumors
The Backyard

Today's Best Stuff

For Bloggers

Join the Yardbarker Network for more promotion, traffic, and money.

Company Info

Help

What is Yardbarker?

Yardbarker is the largest network of sports blogs and pro athlete blogs on the web. This site is the hub of the Yardbarker Network, where our editors and algorithms curate the best sports content from our network and beyond.