Found January 29, 2012 on Fang Faction:
On Friday, Ryan Suter said that he would not sign a new contract before the February 27 trade deadline, instead opting to wait until after the season is over. Many experts (staring at you, ESPN) took this to mean that he would not be staying with Nashville after this season, or that he would at least test the waters of free agency. Thus, Nashville would be wise to shop Suter around to try to get something in return for him, right?
Suter was upset to see how his comments were handled by the media, and he directly contacted ESPN to clarify his statement. He assured them that he only wants to wait until the end of the season so that it won't be looming over the team this season. He wants the team to focus on winning this season, and then he will work out the contract stuff in the offseason.
That's great for him, but for Predators fans? Not so much.
Those who have been following Suter throughout his stint with the Preds know that he is, perhaps, talking out of both sides of his mouth. That is, he has said in the past that he enjoys playing in Nashville for this organization and for the group of guys he is with now. But he wants to ensure that they are committed to winning.
I don't blame him for wanting that commitment, and wanting to see that commitment. The Predators have a long history of being something of a farm team for other teams in the league; Poille drafts the right players, Trotz works to teach them the fundamentals and then, once they become talented players, they leave for greener pastures.
But as far as this season is concerned, the Predators are three points out of first place in the Western Conference. They're good. And they're coming off the most successful season in franchise history last year. 
By pushing the contract negotiations to the offseason, he may divert attention away from the situation and allow the team to focus on winning games (ironically, though, it's all over the hockey media right now, simply because of a few comments he made). However, he really puts the organization in a rough spot. Are the Predators supposed to just wait it out and see if he decides to re-sign? Or do they start shopping him to see what they may be able to get in return, just to do damage control?
If the Predators decide to trade Suter, odds are they aren't going to get nearly equal value in return. The other team would be essentially trading for a small rental, because he is pushing contract negotiations off. Some are speculating that he clarified his comments because he doesn't want to be traded. Nashville may not be where he wants to stay forever, but he at least wants to finish the season here. If this is true, that greatly diminishes his trade value, because he would be traded against his will, and then the new team would be standing and smiling with a shiny new contract.
So perhaps the best course of action for the Predators right now is to test the trade market, but not for Suter. No, instead see what is out there to beef up the team, and to show Suter that, with the new ownership, this Nashville Predators team is committed to winning. There are still weaknesses that must be addressed on the team. How about, instead of shopping Suter around, Nasvhille sees if it can beef up its scoring? Instead of going all-out and assuming that Suter will stay and not dangling him out on the trade market, or assuming that he will leave and trying to find the best offer for him, why not believe him when he says that he enjoys playing for the team, and that he would stick around if the organization proved that it was committed to winning? Go all out in making the team better, and that will likely do more convincing that anything else could.
Obviously this is all easier said than done, and I do not envy any GM, let alone one who is in this volatile of a situation. The Predators have a very good team, and they have the potential to be good for a long time, but they have several keys. They must hold on to Shea Weber. They must hold on to Pekka Rinne. And they must hold on to Ryan Suter.
Please, Ryan, don't go.
Original Story:
http://fangfaction.com/year/january/s...
THE BACKYARD
BEST OF MAXIM
RELATED ARTICLES
When the Nashville Predators resume their season tonight in Minnesota following the NHL All-Star Break, they do so with the knowledge that the sky is the limit for their season. They also do so with a bit of a cloud hovering overhead. With 64 points, the Predators are just three points out of the top spot in the Western Conference. Only three teams in the entire league have more...
USA Today's Kevin Allen offers a slightly different spin on Nashville Predators defenseman Ryan Suter's decision to not re-sign with his team before the trade deadline: I talked to Suter Saturday night, and he wanted to make it clear that he is not ruling out re-signing with the Predators. He felt as if his words were misinterpreted Friday when he said he wouldn't re-sign...
Ryan Suter made headlines at a media event at the NHL All Star game by saying that he did not believe that he would sign with the Nashville Predators before the February 27th trade deadline. That sound you just heard was Predators GM David Poile cracking open a bottle of Maalox. Suter creates a problem for Poile with this stance because he is an unrestricted free agent July 1,...
Photo Credit: Getty Images Over the past 72 hours, much has been made about some comments made by Nashville's all-star defenseman Ryan Suter. After an initial incendiary reaction that had many in the hockey world writing him out of town, Suter clarified his statements the next day.  Unfortunately for Predators fans, while Suter may have taken a little bit of the sharp edge off...
If you're looking for a place to watch the 2012 NHL All-Star Game this afternoon, you're in luck! Dick's Last Resort, at 154 2nd Avenue North in downtown Nashville, is your place to cheer on Ryan Suter (Team Chara) and Shea Weber (Team Alfredsson) today. They're planning some giveaways (pucks, jerseys, etc.) and they're offering food and drink specials during the event...
Nashville Predators defenseman Ryan Suter said Friday he didn't anticipate signing a long-term deal before the League's trade deadline on Feb. 27. Suter made his comments during the 2012 NHL All-Star Media Day presented by Allstate. Suter will ...
KANATA, Ont. -- Nashville defenseman Ryan Suter's comments Friday regarding his ongoing contract negotiations and his pending status as an unrestricted free agent created a bit of unintended controversy at the NHL's All-Star weekend. As a result, ...
The Preds have been the league's hottest team roaring into the break. But Adam Gretz laments Nashville's big move in the West is being overshadowed by franchise D Ryan Suter's mixed signals over a new contract.
from Jim Matheson of the Edmonton Journal, • Why should anybody be surprised that Dallas Stars captain Brenden Morrow might be on the market? There are lots of miles on that chassis from all the punishment he's taken and dished out, and he just turned 33. He's still an effective player, but this is the classic case of the Stars checking the level of teams' interest before...
Barry Trotz likes the improvements his Predators have made this season - and he thinks his young team can get even better. Nashville came out of the All Star break with the NHL's best record since Dec. 28 at 12-2-0. Fifth in the Western Conference, only the Rangers (31), Boston (31) and Detroit (33) have more wins than the Predators (30), who started the season as the NHL'...
All-Star defenseman Ryan Suter and Shea Weber would rather wait until after the season to address their contracts than possibly become a distraction for the surging Predators.
NASHVILLE, Tenn. (AP) -- Barry Trotz likes the improvements his Predators have made this season -- and he thinks his young team can get even better. Nashville came out of the All Star break with the NHL's best record since Dec. 28 at 12-2-0. Fifth in the Western Conference, only the Rangers (31), Boston (31) and Detroit (33) have more wins than the Predators (30), who started...
Predators News

Delivered to your inbox

You'll also receive Yardbarker's daily Top 10, featuring the best sports stories from around the web. Customize your newsletter to get articles on your favorite sports and teams. And the best part? It's free!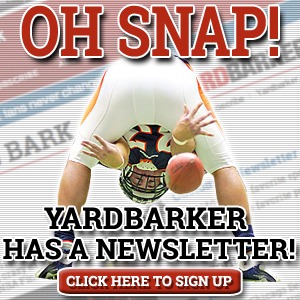 Latest Rumors
The Backyard

Today's Best Stuff

For Bloggers

Join the Yardbarker Network for more promotion, traffic, and money.

Company Info

Help

What is Yardbarker?

Yardbarker is the largest network of sports blogs and pro athlete blogs on the web. This site is the hub of the Yardbarker Network, where our editors and algorithms curate the best sports content from our network and beyond.