According to Boston Bruins twitter, yesterday's trade deadline was an absolute failure by the Peter Chiarelli and the Boston Bruins. Most fans thought that the Bruins' should pursue top pairing defense-man and forward depth for their hockey team that was totally struggling in the Eastern Conference playoff race. This is all despite the fact that there were not any top-pairing defensive players on the trade market, the Boston Bruins have enough forward depth to withstand an injury to anyone not named Bergeron, Krejci, or Lucic, and the Boston Bruins are currently one of two teams (three if you want to include New York) that are the favorites to represent the Eastern Conference in the Stanley Cup Finals. For all you Boston Bruins fans on twitter (who I will likely group into that stupid #BruinsFam) here are a couple things to remember about this team. 1.) There wasn't a top blue-line player to replace Dennis Seidenberg. When Dennis Seidenberg was lost for the season with a torn ACL/MCL, many who follow the Bruins (including myself) expected the Bruins to pursue some kind of replacement at the trade-deadline. The minor league players who have stepped up have played admirably, but it was not enough to replace Dennis Seidenberg. Yet, nothing was out there for the Bruins to pursue this year, so adding depth was of greater importance. Adding Andrej Meszaros, in addition to becoming the latest Boston athlete that I will have to look up the spelling of every time I write about him, is a solid depth piece for the team. He fell out of favor in Philadelphia this season, but he is also only two seasons removed from being a positive player for an average team with a terrible goaltender. That speaks volumes to Meszaros presence, and he is only 27 years old. That is an age that is too young to write-off the players ability. He isn't the top-pairing defender that some fans might have wanted, but Meszaros is a quality acquisition by a Bruins organization that had little to work with. 2.) The forward depth cannot sustain an injury First off, what were Bruins fans expecting? That they were going to go out and acquire Bruins assassin Thomas Vanek at the deadline? While it sucks that he went north of the wall and will likely score 30 points against the B's in the second round of the playoffs, the Bruins were not going to get him at the deadline. Thomas Vanek isn't brought in to be a "depth" guy, however. The Bruins have plenty of depth, especially considering how well the third line has been playing as a whole this season. The fear is an injury, but people scared of an injury forget that both Ryan Spooner and Matt Fraser have been fairly good during their short stints with the big-club, especially Spooner. Spooner is quick, explosive, and is as close to NHL-ready without being as NHL ready as he could be. Bashing the Bruins organizational depth seems to be the "in" thing, but lest they forget that a rash of injuries nearly derailed the Boston Bruins in last years playoffs. They seemed to do alright. 3.) The Bruins can't win the cup with this team Seems people have forgotten that this club went to the Stanley Cup Finals only a year ago with larger problems on their roster heading into the postseason than this season. Perhaps they forget that they are one of two teams in the Eastern Conference that has a legitimate claim to "contender status" and that while both teams are probably worse than anything the West can offer, they won't have to go through the gauntlet that those teams will have to endure. For the first time in my life, I am not worried about a Bruins team. Maybe that's a reason to be more worried, but I'm not, and that's a good thing. The Bruins did what they had to do on deadline day, nothing more, nothing less. The post Talking Boston Bruins fans off the edge post deadline appeared first on Boston's Bettah - A Boston Sports blog from guys that love Boston sports a little too much.
Original Story:
http://www.bostonsbettah.com/talking-...
MORE FROM YARDBARKER
Bruins News

Delivered to your inbox

You'll also receive Yardbarker's daily Top 10, featuring the best sports stories from around the web. Customize your newsletter to get articles on your favorite sports and teams. And the best part? It's free!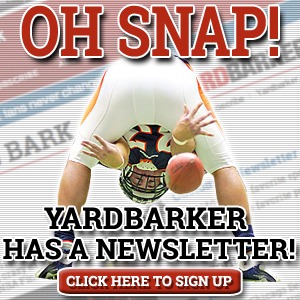 Latest Rumors
Best of Yardbarker

Today's Best Stuff

For Bloggers

Join the Yardbarker Network for more promotion, traffic, and money.

Company Info

Help

What is Yardbarker?

Yardbarker is the largest network of sports blogs and pro athlete blogs on the web. This site is the hub of the Yardbarker Network, where our editors and algorithms curate the best sports content from our network and beyond.