Found November 22, 2012 on The Prospect Park:
PLAYERS:
Cristoval Nieves
,
Carl Hagelin
,
Brenden Kichton
,
Samuel Noreau
,
Loic Leduc
,
Michael Sauer
,
Randy McNaught
,
Ryan Callahan
,
Brendan Leipsic
,
John Tortorella
TEAMS:
New York Rangers
,
Chicago Blackhawks
,
Bowling Green Falcons
As New York Ranger and New York Islander fans in the USA get ready to sit down for their Thanksgiving meal; we still have some hockey going on to talk about. Andrey Pedan (NYI 2011 3rd) and his Guelph Storm were not so very nice guests on the road against the Mississauga Steelheads for the Steelhead's annual "School Game". The Storm behind Pedan's 1-1-2 afternoon just whipped the Steelheads 8-0. This game was pretty much over after the first period as Guelph jumped out to a 3-0 lead thanks to 2 power play goals scored after a double minor created a lengthy 2 man advantage. The Storm were already up 1-0 when they scored at 15:35 and then again just 23 seconds later with Pedan earning a secondary assist on that goal. In the second Pedan scored his 8th goal of the season at 7:49 to make it a 4-0 lead for the Storm. Pedan is now 8-9-17 on the season as the Storm extend their unbeaten streak to 4 games (2-0-0-2). If you don't have tickets to Saturday's game at Madison Square Garden between Cornell and Michigan with the Ranger's 2012 2nd round pick Cristoval Nieves then you are going to miss watching a future Ranger. Nieves and his teammates were hosting Bowling Green Wednesday evening and I want you to check out this video which will have a few "highlights" from Nieves. It won't take long for you to see Michigan's #12 in action and check out the pass he makes at about the 1:50 mark. "Boo" Knows Hockey and where the net is" Funny thing a couple of weeks back a reader told me about how a nationally known hockey expert said Nieves can't score and he won't score. Not going to mention names but to that "expert", Nieves as a freshman has already worked his way up to Michigan's first line. I bring it up because the last Michigan player who also wore number 12 was not on the first line until the end of his 2nd season and Carl Hagelin has turned out to be pretty good. Nieves with the primary assist on Michigan's first goal is 2-6-8 in 12 games which if Michigan plays about 40 games will work out to about 27 points. Don't miss the game on Saturday at the Garden. Brenden Kichton (NYI 2011 5th) and his Spokane Chiefs played host to the Everett Silvertips on Wednesday and earned a 3-1 win. Kichton earned the game's 2nd star on a 2 assist evening. Kichton recorded his first assist when he set up Todd Fiddler for a power play goal to open the scoring just 47 seconds into the 2nd period. In the 3rd after Everett had tied the score at 1-1, Kichton set up Reid Gow at 4:41 for an even strength goal that turned out to be the game winner. Kichton is now 8-18-26 on the season which are pretty good numbers for a defenseman but Spokane plays in the WHL's US Division which has the Portland Winterhawks and Tri-City Americans in it. If Spokane plans on getting past either team then Kichton is going to elevate his game even more. Samuel Noreau (NYR 2011 5th) and his 3rd place Baie-Comeau Drakkar were in Halifax to take on the 1st place Halifax Mooseheads. The Moosehead's trampled all over the Drakkar 6-2 to end the Drakkar's unbeaten streak at 15 games (13-0-0-2). Noreau had a bad game as he was scoreless on a -2 on 3 shots and he took 2 penalties the 2nd of which led to the Moosehead's 6th goal of the game. Then again the Drakkar were taking on the current top ranked team in the CHL on the road so not going to worry about 1 game. Loic Leduc (NYI 2012 4th) and his Cape Breton Screaming Eagles are their own worst enemies. I don't know of any other team this season that will snatch defeat from victory like they do. Against the Moncton Wildcats, the Screaming Eagles took a 2-1 lead into the 3rd period and Moncton scored 3 unanswered goals to win 4-2. Leduc was his typical -1 no points and i hit for the game. You can almost sub any QMJHL team here and the story will be the same. Two that go away Now I make no secret that I am a huge believer in the Gordie Clark philosophy when it comes to prospect development but one of these days I just have to ask him why he hasn't selected any Portland Winterhawks since Michael Sauer back in 2005. I can understand not wanting any of the Winterhawks from 2006-2009 but since then I am sorry the Winterhawks have been producing some very talented players. Yes I know they are my home team but when it comes to having the mindset of how to build a winning franchise then the Winterhawks and the Rangers walk the same path. I know that the Rangers were not in spots where they could grab some of Portland's blue chip talent but twice the Rangers could have grabbed a couple of players and didn't. To this day I don't know why the Rangers used their 2010 7th round pick on Randy McNaught instead of goalie Mac Carruth. McNaught was a goon and really not much of one as I doubt he is even playing hockey anywhere this year. In the meantime Carruth has rewrote the Winterhawk's record book and if you look at his record then you understand why Portland is where they are today. The Blackhawks had the pick right after the Rangers and want to guess who they drafted? Yes That's the truth, the whole truth and nothing gets past the truth. Then there is the player who I have called the clone of Ryan Callahan, Brendan Leipsic. If there ever was a player that John Tortorella would adopt as his own it would be Leipsic. Like Callahan, he is not the biggest dog in the yard but also like Callahan there is never ever wondering if you are going to get a 100% effort out of him. He was sitting there at the 2012 NHL draft when the Rangers had the 80th pick in the draft. The Rangers traded that pick to Nashville and guess who Nashville picked with that pick? Of course it was Leipsic and the Predators got themselves a real player. Leipsic is only on an 11 game scoring streak at the moment 9-17-26 and is 12-20-32 in 20 games for the season. Now I bring this up because the Rangers don't have a 1st round pick in 2013 and odds are will wind up picking at the end of each round if the season gets wiped out. Portland is currently 18-4-1-0 on the season; they lead the WHL in goals scored and fewest goals allowed. I really do hope the Rangers remember this at draft time. Say a Thank You When you gather with your loved ones: Say thanks to the cop on the beat who protects you and your loved ones Say thanks to the fireman/EMT who fights fires and offers medical care Say thanks to those who wear a uniform so far from home to keep America free And remember most of all to tell those who are sitting down to eat with you what they mean to you because it only takes an instant to never get the chance to say it again. From my family to you have a safe and happy Thanksgiving. To the Absent Comrades thsnk you
Original Story:
http://feedproxy.google.com/~r/ThePro...
THE BACKYARD
BEST OF MAXIM
RELATED ARTICLES
We know Ryan McDonagh is back in the US and we know Carl Hagelin has terminated his deal with his hometown team back in Sweden. We also know Rick Nash has had his own injury issues despite scoring at an impressive rate in Switzerland. It goes without saying that the NHL is the best league in the world when they're actually playing hockey. So why then are so many Rangers players...
from Jeff Z. Klein of the New York Times, Brad Richards, the son of lobster fishers in Prince Edward Island, joined the Rangers just 17 months ago, but he is definitely a New Yorker now. In the days after Hurricane Sandy, he has been a frequent volunteer in hard-hit parts of the city, gutting flood-damaged homes in Queens and helping to organize a benefit hockey clinic on...
Henrik Lundqvist finally found a game to play. It won't be under the bright lights of Madison Square Garden, or in front of a hostile crowd in Philadelphia trying to rattle the man in the red, white and blue mask. But it will be meaningful and rewarding in a unique way. Like players and fans all across North America and the world, the New York Rangers goalie misses the NHL...
Ryan McDonagh back from Barys Astana #KHL w no serious injuries- minor bumps/bruises. Astana gr8 spot & thankful 4 chance play @ high level.— Ben Hankinson (@benhankinson) November 21, 2012 Hankinson is McDonagh's agent. ...good to have you back Ryan. Maybe the reason he returned so soon is because he's heard something encouraging regarding CBA talks. H/T to...
Henrik Lundqvist finally found a game to play. It won't be under the bright lights of Madison Square Garden, or in front of a hostile crowd in Philadelphia trying to rattle the man in the red, white and blue mask. But it will be meaningful and rewarding in a unique way. Like players and fans all across North America and the world, the New York Rangers goalie misses the NHL...
Jeff Klein at the New York Times takes a look at the huge role Brad Richards has taken in the Hurricane Sandy recovery effort in New York. All of which has been done without any publicity coming from his end. Here's Matthew Long, a retired New York firefighter, who lost his Breezy Point home in a fire discussing Richards' contributions... "Brad told me, 'I just...
Rose over at The Henrik Lundqvist Blog has this great pic of "The King" on the cover of King Magazine... ...how so very appropriate. Speaking of Lundqvist, Rose also has his thoughts on the lockout... "I feel lost and weird mentally. I feel lost. For the first time since I was seven, I do not play hockey in November." ...i think we're...
NHL News

Delivered to your inbox

You'll also receive Yardbarker's daily Top 10, featuring the best sports stories from around the web. Customize your newsletter to get articles on your favorite sports and teams. And the best part? It's free!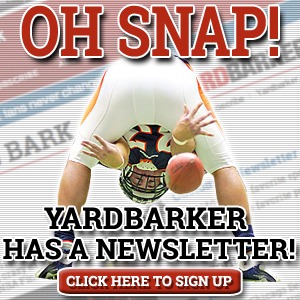 Latest Rumors
The Backyard

Today's Best Stuff

For Bloggers

Join the Yardbarker Network for more promotion, traffic, and money.

Company Info

Help

What is Yardbarker?

Yardbarker is the largest network of sports blogs and pro athlete blogs on the web. This site is the hub of the Yardbarker Network, where our editors and algorithms curate the best sports content from our network and beyond.