Found July 06, 2012 on NorthWest Sports Beat:
Nucks Lupdate Earlier this morning, Roberto Luongo, the best goalie the Vancouver Canucks have ever had, confirmed to CFOX, 99.3 that his time in Vancouver is done.
The Jeff O'Neil show caught up with Roberto this morning in Las Vegas where he is currently competing in the World Series of Poker. Roberto was asked numerous questions; all were answered quite candidly.
He was calm, the answers weren't typical manufactured answers to the typical hockey questions, they were on the spot and they were honest. CFOX and Roberto touched on numerous topics, ranging from his love for poker, if he peed in the shower and if he was the brains behind the twitter account of @strombone1. When they finally started to talk hockey, Roberto was asked if he about a supposed list. He (Luongo) didn't say specifically if there was one, but rather that "Mike (Gillis) threw it out there at our end of the season meeting, but we never really talked about it any further." When asked light-heartedly about going to a city like Columbus, Luongo replied "He would rather not talk specifics right now". He joked about playing in Chicago and how he always "loved playing in Chicago" but in a Canucks uniform. Q & A with Lu The big question was about his future with the team and if there were any chance he would be back next season, wearing the green and blue. I've had a great six years in Vancouver and I think it's a wonderful city. (Photo – Jeff Vinnick/NHL via Getty Images) His answer was as honest as it gets: "Never say never, but I think we all know what's going on, we've all seen what's developed. At the end of the day I think it's time to move on, and I'm ok with that. I've had a great six years in Vancouver and I think it's a wonderful city. I really enjoyed my time there. Sadly I could never win a cup there, which is probably my greatest regret, but it was a great six years." Straight from the horses mouth, what we all knew was going to happen has been confirmed. It's official Roberto Luongo has played his very last game for the Vancouver Canucks. It might not come as a total shock, but at the same time, I sort of feel like I was punched in the stomach. He's the best goalie this city has ever had; he took the team to places they haven't been in nearly 20 years. And yet I wonder what his legacy will be. Will he be remembered for the goalie who won 47 games his first year in Vancouver? Taking the team to the within one win of the Stanley Cup? Or he will he be forever remember for his foot in mouth remarks after game 5 of the finals? His performance in game six against Boston? Or the way people, no matter what the cause would jump all over him when the team played bad?
I know how I'll remember Roberto Luongo.
He's the best we've ever had in a Canucks sweater. Regardless of who takes over, that'll be damn hard to replace. CLICK HERE TO CHECK OUT THE CANUCKS BLOG IN THE CLUBHOUSE TODAY! © Mitch Dyck for North West Sports Beat, 2012. | Permalink | No comment | Follow NWSB on Twitter or join US on Facebook for real-time updates OR... | Share This on Twitter | Share NWSportsBeat.com on Facebook Post tags: 2012, @strombone1, boston, Canucks Blog, Canucks news, Canucks trades, CFOX, CFOX Radio, Luongo, NHL blogs, Roberto Luongo, Stanley Cup Finals, vancouver, Vancouver Canucks, Vancouver Canucks hockey, Vancouver Canucks News
Original Story:
http://www.nwsportsbeat.com/canucks/r...
THE BACKYARD
BEST OF MAXIM
RELATED ARTICLES
Happy Saturday! It's going to be another gorgeous day in the lower mainland, so before I heard off for the day I thought I put something together while I had my morning coffee. So here were are, another day goes by and we patiently wait for a Roberto Luongo trade. I know it's early in the summer and that there's a long way to go before there's any real cause for concern,...
We've known for along time that Roberto Luongo loves his poker. Now we've found out today via The Vancouver Sun that his 2012 World Series Of Poker Tourney fee which is played in Las Vegas will be picked up by the B.C. Lottery Corp. Nice job. He's essentially getting a free ride into a $10,000 poker tournament. Not bad for a millionaire NHL hockey player who could buy...
Quote: It's time to move on... And there it is. Confirmation. Robert Luongo's time is done in Vancouver. (Not that we didn't already know it) Here's the interview. 99.3 - The Fox Rocks - The Jeff O'Neil Show
Star goalie Roberto Luongo said Friday night in a radio interview that he expects to leave the Vancouver Canucks, and could even end up with the rival Chicago Blackhawks. Luongo was originally scheduled to be on Vancouver's 99.3 the Fox to talk about the World Series of Poker. However, the discussion shifted to hockey and where he might play next season following the Canucks...
Roberto Luongo has admitted that his days with the Vancouver Canucks appear to be coming to a timely end, and he also stated on the record that he would certainly consider playing for the Chicago Blackhawks as soon as he is traded. "I would never say never, you never know, but I think we all know what's going on," Luongo said about leaving Vancouver. "We've...
Roberto Luongo has left Vancouver. OK, it's only for a brief trip to Las Vegas, where he will be participating in the World Series of Poker this week. But if there were any doubts that the trade rumors swirling around the Canucks netminder were going to come to fruition, Luongo did a pretty good job erasing them on Friday. Luongo spoke for the first time since the end of the...
Where will Roberto Luongo play in 2012-13? Is his time with Vancouver finally coming to an end? Will the reign of Cory Schneider in net finally begin? Will the day come where Luongo finally admits to his secret life as the movie star Sacha Baron Cohen? All of these questions have been swirling around Vancouver since the Canucks were ousted from the playoffs by the Los Angeles Kings...
In his first one-on-one interview after the season, Roberto Luongo told Jeff O'Neil of Vancouver's CFOX Morning Show on Friday that "it's time to move on" when asked about his playing days with the Canucks."At the end of the day I think it's time to move on and I'm OK with that. I had a great six years in Vancouver, I think it's a wonderful...
from Brad Ziemer of the Vancouver Sun, The B.C. Lottery Corp. is paying Vancouver Canucks goalie Roberto Luongo's $10,000 entry fee into next week's World Series of Poker main event in Las Vegas…. As part of that contract, the lottery corporation confirmed Thursday that Luongo represents its Playnow.com poker and casino games website at a number of gaming events, including...
Playing GMMG For A Day While Vancouver Canucks fans patiently wait out a trade for goalie Roberto Luongo, I thought it would be fun to play the I'm Mike Gillis game again. This time instead of eating as many lobster stuffed tacos as I can and drinking enough red wine to fill a bath tub, I'm going to focus on a trade. The focus of that trade is Bobby Ryan. I'll be honest, I'm...
Canucks News

Delivered to your inbox

You'll also receive Yardbarker's daily Top 10, featuring the best sports stories from around the web. Customize your newsletter to get articles on your favorite sports and teams. And the best part? It's free!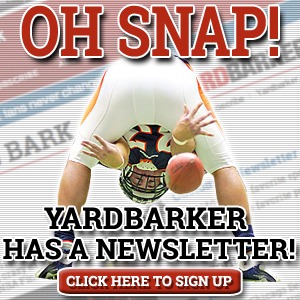 Latest Rumors
Best of Yardbarker

Today's Best Stuff

For Bloggers

Join the Yardbarker Network for more promotion, traffic, and money.

Company Info

Help

What is Yardbarker?

Yardbarker is the largest network of sports blogs and pro athlete blogs on the web. This site is the hub of the Yardbarker Network, where our editors and algorithms curate the best sports content from our network and beyond.