Found July 08, 2012 on The Prospect Park:
PLAYERS:
Dylan McIlrath
,
Michael Sauer
,
Stu Bickel
,
John Tortorella
,
Anton Stralman
,
Tim Erixon
,
Steve Eminger
,
Glen Sather
,
Samuel Noreau
,
Peter Ceresnak
,
Michal Rozsival
,
Shea Weber
,
Rick Nash
,
Bobby Ryan
,
Ryan Suter
,
Michael Del Zotto
TEAMS:
New York Rangers
,
Phoenix Coyotes
,
Nashville Predators
,
Columbus Blue Jackets
,
Anaheim Ducks
,
Minnesota Wild
,
Minnesota Golden Gophers
What Happens Now? A year ago at this time, the New York Rangers had plenty of reason to be excited about the talent as well is depth that they had among their defensive corp. But yet here we are a year later and what was a strength is now a real concern.
What the Rangers may or may not do this off-season might have changed when Dylan McIlrath underwent surgery for a dislocated patella. In many ways one could say that the Rangers are looking at "a domino effect."
Going into the off-season, the Rangers knew that Michael Sauer's status would be a concern. Nobody knew for sure whether Michael Sauer would be ready for training camp but at least the Rangers had time to plan for Sauer.
But Dylan McIlrath's injury came out of nowhere and while he was a longshot to make the Ranger roster this season; the seriousness of his injury raises questions for down the road.
The Rangers drafted McIlrath with the intent of giving them a physical presence on the blue line who was also strong enough defensively to cover for Michael Del Zotto's liabilities on defense. The hope was a year may be less and McIlrath would be ready for the NHL.
Now because of the surgery McIlrath is going to miss the off-season workouts, training camp and the odds are good that his season might not begin (if recovery works perfectly) until after January 1, 2013.
You don't want to call it a loss nor is the intent here to be all gloom and doom. Actually the intent is to show what the options the Rangers may have right now.
Sauer's injury opens a door for the newly re-signed Stu Bickel because Bickel's size and physical play could move him up the depth charts. Bickel is really going to need a strong off-season and an even stronger training camp to hopefully earn John Tortorella's confidence as well as the playing time that would go along with it.
It's up to Stu Bickel to realize he needs to not just knock on the door of opportunity but kick it off it's hinges. Bickel has to force John Tortorella to play him by his own efforts.
If I am Stu Bickel's agent then I am using whatever means possible to explain how this might be the biggest opportunity of Bickel's hockey career.
It also puts the Rangers into a curious situation now that Anton Stralman has filed for arbitration. The Rangers need Stralman right now more than he might need them because Stralman would give the Rangers 6 signed defenseman if Sauer is not ready come opening night.
That is provided (a) Stralman is not awarded some ridiculous salary by an arbitrator that would force the Rangers to walk away or the better scenario (b) that they reach a two-year contract to buy the Rangers time to let kids develop.
Then we have to turn our attention to Tim Erixon as his name as well as Del Zotto's has come up repeatedly in trade rumors. Can you afford to include either of these two young defensemen in any trade?
Before you answer that you also need to take a look at the CT Whale roster and realize that whether you trade either defender or both earn spots on the Ranger roster that you don't have enough NHL quality defenders developing in the AHL.
If you're the Rangers then whatever trade offer you entertain has to also include a quality defenseman in return. Otherwise Del Zotto and Erixon have to be seen as untradable because you don't have replacements.
If the season was to start tomorrow, then I would be really nervous about not having quality call ups in the AHL. The person who might benefit the most now is Steve Eminger.
The Rangers might need to re-sign him just in case Erixon is not ready or Bickel doesn't show forward progress to earn regular playing time. The Rangers also might need Eminger as an insurance policy AKA a seventh defender.
In any event The Rangers will still need to add most likely two more defenseman for the CT Whale roster. What they have available spent most of last year playing in the ECHL after being demoted from the AHL.
Another possibility
(and please this is only for discussion purposes)
would be to convince 2012 1st round pick Brady Skeji to not attend Minnesota but rather turn pro. Is he ready? No but signing him now fast-tracks him towards the AHL for next season.
It's that cute little loophole that allows prospects who back out of their college commitments not to have to wait until they are 20 to play in the AHL. Again, this is just pure discussion, not rumor or something I want to see happen.
Of course if I am Glen Sather and am seriously considering this move then I would pick up the phone and call an old friend of mine by the name of Lorne Molleken. I would suggest to my old buddy that he gets his hands on the WHL rights to Brady Skeji.
If you don't know who this is, Molleken happens to be the coach and general manager of the Saskatoon Blades. The Blades are hosting the 2013 Memorial Cup which would mean Skeji would be getting to play for the Memorial Cup.
(If the Portland Winterhawks hear about this; they would have their own carrot to offer as Skeji's good friend and his defensive partner last season Seth Jones on their roster.)
I'm pretty sure the Rangers already have had this discussion among themselves, just like I'm bringing it up here. You have to at least explore that possibility because you do not know how Michael Sauer will recover.
You do not know how Dylan McIlrath will recover and among current defensive prospects (Samuel Noreau and Peter Ceresnak) at best, their status remains projects. It almost forces you to seriously consider talking Skeji out of going to college.
Don't laugh at this next possibility but maybe you consider signing former Ranger Michal Rozsival, who is an unrestricted free agent. He may be 33 but if he buys you time or you actually do use Erixon or Del Zotto in any trade, then you need him for the offense he could provide.
Or the one that would probably be the most popular one which is go after trading for Shea Weber instead of Rick Nash or Bobby Ryan. The price tag might be equally steep but if you can solidify the core of your blueline for the next 4-5 years then it's a move to consider.
It also opens the door for trades down the road if or when Michael Sauer or Dylan McIlrath recover from their injuries. If it's me and I have just traded for Weber then I point at what his buddy Ryan Suter just got from Minnesota and offer it to him.
Really simple point out that the odds are by September 15th, the owners will be demanding an end to contracts like what Suter got from Minnesota. That if he doesn't grab the deal today then he won't get a chance for that kind of deal offered when he's a free agent next year.
All of this because one defenseman has a concussion and the other defenseman has a dislocated patella. Like I said "the domino effect"
Excuse me I need to go hide from a bunch of angry Golden Gophers.
Looking for a few good interns
If you are a serious college student looking at a career in sports journalism then the Blueshirt Bulletin might have an opportunity to help you get your career going. It's no joke, this is serious and you'd be expected to work your butt off.
The rewards is exposure because the Blueshirt Bulletin is the only independent magazine offering coverage of the New York Rangers where you'll find the Ranger beat reporters.
The reason I'm adding this is because I am on the Blueshirt Bulletin staff and because of my own move to Washington, I am looking for somebody to help me cover the Ranger prospects.
Contact the editor of the Blueshirt Bulletin at danielakeson@blueshirtbulletin.com
Original Story:
http://feedproxy.google.com/~r/ThePro...
THE BACKYARD
BEST OF MAXIM
RELATED ARTICLES
One of the most frequently asked questions this offseason after, "is Rick Nash a Ranger yet?" has been, "who the heck is Kyle Jean?" The answer is simple: he's the latest gem uncovered by Gordie Clark and New York's superior scouting staff, which has developed something of a Midas touch over the last couple of years. It wasn't long ago that the Rangers were completely...
Corey Pronman at Hockey Prospectus inexplicably leaves the Rangers out of the top 10 of his organizational rankings...11. New York Rangers: The Rangers won't be this high next year with likely graduations from top prospects Chris Kreider and Tim Erixon, but until that time, it looks like New York has several more pieces to add to an already good young core. Beyond their top two...
And the Rangers tough offseason continues as Dylan McIlrath underwent surgery to repair a dislocated kneecap yesterday. No timetable regarding McIlrath's rehab and return to action has been announced at present.McIlrath was injured during a scrimmage collision with fellow prospect Kyle Jean during last week's development camp at the MSG Training Center.This is McIlrath'...
Though it has repeatedly been reported that GM Glen Sather considers Derek Stepan "untouchable," that hasn't stopped many from debating whether he should be included in trade offers for superstars like Rick Nash and Bobby Ryan. Anaheim is specifically seeking a #2 center-man as part of a package for Ryan and has almost certainly requested Stepan from the Rangers (if the Ducks...
(Moose Jaw Herald) Friday was one of those "really great news day"ruined by some "really bad news" from the New York Rangers. The good news was the Rangers finally hiring Jeff Beukeboom to become an assistant coach with the CT Whale. It's a move that I've been wanting to see the Rangers make since the 2005 draft when they selected Marc Staal and...
Much debate was made over the weekend regarding what the Rangers should give up in a trade for Rick Nash or Bobby Ryan. The rumors were circling, and the general consensus is that the Rangers will need to include Derek Stepan in a package that will land either scoring winger. Both the Ducks and the Blue Jackets covet Stepan as a current #2 center, with the potential to be a #1 center...
The New York Rangers facebook page shared this photo of Rangers defenseman Michael Del Zotto doing some offseason fishing....Nice to see DZ enjoying his offseason #therightway. Make sure to follow me on Twitter @TheWrage or Facebook. E-mail me with any questions or comments at jwrabel9@hotmail.com 
Last week I reported that GM Glen Sather and the New York Rangers had sincere interest in Phoenix Coyotes captain and current unrestricted free agent Shane Doan. Regardless if the interest was mutual between the two parties, Doan, at the time, would not make a decision on whether or not he will be talking to teams other than the Coyotes about signing a contract that will last him...
NEW YORK, July 6, 2012 – New York Rangers President and General Manager Glen Sather announced today that the club has named Jeff Beukeboom assistant coach of the team's American Hockey League (AHL) affiliate, Connecticut Whale.  He joins head coach, Ken Gernander, and assistant coach, Pat Boller. Beukeboom, 47, is a four-time Stanley Cup Champion, including as a member of the...
First off, let me just give a huge thank you to Kevin for giving me the opportunity to be a part of THE place for all things New York Rangers on the Internet. It's been a part of my daily routine for years and when Kevin announced he might shut down for good, I felt a part of me would be going away. This site spawned may of the others around that are read daily. So, that makes...
The New York Rangers are still waiting to make their big move this offseason, as they are still desperate to add some playmakers to their roster to help them take the next step and get to the Stanley Cup Finals. After losing to the New Jersey Devils in six games in the Eastern Conference Finals last season, New York has been linked to many big names over the past few...
The Rangers held their breath last week as defenseman Dylan McIlrath crumpled to the ice in pain after colliding with newly signed prospect Kyle Jean at prospect development camp. At the time, McIlrath was diagnosed as day-to-day and though he missed the rest of the camp, McIlrath was expected to be healthy for the start of the season.  That's still not out of the question,...
NHL News

Delivered to your inbox

You'll also receive Yardbarker's daily Top 10, featuring the best sports stories from around the web. Customize your newsletter to get articles on your favorite sports and teams. And the best part? It's free!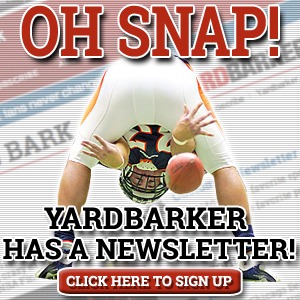 Latest Rumors
The Backyard

Today's Best Stuff

For Bloggers

Join the Yardbarker Network for more promotion, traffic, and money.

Company Info

Help

What is Yardbarker?

Yardbarker is the largest network of sports blogs and pro athlete blogs on the web. This site is the hub of the Yardbarker Network, where our editors and algorithms curate the best sports content from our network and beyond.