Found November 19, 2012 on Blue Seat Blogs:
If you've been frequenting this blog for a while, then you know that we aren't exactly fans of the plus/minus statistic. It's useful in some cases, especially when measuring some prospect's defensive value when they are in a shutdown role (Sam Noreau and Peter Ceresnak come to mind here). But at the NHL level, when other metrics are readily available, the plus/minus stat has very little value. One of the main problems seen with plus/minus is that it is a counting stat that relies heavily on ice time. When ice time is involved, it skews the numbers –positively or negatively– for those that simple play more. Those playing on high scoring teams –specifically when matching up against weaker lines– generally have higher plus/minus ratings. The best example of this being skewed is with the Washington Capitals. Not exactly noted for their defensive prowess, players like Alex Semin (+36 in 2009-2010) and Mike Green (+39 in 2009-2010) had outrageous ratings. Another problem is that it doesn't account for the quality of competition being faced. Ryan Callahan finished last season with a -8 rating, but no one ever suggests he's a poor defensive player. Marc Staal finished with a -7 rating. Ruslan Fedotenko (-7) and Brandon Prust (-1) also didn't have favorable ratings. But you don't say they are bad defensive players. Those five are all given ice time against top quality competition, and expected to shut them down at even strength. But if you're looking solely at plus/minus, then Marian Gaborik (+15) was one of the best defensive forward for the Rangers. So what stat do we use to try to counter the clear faults in the plus/minus stat? Well, the guys at BTN use a metric called +/- per 60, which eliminates the ice time factor and gives every player an even playing field. It doesn't address the quality of competition or quality of teammates playing, but it's definitely a more fair metric than raw plus/minus. To my knowledge, there is no metric that accounts for QoC and QoT in addition to eliminating the ice time factor from plus/minus. The closest metric that combines them all is GVT, but there are also additional stats used in the GVT formula. Personally, I prefer the combination of GVT, RCorsi (which we use here frequently), zone starts, and QoC to get a full picture of a player's defensive value. Tweet
Original Story:
http://www.blueseatblogs.com/2012/11/...
THE BACKYARD
BEST OF MAXIM
RELATED ARTICLES
Per Andrey Osadchenko, who covers the KHL, Ryan McDonagh is on his way home, as he has been granted a leave of absence from Barys to deal with personal issues and an injury. Pat Leonard has additional information, noting that the injury is not believed to be serious. McDonagh would be the third Rangers roster player to suffer a minor injury while playing overseas. Rick Nash suffered...
Today is one of those days where I have way too many thoughts about the Rangers in my head, so you are getting them in bullet point form. It's a musings, but more of a disjointed musings from a very tired Dave. It's going to be really interesting to see how fans react if and when the season resumes. I, like many others, refuse to attend a game with my own money –I'll go...
In what is becoming par for the course for the Rangers fifth round pick in 2010, Michael St. Croix (WHL – Edmonton Oil Kings) notched another multi point game last night with a goal and an assist in the Oil Kings' 4-3 OT loss. Edmonton out shot Prince Albert 50-22, but still came out on the losing end. St. Croix also finished with a +2 rating in the game. Across the pond, another...
Uh oh...RT @aosadchenko Ryan McDonagh leaves Barys until int. break in December because of family reasons & to recover from an injury. #KHL — Laurie Carr (@byndblueshirts) November 20, 2012 ...UGH!!!!!! Can we please get a CBA agreeent done now!!!!!!!!!!!!!!!!!!!!!!!! Speaking of injured Rangers playing overseas, Mattias Ek at Hockey Expressen reports that Carl...
Katie Strang at ESPN.com was able to speak with Brad Richards and Ryan Callahan about Gary Bettman's ridiculous idea of a two-week moratorium on CBA talks... Richards... "I don't know what good that's going to do, I don't know what the tactic is. We want to get to the table; we feel we're close. ... We've indicated to them in the last meeting...
I guess Chris Kreider's hard work has finally paid off as he scored the game tying goal on the power play in the CT Whale' 2-1 win over Worcester last night (1:41 mark)... It was just Kreider's second goal in 13 games. ...got to love Kreider going to the net and getting dirty to score. ...Bourque's game winning goal was an amazing individual effort...
Hit the ice today for the first time in a while, no better feeling. — Dylan McIlrath (@dylan_mcilrath) November 19, 2012 ...welcome back Mac Truck! ...McIlrath probably won't be ready to play until January. And while it's unfortunate he missed so much time, he'll still have a solid three months to play and learn under Beukeboom. Hopefully the Whale can qualify...
The New York Rangers Blog, a fellow Bloguin site, has pieced together a fascinating analysis of the salary situations of players -- not just the upper crust of the league, but the more average players as well. Much has been said over this lockout about how much the players have conceded to the owners in terms of lost pay; obviously the lost pay the players are worried about most...
NHL News

Delivered to your inbox

You'll also receive Yardbarker's daily Top 10, featuring the best sports stories from around the web. Customize your newsletter to get articles on your favorite sports and teams. And the best part? It's free!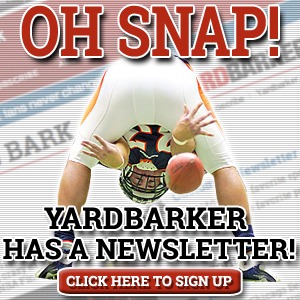 Latest Rumors
Best of Yardbarker

Today's Best Stuff

For Bloggers

Join the Yardbarker Network for more promotion, traffic, and money.

Company Info

Help

What is Yardbarker?

Yardbarker is the largest network of sports blogs and pro athlete blogs on the web. This site is the hub of the Yardbarker Network, where our editors and algorithms curate the best sports content from our network and beyond.