Found July 26, 2013 on Blue Seat Blogs:
I'm intrigued with the Danny Kristo trade. I'm intrigued at the possibility of Glen Sather ripping off the Canadiens again and I'm intrigued at the timing of it all. A prospect – apparently pro ready – coming to a team with cup aspirations, at a time where there's positions up for grabs. What to make of it all? We thought we'd ask a couple of people who have great insight with prospects and the US national program for their takes on Kristo. Does he have the talent to make an immediate NHL impact? It's always worth gauging opinion. Chris Peters of United States of Hockey and Jess Rubenstein from Prospect Park both have must read blogs and are great follows for prospect information. They both took time out to provide an insight into Kristo and the whole deal that no one really saw coming. Chris Peters' take: Danny Kristo was one of the best players in college hockey last season. He's a high-energy player with skill and speed, but he also brings tenacity to every shift. I believe he could be a productive player at the NHL level and was surprised Montreal was willing to give up on him without seeing what he could do at the NHL level. Kristo gives the Rangers an affordable player with pro upside. I think his ceiling is top-six forward, but I can see him safely sliding into a third-line role where he's asked to bring some scoring depth to a team. I think he could play in the NHL next season and have some moderate success, but it might not hurt to give him a little adjustment time in the AHL. Kristo was a big part of the 2010 U.S. World Junior Championship gold medal team, and a focal point of North Dakota's offense. He's been in a lot of pressure situations at his young age and I think that will help lead to him being a successful NHL'er. I think this is a really nice trade for New York. Jess' take: To be honest I was surprised that the Rangers (as well as the Canadians) gave up on their prospects after just one pro season. When the trade was made I called it a wash as both players for the most part were just about even in skill. I liked Thomas more for his ability to create offense not only for himself but for those on the ice as well. Where I think people are making a mistake is by looking at this trade based only on the 2 players involved as I am more of the belief that the Rangers felt they could move Thomas for a goal scorer because they had other prospects who could play set up man. I am talking about Jesper Fast, JT Miller, Michael St. Croix, and Cristoval Nieves who are going to be more playmakers than goal scorers at the NHL level. They needed to add guys who could put the puck in the net which is an area that the Rangers are hurting in. It is a good move by the Rangers trying to address a need in the system. I liked Kristo when he was playing at North Dakota and I think he will fit in with the Rangers quite well. To me the Rangers made a trade based on need – as Jess alleviates to – but also because they were impatient. I feel Kristo is more likely to make an NHL impact sooner rather than later even if I believe Thomas has legitimate potential. It will be interesting to measure this deal in two season's time when both players have significant time spent at the pro level. A big thanks for Jess and Chris for providing some insight for Rangers fans. You can follow both on twitter, Chris here and Jess here. Check out their sites from the links above.  Tweet
Original Story:
http://www.blueseatblogs.com/2013/07/...
THE BACKYARD
BEST OF MAXIM
RELATED ARTICLES
Yet another American for NYR: Danny Kristo Whether Christian Thomas makes it as a Montreal Canadien is of little concern to Rangers fans, although his smallish frame should fit right in with the Canadian club. Rangers' fans however should be excited at the prospect of Glen Sather once again acquiring a potential NHL regular from Montreal. In Danny Kristo, the Rangers have acquired...
Which Wolfpack prospect will be next to graduate? A lot of credit has to be given to the Rangers franchise for the way they have opened up space at all levels of the franchise for prospects. Room has been made so that prospects can get the maximum amount of ice time to aid their development. The caveat in all of this is that they still need to earn it, and should they not there needs...
One concern many Rangers have had the last few season regarding organizational depth is the dearth of top level goaltending prospects. Henrik Lundqvist isn't getting any younger, so the process of grooming The King's heir apparent needs to start and needs to start now. While Cam Talbot, Scott Stajcer and Jason Missiaen have had their moments and 2013 6th round pick...
Kreider pulled off the first major upset of the tournament yesterday. As the offseason wears on, us and Matt Josephs of Blue Line Station (Twitter: 11Matt_Josephs8) will be running a tournament for the Best Ranger since the 2005 lockout. Yesterday we saw #12 Chris Kreider upset #5 Jed Ortmeyer in the closest vote yet. The voting went to overtime and ended at 10:30am this morning...
Over at In Goal Magazine (H/T Puck Daddy), Kevin Woodley reports that the NHL goaltenders across the NHL are still awaiting an agreement between the NHL and NHLPA on equipment size reductions for this upcoming season, specifically the height of the leg pads. Woodley says the main disagreement seems to be the NHL wants to limit the length of the pads above the knee, while the...
This is incredibly spiffy, from the NHLPA: SMASHFEST! HOSTED BY DOMINIC MOORE RAISES OVER $100,000 FOR RESEARCH INTO RARE CANCERS AND CONCUSSIONS …Second annual charity Ping-Pong event included 25 current and former NHL players participating TORONTO (July 26, 2013) – NHL player Dominic Moore is pleased to announce that this year's Smashfest! charity ping-pong event...
Carl Hagelin took out Derek Morris yesterday. As the offseason wears on, us and Matt Josephs of Blue Line Station (Twitter: 11Matt_Josephs8) will be running a tournament for the Best Ranger since the 2005 lockout. Yesterday we saw #4 Carl Hagelin take out #13 Derek Morris. Today's matchup is #6 Fedor Tyutin vs. #11 Karel Rachunek: Fedor Tyutin (acquired – 2001 draft, 2nd round...
Fedotenko took out Sjostrom yesterday. As the offseason wears on, us and Matt Josephs of Blue Line Station (Twitter: 11Matt_Josephs8) will be running a tournament for the Best Ranger since the 2005 lockout. Yesterday we saw #8 Ruslan Fedotenko beat #9 Fredrik Sjostrom. Today's matchup is #5 Jed Ortmeyer vs. #12 Chris Kreider: Jed Ortmeyes (acquired – 2003 undrafted free agent...
This past Thursday in Toronto, Dominic Moore of the Rangers hosted the second annual Smashfest! ping-pong competition to raise money for charity. Other NHL players such as Martin St. Louis, Logan Couture, Phil Kessel and David Clarkson all attended, putting their ping-pong skills to the test. By the night's end, over $100K was raised for concussion research and rare cancer research...
Rangers News

Delivered to your inbox

You'll also receive Yardbarker's daily Top 10, featuring the best sports stories from around the web. Customize your newsletter to get articles on your favorite sports and teams. And the best part? It's free!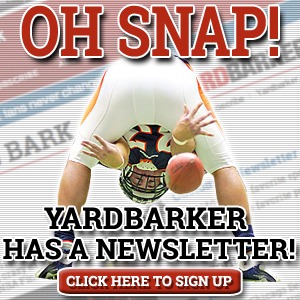 Latest Rumors
Best of Yardbarker

Today's Best Stuff

For Bloggers

Join the Yardbarker Network for more promotion, traffic, and money.

Company Info

Help

What is Yardbarker?

Yardbarker is the largest network of sports blogs and pro athlete blogs on the web. This site is the hub of the Yardbarker Network, where our editors and algorithms curate the best sports content from our network and beyond.