Found April 10, 2012 on Buzz On Broad:
Let me start by saying that I am not a believer in conspiracy theories, and that I'm usually the first to speak up in defense of Gary Bettman and the NHL whenever somebody starts the "Sidney Crosby and the Penguins are the league's pet project" or the "Gary Bettman's favorite son" talk.
As much as it pains me to even write the words "in defense of" immediately preceding the words "Gary Bettman," it's tough for me to get on board with the idea that a major business entity (like the NHL) might give preferential treatment to an individual player or team. Big corporations can't possibly be corrupt, you know what I mean? (Also, I don't watch the news and I might possibly live under a rock).
But then Bettman went ahead and issued these comments on Monday, and today they ran in an article on NHL.com (which mysteriously vanished from the site's main headlines sidebar already in what must be, like, a total coincidence):
"The level of passion, emotion and gamesmanship can never be overestimated," Bettman said. "I think people who follow the game closely understand it's just noise. My guess is, Sidney Crosby is still the most popular player and has legions of fans in all ages in multiple countries. The fact that somebody might take a potshot, I guess, is the price of greatness."
I had two immediate reactions to that statement. The first was that this was all just a marketing gimmick set up to pump up the official, NHL-licensed Sidney Crosby biography "The Price of Greatness," to be released immediately following Crosby's future retirement. That's not a real thing (yet!) but man, it sounds so very right.

Above: Teaser cover art for "The Price of Greatness." Reserve your copy today at nhl.com/penguins
The second reaction was that this seems a little out of line on the part of the Commissioner and the league.
Sure, everyone from NHL coaches to respected analysts (haha!) such as Mike Milbury and Don Cherry has been getting on Crosby and the Pens over the last few weeks, but does that really merit this type of official response from the NHL?
We expect the league to defend its guys, especially its stars and especially especially when it's known inflamatory figures/jackasses like Milbury and Cherry doing the attacking. But wouldn't a simple "we don't condone the negative comments regarding one of our premier players, the NHL and its affiliates do not sanction the opinions of said media personalities/coaches/fans/literally everyone who isn't a Penguins fan" have been enough?
To be fair, most of the article (as posted on NHL.com) was Bettman and NBC Sports Group Chairman Mark Lazarus talking about how much of an idiot Mike Milbury is (which we can get behind) and how they were glad Milbury apologized for what he said. But both Bettman and Lazarus also made sure to mention that Milbury's comments weren't made on NHL or NBC-affiliated programs, which means that technically, the league didn't really have a good reason to make any kind of statement.
It's not the same situation as with Ozzie Guillen in Miami (who, in case you missed it, confessed his love to Fidel Castro, and is also an idiot). Guillen is a league employee, and his remarks were not just politically incorrect, but offensive on a social level that transcends the sport. Milbury's and Cherry's remarks are purely sports opinion and couldn't be construed as offensive to anybody but Crosby and fans of the Penguins—and even then, they're offensive only in the context of the sport (rather than an "I just told a city populated by victims of a cruel dictator's regime that said dictator is the coolest dude" context).
The point is, it seems like Bettman went way above and beyond what was necessary here, and stuff like this only provides additional fuel for the "Crosby+NHL Forever" conspiracy machine.
By saying, "my guess is, Sidney Crosby is still the most popular player and has legions of fans in all ages in multiple countries," Bettman is turning a blind eye to the legions of fans in all ages in multiple countries who actually think Crosby is kind of a dick. And there are lots of those fans.
It's probably an overstatement to say this, but by continuing to go above and beyond what is necessary in defense of Crosby and the Penguins, Bettman and the NHL are effectively marginalizing everyone who isn't a Pittsburgh fan. And I'm no statistician, but I'm willing to bet the NHL's core fanbase consists of more non-Penguins fans than Penguins fans.
As much as the NHL wants Crosby to be one its heroes, he's perceived by just about everyone outside of Pittsburgh as one of its villains. That reputation might be unfair, and it's probably not really deserved, but it's the way people see it. Besides, sports leagues need villains. The NBA has Kobe. Major League Baseball has the Yankees. Major League Soccer has the fact that it's soccer.
Maybe it's time for the NHL to stop trying to tell the fans how to view Sidney Crosby, and just let the fans make that decision for themselves.
Until then, bring on the conspiracy theories.
Original Story:
http://www.buzzonbroad.com/2012/04/th...
THE BACKYARD
BEST OF MAXIM
RELATED ARTICLES
Over at NHL.com, Commissioner Gary Bettman responds to John Tortorella's recent comments regarding the whining of Sidney Crosby and Evgeni Malkin as well as the "arrogance" of the Penguins organization..."The level of passion, emotion and gamesmanship can never be overestimated," Bettman said. "I think people who follow the game closely understand it...
Follow @BrianHuddle Let's set the stage. Bettman steps up in front of thousands of hockey fans, most of them wearing Sidney Crosby and Evegeni Malkin jerseys, with the odd splash of Flyers orange, Maple Leafs blue, Montreal red, etc. The boos rain down on ol' Gary, as he welcomes fans and team personnel alike, as well as the countless young men expected to be drafted...
from Chris Stevenson of Sun Media,  They are billing it as the "Commonwealth Cold War" here in the state of Pennsylvania. It will be, we hope, anything but cold. "We don't like each other," said Pittsburgh Penguins captain Sidney Crosby about the Philadelphia Flyers, "so that's the way it is. You can dissect all you want, but, really, when it comes down to it, we...
There are far too many reasons to count why we in Philadelphia can't stand the Penguins, and come to think of it, the entire city of Pittsburgh. The Pens are our rivals; our bitter cross-state enemies. The close proximity and frequency of competition play heavily into that rivalry, which sets the stage for what will be a legendary playoff series between the two teams. Hate is...
Phoenix Coyotes goaltender Mike Smith was named the NHL's First Star of the Week on Monday. Smith extended his shutout streak to 234 minutes, 25 seconds before yielding a goal to St. Louis during the first period on Friday. He stopped 31 of 32 shots that night and made 23 saves on Saturday as Phoenix claimed the Pacific Division title. Tampa Bay Lightning stud Steven Stamkos...
Brian Burke. It's that simple. The man is truly awesome. And his latest interaction with the media lives up to that hype I just placed on him. "The Pittsburgh model? My ass," Burke said when asked about Pittsburgh's post-lockout rebuild. "They got a lottery. They won a (expletive) lottery (in 2005 for Sidney Crosby) and they got the best player in the game. Is that...
Brian Burke has joined the growing group of people who have decided to take shots at the Penguins in order to deflect attention from their own failures. Via Puck Daddy: "What's the Pittsburgh model?" Brian Burke snapped that question back to the media during a postseason press conference on Tuesday, examining the carcass of the 2011-12 Toronto Maple...
The Vancouver Canucks carry the NHL's best record into the Stanley Cup playoffs for the second year in a row. The New York Rangers are on top of the Eastern Conference for the first time since they won it all in 1994. But the team many are picking to carry the Cup this year is the Pittsburgh Penguins - the No. 4 seed in the East that is supremely dangerous with healthy stars...
The Stanley Cup Playoffs get started tonight with a slate of 3 games, and in lieu of an actual preview of these games, we thought we'd something we do with some irregularity around here--preview the souvenirs. We've taken each team playing tonight and compared the most expensive souvenir* available in their online shop and used it to predict who will win the series. Informative...
NEW YORK (April 9, 2012) – Phoenix Coyotes goaltender Mike Smith, Tampa Bay Lightning center Steven Stamkos and Pittsburgh Penguins center Sidney Crosby have been named the NHL's 'Three Stars' for the week ending April 8. Continue reading "Stars Of The Week"
The Pittsburgh-Philadelphia series is already living up to expectations. The Pens jumped all over their cross state rivals and goaltender Ilya Bryzgalov, shooting out to a 3-0 lead on goals by Sidney Crosby, Tyler Kennedy and Pascal Dupuis, but Philadelphia slowly regained their composure and widdled away at the home club's lead. Daniel Briere scored after clearly being...
NHL News

Delivered to your inbox

You'll also receive Yardbarker's daily Top 10, featuring the best sports stories from around the web. Customize your newsletter to get articles on your favorite sports and teams. And the best part? It's free!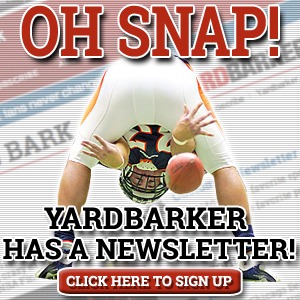 Latest Rumors
The Backyard

Today's Best Stuff

For Bloggers

Join the Yardbarker Network for more promotion, traffic, and money.

Company Info

Help

What is Yardbarker?

Yardbarker is the largest network of sports blogs and pro athlete blogs on the web. This site is the hub of the Yardbarker Network, where our editors and algorithms curate the best sports content from our network and beyond.