Found July 10, 2012 on Blue Seat Blogs:
PLAYERS:
Rick Nash
,
R.J. Umberger
,
Antoine Vermette
,
Kristian Huselius
,
Steve Mason
,
Zach Parise
,
Bobby Ryan
TEAMS:
Columbus Blue Jackets
,
Arizona Coyotes
,
Minnesota Wild
,
Anaheim Ducks
,
New York Rangers
Ever since Rick Nash was formally put on the block last season, we have had quite a bit of discussion on the topic here at BSB.  Interestingly, it seems our readers (and writers, for that matter) are pretty evenly divided in the pro or anti-Nash camps.  This is understandable given his large and lengthy contract, his (seemingly) declining production and his superstar status on a basement dweller. If you read here regularly, you are aware that Dave and I don't necessarily see eye to eye on a potential Nash acquisition.  Due to our never ending quest for objective examination, I asked Dave to give me an assist on some advanced stats analysis to dig a little deeper into the merits of rolling the dice on Mr. Nash.  Since Nash has experienced a production decline in each year since his 40 goal '08-'09 campaign, I wanted to know if this was due to actual decline or if the decrease in surrounding talent was more to blame. Dave was kind enough to run an advanced metric analysis for this post and here is a quick run down of Nash's past three seasons*:
Note by Dave: I admittedly don't watch much of the Columbus Blue Jackets, so there's a solid chance I'm off on this a bit. 2011-2012 QoC Rcorsi Ozone % OGVT GVT PVT Nash 0.058 -0.1 52.9% 8.1 11.0 3.67 Prospal 0.038 13.3 50.5% 4.6 7.1 2.37 Umberger 0.020 -0.8 48.6% 3.2 5.3 1.77 Brassard 0.019 0.3 50.7% 3.3 3.9 1.30 2010-2011 QoC Rcorsi Ozone % OGVT GVT PVT Nash 0.018 4.5 57.1% 11.0 14.9 4.97 Umberger -0.003 2.3 53.4% 6.5 10.4 3.47 Vermette 0.005 7.8 55.3% 3.6 7.1 2.37 Brassard -0.012 0.6 60.7% 4.2 4.9 1.63 2009-2010 QoC Rcorsi Ozone % OGVT GVT PVT Nash 0.050 2.9 49.8% 10.6 13.7 4.57 Umberger 0.028 -6.5 46.7% 6.8 6.9 2.30 Vermette 0.017 0.7 44.3% 8.9 10.4 3.47 Huselius 0.029 -0.1 51.6% 8.4 10.6 3.53
2009-2010: The only year in this time frame that Nash had legitimate help. R.J. Umberger, Antoine Vermette, and Kristian Huselius were tremendous assets offensively for CBJ. Nash was clearly the best, but he had a clear-cut points in the standings advantage over them. Interestingly enough though, Nash's RCorsi in comparison with the rest suggest he did all of the work in maintaining possession, and the rest just benefited from him. This is the only year where Nash's RCorsi was better than everyone else. 2010-2011: Umberger was Nash's greatest asset this season, but the QoC suggests they didn't play together frequently. QoC suggests that Vermette got the majority of time with Nash, where his 7.8 RCorsi was a big help. Nash himself had a good puck possession year at well. Nash again was worth more than a full point in the standings than Vermette and Derek Brassard combined. 2011-2012: It's very clear that the opposition sent their best players out against Nash to shut him down. His .058 QoC was the highest he's ever faced. Vinny Prospal was a key addition to the BJs, his RCorsi is through the roof and it appears that he helped make that line go in the way that Hagelin was a good fit for the Rangers top line. Even though Prospal was a great fit, Nash was still worth more than a point more in the standings than Prospal, and Nash was worth more in the standings than both Umberger and Brassard combined.
As you can see from Dave's analysis, it seems as if Nash does indeed perform better with a better supporting cast.  Obviously, this is not a new concept for professional athletes, but considering the context of the team itself, it makes perfect sense.  The year before Dave's research began, the Jackets finished with 92 points and made the playoffs for the only time in franchise history.  The three years incorporated in Dave's work saw the point totals and most types of production fall of a cliff in Ohio, the only question is, why? You could obviously place some of the blame on the Captain and highest paid player in Nash.  Conversely, you could blame quite a bit of the decline on Steve Mason's horrendous run.  Bad trades/free agent signings also played a part.  Given the difference in line mates that Nash had with him in those subsequent years, I think it would be extremely difficult to expect him to keep up a 40 goal pace in those circumstances.  Don't even start on plus/minus numbers, they mean even less than usual when it comes to the Jackets. To start the season, if the Rangers acquired Nash, he would likely play with Richards and Hagelin.  Both of those players would be an upgrade on the dearth of talent Nash has in Columbus.  Since his decline in production seemingly coincides with a downgrade in peripheral talent and significant drop in success of the organization as a whole, I tend to believe a rebound in production would be very likely. Will Nash be a 40-goal guy again in a system like the one Torts employs?  It's hard to tell for sure, but there are no signs of physical decline in Nash's game, only downgraded personnel around him.  I'll take that scenario over a point producer who all of a sudden has a down year for a contending team. Now, the contract.  Zach Parise just made Rick Nash's contract seem like a bargain.  Obviously, $7.8 million per season is not chump change, especially in a salary cap context.  The term is so much more favorable in this case that it really is a no-brainer for me at this point. Parise generally tends to out-produce Nash, let's say to the tune of about 10 points per season.  Is that worth an extra seven years on a contract?  If both were free agents and you could have Nash for 6/$47 million or Parise for 13/$98 million, is it even a debate?  You are out from under Nash's deal at age 34 versus 40+ for Parise. In the context of the Rangers current contracts it makes sense as well.  Gaborik will be a free agent two seasons from now at the age of 32.  If the Rangers decide to let him walk, Nash's hit essentially replaces Gaborik's.  It also gives the Rangers more freedom to play hardball on a new contract with Gaborik. All in all, while I think Bobby Ryan is a better value, Sather clearly covets a physical power forward in Nash's mold.  I personally would love to see #61 on Broadway and I think Parise's new contract has shown how expensive this type of production is becoming.  What do you guys think?  Has this analysis done anything to change your Nash position?  Sound off in the comments. *If the Rangers actually acquire Nash, we will dig deeper into the metrics and systems to find out exactly how his game fits in with NY. ** Also, this entire analysis is predicated on a reasonable trade package to acquire Nash's services.
Original Story:
http://www.blueseatblogs.com/2012/07/...
THE BACKYARD
BEST OF MAXIM
RELATED ARTICLES
from Aaron Portzline of the Columbus Dispatch, "Most people I know feel like there's more to give there yet with Rick," said former NHL forward Ed Olczyk, now an analyst for NBC and Comcast SportsNet Chicago. "There's still that untapped ability. You wonder what numbers he could put up if he played on a really good team with really good offensive players. "Teams should...
Unfortunately for you guys, I can't see you through my computer so here's some more Rick Nash nonsense from Aaron Portzline of the Columbus Dispatch..."One phone call could get the deal done, Howson has noted. Boston, Detroit, the New York Rangers, Philadelphia, Pittsburgh and San Jose are all on Nash's approved list, but the Rangers and Flyers would appear to have...
It makes perfect sense doesn't it? Most GTA born youth who grow up playing hockey dream of one day suiting up for the blue and white. Not Brampton-raised Rick Nash, who is currently looking for a way out of the lowly Columbus Blue Jackets. The power forward has revealed six teams that he would approve [...]
  So we lost out on the guy that was supposed to rejuvenate a defensive corps that lost its best player, and one of the best defenseman to ever play the game. Ryan Suter didn't happen. And what is our defense going to do? I have Brendan Smith doing everything next year, so I'm not worried, but what we still haven't fixed is that forward sniper position. And no, I...
In yet another piece on Rick Nash, Greg Wyshynski at Puck Daddy discusses how the Columbus captain still has a Junior Hockey mentality meaning he tries to do too much on his own and thinks his size and power can overcome multiple player coverage from the defense.Wyshyski adds this quote from former Ranger and TSN analyst Ray Ferraro on the impact John Tortorella would have on Nash...
from Rob Oiler of the Columbus Dispatch, Rick Nash is unhappy in Columbus, but during his nine seasons here, he always has acted professionally. Unless that changes — and it is possible; a prolonged holdout meant to force a trade would be a big shift in professional behavior — the CBJ's best player will remain as such. He will perform on par with his skill, not his employment...
from Ken Campbell of The Hockey News, NEWS: Columbus Blue Jackets GM Scott Howson says he refuses to accept anything less than "market value" for disgruntled captain Rick Nash. VIEW: That's all well and good, but that same market is basically dictating Nash is not worth the combination of what Howson is asking, plus the pillaging of roster players and prospects Howson insists...
All quiet on the Penguins front. But there are two really good reads out there today. 1. That Columbus beat writer who probably is more well known outside of Columbus than in, had a great piece on the Rick Nash fiasco. [ Blue Jackets Extra ] Howson won't give him up until he gets market value, and his trade partners — the six clubs on Nash's approved list — are...
Many have asked: One call can change all, but I get no sense that a Rick Nash trade is imminent. Holding pattern for now. #CBJ— Aaron Portzline (@Aportzline) July 10, 2012 ...sweet, can't tell you how excited I am to hear this news....with all the news being posted about Nash on this blog lately, I'm ready to change the name to The Rick Nash Blog.***In news I'm assuming...
Eric Staal got some very good news a few weeks back when his Hurricanes made a trade with the Pittsburgh Penguins to acquire one of Staal's, brothers, Jordan, to play in Carolina. It not only made the Staal brothers happier, but it also made the Hurricanes much better. But as it sounds, Eric is hoping that his Hurricanes are not quite through adding some key pieces...
NHL News

Delivered to your inbox

You'll also receive Yardbarker's daily Top 10, featuring the best sports stories from around the web. Customize your newsletter to get articles on your favorite sports and teams. And the best part? It's free!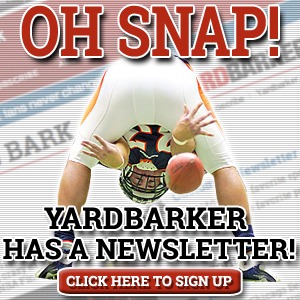 Latest Rumors
Best of Yardbarker

Today's Best Stuff

For Bloggers

Join the Yardbarker Network for more promotion, traffic, and money.

Company Info

Help

What is Yardbarker?

Yardbarker is the largest network of sports blogs and pro athlete blogs on the web. This site is the hub of the Yardbarker Network, where our editors and algorithms curate the best sports content from our network and beyond.