Found June 27, 2012 on Blue Seat Blogs:
Though we suggested Shane Doan as a possible free agent target for the Rangers, no one really believed the team had a shot at signing him.
That's because the consensus for months, even years, was that Doan was a life-long Coyote, solely loyal to the Phoenix/Winnipeg squad that originally drafted him back in 1995.
But in a surprising turn of events, Phoenix GM Don Maloney admitted this evening that Doan will indeed test free agency on July 1st.
Doan really has no choice.  Phoenix's ownership situation is still as uncertain as ever and there's still a reasonable possibility that the Coyotes will leave Phoenix in the very near future.  Doan, at 35-years-old, knows that this will likely be the final contract of his NHL career and he understandably wants to know that his team is on solid ground and where his family will be living 12 months from now.
So the Coyotes' eight-year captain has evidently made it known that with these issues still facing his current employer, he's going to at least consider leaving the only team he has ever played for.
Doan's age is concerning to some, but he still has plenty left in the tank and would be a great fit for the Rangers.  Doan plays far younger than his age and still plays with enthusiasm and energy in addition to being a bull and a solid offensive contributor.
New York will almost certainly pursue Doan, but so will many other clubs.  It's unlikely that money will be a major object – the Rangers are desperate for offense and would be willing to outbid other teams, assuming the price stays in a reasonable $3 million to $4.5 million range annually.  The bigger point of contention will be over the length of the contract.
Doan's actions are an obvious indication that he desires security over all else, meaning a one-year deal won't get this done.  Two years is probably as far as most teams would prefer to go, but the eventual winner of his services may have to add an additional third or even fourth year to its offer.  Whether GM Glen Sather will be willing to do that or not could determine if he lands the 11-time 20-goal scorer or not.
***
Don't discount the possibility that Maloney's public comment on Doan's potential departure was a bit of a negotiating tactic, designed to play on the loyalty of his captain who is now surely being forced to answer all kinds of questions about his devotion to his team.
That's of course ridiculous, because it's common knowledge that if the Coyotes were simply able to straighten out their issues, Doan would have re-upped long ago and would at the very least be finalizing a new contract by now.
But neither Maloney nor Doan ever thought it would come to this and Maloney is now desperately trying to retain his captain and one of the few mildly marketable stars the Coyotes have left.
Original Story:
http://www.blueseatblogs.com/2012/06/...
THE BACKYARD
BEST OF MAXIM
RELATED ARTICLES
Shane Doan is both a bastard and a player I've wanted on the Wings for a while.  He's got that toughness, grit and goal scoring talents that we haven't had up front for a while.  Since Shanny actually (though certainly not at the same level.)  He wears his heart on his sleeve and while occasionally has a dirty hit, isn't a dirty player.   Well, it's looking...
Stu Bickel was not expected to remain with the New York Rangers long after being recalled by the team in December of 2011. However, it turns out that he would go on to play 51 regular season games in addition to 18 postseason contests before the end of the 2011-12 campaign. Who once was intended to be a temporary spot-filler suddenly molded into a permanent skater on the blue-line...
Whether the 'sophomore curse' in hockey is a form of fictional imagination or an actual disease that lingers into the games of second-year players, Derek Stepan was a victim of the curse in his 2011-12 campaign. It didn't hit him hard or substantially lower his value to the franchise by any means, but it was there and it had its effects. As just a 22-year-old, however...
After the NHLPA closed their meetings in Chicago on Wednesday, Blackhawks captain Jonathan Toews joked with the media that he "lobbied" for could-be-former Coyotes captain Shane Doan to sign with the Hawks when he becomes an unrestricted free agent on … Continue reading →
Mike Rupp's first season with the New York Rangers was an adventurous one that left fans with mixed emotions when it comes to the big number 71. He has his positives and negatives, as every player does, but when you analyze his game as a whole, the negatives far outweigh the positives. But is that how an enforcer should be judged? Should he be compared to himself? That's...
STATEMENT FROM HOWARD BALDWIN, SR. Hartford, CT, June 26, 2012 - Howard Baldwin, Sr. confirms that he and the New York Rangers have agreed to end their existing marketing agreement for the AHL Connecticut Whale at this time and transition operational responsibilities back to MSG. Baldwin's partnership, Hartford Hockey Club LLC, re-invigorated the local hockey market in 2010...
from The Mayor John Hoven tweet, Don Maloney confirms to #NHL radio that #Coyotes capo Shane Doan will most likely test free agency starting Sunday. Will he leave Phoenix?
Since Rob has let me blog for his site I've tried my best to sort of stay away from the really big name players, you know, the marquee guys. And while he hasn't been the definition of a superstar I thought it would be appropriate to make today's UFA of the Day Shane Doan. Name: Shane Doan Age: 35 Size: 6'1" 228 Lbs Why the Canucks might want him: Not known for his end...
from Larry Brooks of the NY Post, While the Rangers will join tomorrow in the courtship of 21-year-old University of Wisconsin free agent defenseman Justin Schultz, the club will continue negotiations with Martin Biron aimed at keeping the backup netminder on Broadway and off the free agent market. "We have had several positive discussions with the Rangers that are hopefully headed...
Courtesy of: Blueshirts United
from RIA, TThe Russia-based KHL is to challenge the NHL on its home territory for the first time by playing two regular-season games in New York, league vice-president Vladimir Shalaev said Tuesday. Reigning champion Dynamo Moscow will face off against big-spending SKA St. Petersburg at the newly built Barclays Center in Brooklyn on January 19 and 20. The Barclays Center easily...
For a while in early December it seemed like realignment was a done deal and the NHL landscape would look dramatically different for the 2012-2013 season. The players ended up vetoing a plan passed by the owners that would have reshaped the league, but realignment will again be a topic of discussion as collective bargaining negotiations get underway. It's a good bet that the previously...
NHL News

Delivered to your inbox

You'll also receive Yardbarker's daily Top 10, featuring the best sports stories from around the web. Customize your newsletter to get articles on your favorite sports and teams. And the best part? It's free!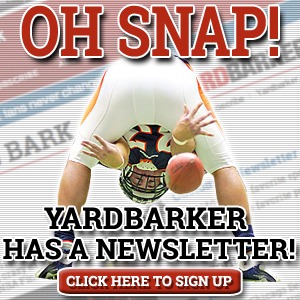 Latest Rumors
Best of Yardbarker

Today's Best Stuff

For Bloggers

Join the Yardbarker Network for more promotion, traffic, and money.

Company Info

Help

What is Yardbarker?

Yardbarker is the largest network of sports blogs and pro athlete blogs on the web. This site is the hub of the Yardbarker Network, where our editors and algorithms curate the best sports content from our network and beyond.