When you are a kid... you dream of one day winning the Stanley Cup and becoming a NHL Hall of Famer. When you are a middle-aged adult with disposable income... you drop the cash to play with former professional hockey players who have won the Stanley Cup and are NHL Hall of Famers. And this past weekend, yours truly did just that. When I signed up for the Los Angeles Kings Fantasy Camp in December I think the thing that attracted me most to it was the promise of a real NHL gameday-like experience in every aspect. So when I arrived last Friday for the Fantasy Camp kick-off lunch, I was expecting something way different than what my friends and I eat before our late-night beer league games. And so began my time at the 2012 LA Kings Fantasy Camp.
Click Here to Read the Rest of The Royal Half Goes to Fantasy Camp!!!
Despite the opening lunch menu of Pizza Hut, the 2012 LA Kings Fantasy Camp started off with a bang. And by bang, of course, I mean the sound of pucks hitting the boards in the rink of the Toyota Sports Center, the practice facility of the Los Angeles Kings.  Although the aim of the Fantasy Camp is to have a ton of fun, the organizers were kind enough to provide some instructional tips before the games began... ...by having the LA Kings showcase how to struggle to score goals. Eventually, we all gathered together as former Kings, Marty McSorley and Jim Fox, laid out the itinerary for the weekend. I think Marty was eyeing up that bald guy for a scrap. After a few opening words, Jim and Marty invited up some of the other alumni that would be joining in the weekend festivities. Like former LA King and the 4th All-Time Leading Goal Scorer in the NHL, Marcel Dionne. Jim Fox is the only former NHL'er that Marcel Dionne can make fun of his height. Another former pro was Ian Turnbull... who even though he only played 42 games as a LA King, once scored 5 goals in a game as a defenseman for the Maple Leafs. Also joining was former California Golden Seal, Cleveland Baron, Minnesota North Star and Washington Capital forward Dennis Maruk. Now, when this Fantasy Camp started I knew next to nothing about Maruk. But over the course of the weekend, I learned that not only did Maruk hold the single-season record for scoring by a Capital with 60 goals and 136 points... he also had some bad-ass facial hair when he played. This is what Dennis Maruk brought with him for the campers to autograph.
All sorts of awesome.   Ian Turnbull and Dennis Maruk join Marty McSorley, Jim Fox and Marcel Dionne. Rounding out the Kings Alumni was former King, Penguin and Bruin, Glen Murray... Former 70 goal scorer and player who once posed for a photo with me when I was 14 years old, Bernie Nicholls. And since we are all middle-aged dudes who were bound to pull something sooner or later... NHL Hall of Fame trainer and subject of 12-part interview series, Pete Demers. Enough with the pleasantries. Sure, we were here for the experience of playing with some NHL greats... but we were also here to win the Cup. And maybe finish some breadsticks. DAY 1, GAME #1 This was my first Fantasy Camp so I wasn't sure what to expect. When we arrived for check-in, our bags were taken downstairs to the dressing rooms and we were told that our gear would be set-up in time for our game. I don't think any of us took it all that serious, but when we walked into the dressing room... well... seeing our gear laid out perfectly in stalls with nameplates on the wall and our last names stitched on the back of jerseys... pretty much made any amount of money we spent this weekend worth it immediately. I think we took more photos of our gear laid out than we did with the pros all weekend. Every little aspect of being a pro was thought of... Tape. Showering materials. They even gave us personalized NHL style laundry bags and washed our clothes after each game. Our sticks were lined up outside our dressing room with our numbers taped onto the knobs. Before our 1st game began, we were told that we would be able to have our skating stride analyzed by the 55 and 1 Training Center, a motorized state-of-the-art skating treadmill that is owned and operated by former Kings Jason Blake and Jamie Storr. Jamie Storr, Team Canada lifer. We were strapped into some sort of Girl with the Dragon Tattoo-esque torture device as Jamie talked us through the process of gaining our balance on our skates as the treadmill got faster and faster. Jamie gave tips on our skating stride and a DVD was made that was given to us at the end of camp. The treadmill was made out of synthetic ice and although it was a bit intimidating at first, the whole thing was pretty cool. After our treadmill session, it was time to play some hockey. Luckily, the crowd at Toyota Sports Center provided Marcel Dionne with an incredible replication of the crowds he used to play in front of at the Fabulous Forum. This is why we came here. To play hockey and pal around with the former greats. After the game, Marty McSorley and Luc Robitaille came into our dressing room... and just hung out and told stories. And it was awesome. Marty told us that Paul Coffey used to say that "Defense is where I lined up for the face-offs." In this fantasy scenario I like to pretend I'm Glenn Anderson. How amazingly fantastic of a guy is Luc Robitaille?
He let us campers have the Bud Light and he took the Bud Light Lime.
The man truly is a Hall of Famer. After the 1st day of games we left the rink in order to get to truest Los Angeles Kings Player Experience... drinking in Manhattan Beach! Honestly, I still don't understand why more Free Agents won't come here. The Kings threw a great party at the Sharks Cove in Manhattan Beach and when we arrived word quickly spread throughout that Ron Wilson had just been fired as Head Coach of the Toronto Maple Leafs. And let me tell you... skating on the ice with a bunch of NHL Legends was pretty awesome... but it was even cooler to hear them gossip about a Head Coach getting fired in one of the biggest markets in the NHL. Is there anything better than hanging out on a rooftop patio with the sun setting while watching hockey? Okay... hanging out on a rooftop patio with the sun setting while watching hockey with a guy
you saw in person score an overtime goal to force a Game 7. That's a bit better. I chatted with Glen Murray for 20 minutes or so. He's currently working for the LA Kings in Player Development with another former King, Nelson Emerson. Murray talked in-depth about the ankle injury that ended his career. He still can't skate and is seeing several different specialists in order to stop the pain. He joked that each different doctor he sees tells him that Peter Forsberg was there as well. It was a absolute pleasure chatting with Glen Murray and it's easy to see why he remains one of the fans' favorite former Kings to this day. After talking with some of the other campers, I explored the private room at the Sharks Cove that we were in. There was quite a bit of hockey memorabilia on the walls. I'm pretty sure this autograph is in every bar across the nation. Manhattan Beach, CA native and NY Rangers prospect, Shane McColgan. Sean O'Donnell's first home arena. There was also one other piece of classic NHL memorabilia hanging around the bar. Hide yo' coins, Hide yo' loans! That's right, Bruce McNall crashed the party. There was plenty of buzz in the room alone considering the amount of NHL talent that was hanging out... but when McNall showed up, it all changed. One by one, each of us went up to McNall... shook his hand... and thanked him for bringing Wayne Gretzky to Los Angeles. Bruce hung out for a little while with the fans and spent some time talking with all the former pros. Sure, the guy lied his way to the top... but he'll forever be linked with Wayne Gretzky skating in Los Angeles... and LA Kings fans will always be indebted to him for that... even if they refuse to accept financial advice from him. DAY 2, GAME #2 The 2nd day of Fantasy Camp began deep in the bowels of Staples Center with lunch. Today was the day that we would get to play a game on the Staples Center ice and then watch the LA Kings take on the Anaheim Ducks that evening. It was also a good time to learn more about my fellow campers. What I was most surprised by was the amount of people who weren't from Los Angeles... or even really big Kings fans. Instead, guys from Edmonton, Utah and Maryland had flown to this particular camp because of the affordable cost and the high-profile of former NHL'ers that were involved. To us hardcore Kings fans, Marcel Dionne, Luc Robitaille, Bernie Nicholls and Marty McSorley are obvious legends... so I understood why guys would fly into town for the chance to play with them, Kings fans or not. Funny enough... this wasn't a camper, but actually Scott Parse just trying to get some ice time. I know it's an old saying... but no hockey experience is truly complete without a Big Dogs hockey t-shirt. Besides being able to play on the same ice as my favorite pro hockey team we also received a complete tour of the LA Kings dressing room and player facilities. You had to play Rachmaninoff to get in. This is where Darryl Sutter spends his afternoons Googling funny things to say at press conferences. This season, making the players watch their game tape must have felt like A Clockwork Orange. While Kings alumnus and current Radio Color Analyst, Daryl Evans and Marty McSorley gave us some insight as to what goes on inside the dressing room from a player perspective, I checked out some of the more interesting items that were around. The players get small bags with their numbers on it for safe storage of their personal items. There are logo-branded trash cans at each stall. Trevor Lewis is apparently a NHL player. Justin Williams' knee-brace.
I wonder if he has a tattoo that says "this one" on whichever leg this is supposed to go on. Mike Richards' jockstrap?
Mike Richards' jockstrap. You could still smell the thick scent of Axe Body Spray. Surprisingly, Jeff Carter's locker is next to Jarret Stoll's.
I can only imagine the icy glares that Stoll gets from Mike Richards each and every gamenight.   The biggest decision for Jon Bernier each night is which hat to wear on the bench. While Jon Quick's hat was covered in dust. We exited the dressing room and entered into the player's lounge area where the Kings chill out before getting ready for a game. You can see how closely the team has been following the Western Conference race. Pretty sure that Dwight King or Jordan Nolan left his toys out again. Daryl Evans is more of a man than I will ever be. There is no truth to the rumor that the Kings recently put up a photo
of a goal being scored on the wall so players will remember how to celebrate. Wait... what is that underneath the large TV screen in the middle of the players lounge? Well, no wonder the Power Play has been struggling this year... the Kings are too busy watching "Jerseylicious." This is the actual "locker room." Apparently, Jeff Carter takes his Axe Body Spray home with him. Although we rubbed elbows with the former pros all weeken
Original Story:
http://www.theroyalhalf.com/2012-arti...
MORE FROM YARDBARKER
NHL News

Delivered to your inbox

You'll also receive Yardbarker's daily Top 10, featuring the best sports stories from around the web. Customize your newsletter to get articles on your favorite sports and teams. And the best part? It's free!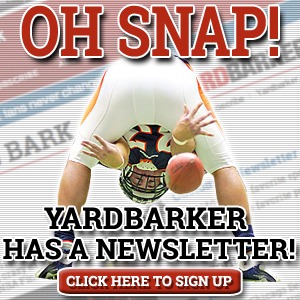 Latest Rumors
Best of Yardbarker

Today's Best Stuff

For Bloggers

Join the Yardbarker Network for more promotion, traffic, and money.

Company Info

Help

What is Yardbarker?

Yardbarker is the largest network of sports blogs and pro athlete blogs on the web. This site is the hub of the Yardbarker Network, where our editors and algorithms curate the best sports content from our network and beyond.