Found March 28, 2013 on Shutdown Line:
PLAYERS:
Justin Faulk
,
Jim Rutherford
,
Alexander Semin
,
Jordan Staal
,
Joni Pitkanen
,
Tim Gleason
,
Jamie McBain
,
Joe Corvo
,
Jay Harrison
,
Robyn Regehr
,
Ladislav Smid
,
Stephane Robidas
,
Fedor Tyutin
,
Andy Macdonald
,
Cam Ward
TEAMS:
Carolina Hurricanes
,
Anaheim Ducks
,
Buffalo Sabres
,
Edmonton Oilers
,
Dallas Stars
,
Columbus Blue Jackets
After losing six games in a row, what looked like a promising season for the Hurricanes is slowly falling apart at the seams. For a good part of the season, this team looked good enough to make the playoffs but a myriad of injuries happened followed by a brutal losing streak and now they are hanging onto dear life just to stay in the race. If the Hurricanes were to miss the playoffs, it will be the sixth time in the last eight years that they've been on the outside looking in and that's pretty troubling. I don't think this team had cup aspirations for this season because they do have a few missing pieces, but the end result of missing the playoffs for the sixth time in eight years still looks pretty bad. How bad is it to miss the post-season this year, though? It's been kind of a strange season with a shortened schedule, so injuries and bounces/puck luck are going to have a bigger impact than usual. The Hurricanes have been on the wrong end of that scale more times than not this year and it's clearly at a low point right now with Justin Faulk on the shelf and the team being unable to buy a goal for whatever reason. In a full 82-game season, there is a chance that things like this even out but with only 48 games (and 17 remaining) this year, puck luck and a good streak can be the difference in a team making or missing the playoffs. Just ask the Anaheim Ducks. This is why I feel that this season shouldn't be judged on results, even if failing to make the playoffs is a failure. Jim Rutherford made some big acquisitions this summer with Alexander Semin & Jordan Staal and while I think most fans are satisfied with what they've done, they are still going to be criticized because they couldn't bring the Hurricanes to the playoffs even in the lowly Southeast Division. Then again, we will only see 48 games from them by the end of the year, so is it really fair to close the book on these players based on that? Rebuilding this team was going to be a long-term process, so 48 games is very small in the big picture. With that being said, a good question to ask is how far away this team is from being competitive? How much progress have they made so far this season and what else do they need to do to improve? The door is still open for them to make the playoffs this year, but it's going to take a long winning streak and I'm not sure if the odds are in the Hurricanes favor right now. Anyone who has watched the last six games will tell you that the team needs to be blown up, but the big picture suggests otherwise. Watching this team for the last two weeks has been borderline infuriating but at the same time you have to tell yourself that it's only six games and that doesn't undo an entire season. I figure that this as good of time as any to review the Hurricanes season, see where they stand now and what they can do to make themselves better. Is there any hope left for this season and if not, what needs to be done to put them over the edge? I'll explore all issues after the jump. Playoff Chances Not too long ago, the Hurricanes needed to win a little over 50% of their games to clinch a playoff spot. Six consecutive losses later and they probably need to gain points in 11 of their next 17 games to have a decent shot and will need to do more than that to clinch the playoffs. It's going to be tough, but the playoffs aren't out of reach. The team just needs to put together a good win streak to get back in the race, which is much easier said than done with the way things have been going lately. A healthy Justin Faulk would definitely help matters but he might be at least another week from returning so things look bleaker than they should right now. Even with Faulk in the lineup, this team was a top-four defenseman short of being a competitive team. They only have two healthy ones on the roster right now in Joni Pitkanen and Tim Gleason along with a lot of guys who are borderline top-four at the most. Jamie McBain and Joe Corvo have posted good underlying numbers this year, but most of it has come against easier assignments. Corvo is serviceable in a top-four role in the short-term but McBain has not been up to standard whenever he's forced to play against tougher competition. They also have Jay Harrison, who is decent as a place-holder but not exactly ideal in a shutdown role like he has been assigned to for parts of the season. Since the Hurricanes had holes on their roster from the beginning, I think a trade was going to happen at some time this year and the door is still open for them to make one. The question is who should they target? Trade Targets There have been so many rumors of Rutherford making a deal for a "veteran defenseman" these past few weeks but he still hasn't made any move yet. Some might criticize JR for being hesitant on making a deal and while that is understandable, it's also worth keeping in mind that he's going to be dealing future assets for someone that could be here for only 15 games. That's why it's important for him to look for a defenseman that's a good fit here, not a veteran player who could help the penalty kill while being a liability at even strength. This team has too many third-pairing guys as it is right now and adding another one does not solve anything.  Therein lies the problem with making deadline deals. With so many teams left in the playoff hunt, they are going to be hesitant to give up players and there aren't going to be many teams willing to give up a top-four defenseman unless the price is right. Who do the Hurricanes have to give up that would warrant a top-four defenseman in return? We just saw Douglass Murray go for a pair of second round picks, so the return for a player like Robyn Regehr or Ladislav Smid could be in that ballpark if not more. I compiled a list of possible defensemen trade targets and while most of them would help the PK, their play at even strength is either lacking or limited to a third pair role. This is why a player like Regehr, Murray, Smid, Fistric, Zanon or Sarich would provide marginal help at best. Is that worth giving up future assets for? You tell me. The only players on that list who are worth giving up assets for are Stephane Robidas, Fedor Tyutin or Andy MacDonald, guys who can stay competent while playing top-four minutes and pitch in on special teams. There are probably other names out there that I'm not thinking of, but it's going to be tough for Rutherford to find the right guy to trade for regardless. It's tough to justify giving up future assets for a rental player in a shortened season and it's also tough to find out who provides the best fit on Carolina's blue-line right now because a "tough veteran" doesn't provide much of an upgrade if he can't play against the opposition's best forwards. So, it's going to be interesting to see if anything happens at the deadline given the Hurricanes situation. Progress? Regardless of whether or not JR makes a trade, let's say that the Hurricanes miss the playoffs again. What does this say about the coaches, players and management? Have they failed or was this year progress after last season? Something that kind of slips the minds of people is that this team was awful last season. Yes, they began to win more games once Kirk Muller took over, but a lot more of that had to do with Cam Ward's resurgence in the second half of the season. I have little doubt that boosted their win total a little and it definitely heightened people's expectations. This isn't an indictment of Muller as a coach because has done a lot of good things this year, the biggest of which being improving this team's play at even strength. Compare their puck-possession numbers this season with the last four years and you'll notice a considerable improvement. I know that this is the last thing anybody wants to hear during the middle of a six-game losing streak, but the numbers do not lie. The Hurricanes have been controlling the play and possessing the puck more at even strength during close-game situations. They've actually improved quite a bit compared to the last few seasons and have been a top-10 team in this department this year. Teams who possess the puck more get more shots on goal, leading to more scoring chances and eventually more goals, so this is a very promising sign for this team overall. I'm sure that Jordan Staal and Alexander Semin have had a big impact on this, so it's pretty good that Rutherford was able to get both of them signed long-term. They just need to continue to build a good supporting cast and defense around them. Unfortunately, being a top-10 team in puck-possession likely does not mean much when your team's roster is in shambles, is down to their third string goalie and has only 17-games left in the season. Being a good puck-possession team usually lead to good results in a full-season but the condensed schedule puts a ton of emphasis on luck and streaks, which might end up doing the Hurricanes in this season. I think we are seeing progress with this team even though things look bad now, but the big picture looks fairly promising. The priority for Rutherford this off-season is finding a top-four defenseman who can drive play because they've been short of one of those for a couple years. Finding one is going to be difficult, though. There isn't a player in the organization who can step up into that role yet and the UFA pool is very thin, too unless JR wants to take a risk on an older player. In the short-term, the Hurricanes situation is tough since making the playoffs will require a lot but the long-term outlook isn't bad for Muller and company.
Original Story:
http://www.shutdownline.com/hurricane...
THE BACKYARD
BEST OF MAXIM
RELATED ARTICLES
During the team's sixth-straight loss courtesy of dropping Tuesday night's tilt against the Winnipeg Jets by a score of 4-1, Carolina Hurricanes defenseman Jamie McBain suffered an epic whiff for the ages. When trying to clear the puck out of the defensive zone, McBain whiffed horribly, missing the puck. As his stick returned to to the ice, he inadvertently propelled the puck...
WRONG WAY
Carolina Hurricanes defenseman Jame McBain had some very bad luck against the Winnipeg Jets on Tuesday night.  He went to clear the puck after Joni Pitkanen broke up Jets' forward Evander Kane's passing attempt.  McBain fanned on the first clearing attempt and then when he brought his stick back for a second attempt he fired it right past his own goalie.  The goal ended up...
The good news: Jamie McBain scored a goal in his team's 4-1 defeat against Winnipeg. The bad news: Jamie McBain's goal went into his own net. As McBain desperately tried to clear the puck from the front of his net, he swung at the puck, missed it, and knocked the puck into his own net when he brought his stick back to the ice. It's safe to say that Evander Kane, the...
You might remember Kevin Westgarth from a week ago when he KO'd a rookie. Thursday night in Toronto he went with Ma…
If there was any optimism left among the Hurricanes fanbase then tonight's 6-3 loss to the Toronto Maple Leafs probably killed all of that. We've been treated to the same story for the last two weeks with the Hurricanes getting outplayed by their opponents, showing no desperation and getting blown out. Tonight's game was a little different. They were certainly outplayed...
This time a backhand from the low slot by Jamie McBain of the Carolina Hurricanes.  
Yesterday marked the Hurricanes sixth loss in a row and the third time they lost by a score of 4-1 during this stretch. No matter how many times we hear from the coaches or the players that the "playoffs" are right now, fans keep getting treated to the same performances night in and night out. Last night's performance against Winnipeg was very disheartening because...
Last night, the Hurricanes nearly won a game that they had no business being in. They may have shown some "character" by battling back to tie the game in the second period and taking the lead in the third, but the Leafs were more deserving of the win. Toronto held Carolina to only six even strength scoring chances to the entire game and took 14 more shot attempts than them...
Before taking the ice, Carolina Hurricanes defenseman Jamie McBain probably should have taken the day off since he ended up making a pretty memorable NHL blooper. The Hurricanes took on the Winnipeg Jets on Tuesday night and as McBain was trying to clear the puck to other side of the ice, he swung at the puck and missed. That miss caused Jamie's backswing to send the the...
Jussi Jokinen could have been a good addition to the Caps, but they passed.
NHL News

Delivered to your inbox

You'll also receive Yardbarker's daily Top 10, featuring the best sports stories from around the web. Customize your newsletter to get articles on your favorite sports and teams. And the best part? It's free!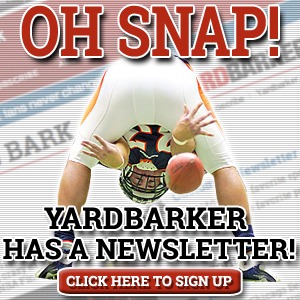 Latest Rumors
Best of Yardbarker

Today's Best Stuff

For Bloggers

Join the Yardbarker Network for more promotion, traffic, and money.

Company Info

Help

What is Yardbarker?

Yardbarker is the largest network of sports blogs and pro athlete blogs on the web. This site is the hub of the Yardbarker Network, where our editors and algorithms curate the best sports content from our network and beyond.