Found August 06, 2012 on Boston Sports Then & Now:
Boston Bruins Legend #4 Bobby Orr soars through the air after scoring the 1970 Stanley Cup clinching goal. This one of the greatest moments in NHL and Bruins' history
Our list of "The Top Five Bruins Teams of All Time" has finally made it to number one and by this time you have probably figured out which team it is going to be. The 1969-70 Boston Bruins were the peak of this franchise's Golden Age. When you look at each team presented on our list it is no-brainer that the Bobby Orr led 1969-70 Boston Bruins are number one. This was a team that could outplay you in just about every aspect of the game if you wanted to try and beat them with your skating game, tough luck. If you wanted to beat them with your physical game, tough luck again. The list of ways this team could beat you goes on and on.
While there a large amount of both NHL and Boston Bruins legends on this team, there are none greater than Bobby Orr. Here are some of his accomplishments just to name a few: 8 straight Norris Trophies for NHL's top defenseman from 1968-1975, 2 Art Ross trophies for the league's highest scorer, 3 consecutive Hart Memorial trophies as league MVP from 1970-1972, and 2 Conn Smythe award for playoff MVP. His resume and reputation speak for themselves as he was undoubtedly the best player of his time and arguably the entire history of the game.
Orr's consistency throughout his career was a miraculous thing to behold for those lucky enough to have seen him play. The 1969-70 season was so exception. In 76 regular season games he had 33 goals, 87 assists, and a plus 54. Staggering numbers for any player never mind a defenseman. His performance this season would net him his first Stanley Cup Championship, the Art Ross, the Conn Smythe, Norris Trophy, and the Hart Memorial. To this day, no other play has ever won all four of those awards in a single season. This season was also significant for Orr because he became the first defenseman in NHL history to score 100 points in a season.
Boston Bruins Legend #7 Phil Esposito
As good as he was; Orr could not have done it without the help of his excellently assembled team. The 1969-70 Boston Bruins were managed by none other than Hall of Famer Milt Schmidt and coached by Hall of Fame builder Harry Sinden. Though it didn't happen in this season; Milt made one of the all-time great Bruins trade heists in 1967, acquiring Phil Esposito, Ken Hodge, and Fred Stanfield for next to nothing. All of these players would play major roles with 1969-70 Boston Bruins and have excellent careers with the team throughout its golden age.
Phil Esposito was one of the greatest scorers of his day. Upon joining the Bruins organization he blossomed into one of the league's best forwards and was an absolute machine in the scoring department. Throughout his nine seasons with the Bruins; Esposito eclipsed 100 points six times and scored more than 50 goals five times. In the 1969-70 he would score 43 goals, 56 assists, and a plus 28 in 76 games. Though this wasn't his best season with the Bruins statistically, his career took off. Esposito's number 7 hangs in the TD Garden rafters because of his incredible career with the Bruins which includes as mentioned the 5 Art Ross Trophies, a Hart Memorial, and two Stanley Cups.
Also coming to Boston in the Esposito deal was Ken Hodge and Fred Stanfield. Hodge was a prolific offensive weapon for the B's in his time here. In 72 games he had 25 goals, 29 assists, and a plus 15. Stanfield also enjoyed great success in his time with the Bruins. In 72 games he had 23 goals, 35 assists, and a plus 7. Another major factor to this team's success was Bruins legend Johnny "Chief" Bucyk. Bucyk is number two on the B's all-time scoring list just behind Ray Bourque. In 76 games he had 31 goals, 38 assists, and a plus 19. His number has since been retired by the Bruins and the "Chief" is still a big part of the organization.
Boston Bruins Legend #30 Gerry Cheevers
While the 1969-70 Boston Bruins were a high-flying offensive juggernaut, they had an excellent goaltending tandem of Gerry Cheevers and Eddie Johnston. Cheevers is perhaps most remembered for his goalie mask design which has a bunch of stitch marks on it to represent every time he was hit in the mask with a puck. He, like most Bruins goaltenders, was a colorful personality and an even better goaltender. In 41 games he had a 24-8-8 record, a 2.72 goals against average, and 4 shutouts. His partner Johnston had a record of 16-9-11, a 2.98 goals against average, and 3 shutouts in 37 games. These two proved to be very able partners as they backstopped the Bruins to a Stanley Cup this season and again in 1972.
In the playoffs the Bruins would steam roll everyone with a record of 12-2. They made quick work of the New York Rangers, Chicago Blackhawks, and the St. Louis Blues. This would be Boston's fourth Stanley Cup title and its first in 30 years. The great Bobby Orr carried the team on his back along with Phil Esposito, Gerry Cheevers, and John McKenzie. Perhaps the greatest moment in franchise history came when Orr flipped the puck to Derek Sanderson who then passed it back to him for the cup clinching goal. As Bobby scored the goal he was tripped by one of the frustrated Blues players and celebrated in midair before falling to the ice. This image is to me, one of the greatest moments in NHL and sports history alike.
Boston Bruins Legend #9 Johnny "The Chief" Bucyk
While we chose to focus on a few players who made the team as special and historic as it was, there are still a few players deserving of mention. This team boasted a large amount of Bruins legends and all-time greats. Among the players not mentioned who contributed in big ways are John McKenzie, Derek Sanderson, Wayne Cashman, Gary Doak, Eddie Westfall, and Garnet Bailey. This team was so loaded from top to bottom that it is impossible to do this team its due justice.
Five players on this team are among the top ten Bruins all-time scorers of all time. They are Bobby Orr, Phil Esposito, Wayne Cashman, Ken Hodge, and John Bucyk. There of these players have had their numbers retired by the organization. This is, without a doubt, the single greatest Bruins team of all time and it is number one on our list. I have said it numerous times throughout this story that this was the Golden Age of the Boston Bruins and I stand by that. The Legacy of this team will live on throughout all of NHL, Bruins, and sports history.
You can follow me on twitter here: Mattjacob64
#2 on our list: 1938-39
#3 on our list: 2010-11
#4 on our list: 1977-78
#5 on our list: 1989-90
Original Story:
http://boston.sportsthenandnow.com/20...
THE BACKYARD
BEST OF MAXIM
RELATED ARTICLES
A.B. According to Carnegie's twitter feed, the couple is unsure of the sex of the baby as of now.
Yesterday I posted the top 20 players by team and zone adjusted Corsi ratings.  The leader is Zdeno Chara of the Boston Bruins.  He was also the leader in 2010/11.  This shows that Zdeno Chara has been the best player in terms of puck possession for the last two years running.  When he is on the ice his team has the puck more than any other team even when you correct for his...
Checking my usual reading for the day when I came across this question in the daily mail bag to the Boston version of the ESPN Blog – it was a question that a fan posed to James Murphy. Q. Murph, could you please explain to me why David Krejci and Milan Lucic are considered "untouchable" by the Bruins' front office? There's no doubt both show flashes of...
Shawn Thornton is finding ways to keep himself occupied during the Bruins offseason while the NHL hammers out a new collective bargaining agreement. On Monday, he swapped his hockey stick for a golf club when he hosted his third annual Putts and Punches for Parkinson's golf tournament. Thornton wasn't the only Bruins player in attendance, as teammates Tuukka Rask and Daniel...
(April 3, 2012 — Source: Steve Babineau/Getty Images) By Benjamin Woodward (@_BWoodward) Player: Torey Krug Position: Defense 2011-'12 Team: Michigan State Spartans (NCAA) / Boston Bruins (NHL) Drafted: Undrafted Free Agent (Signed March 25, 2012) Vitals: 5'9", 180 lbs., Age 21 Hometown: Livonia, Michigan Camp Observations: At Boston Bruins 2012 rookie development camp,...
Stuck in the dog days of summer as we hit August, Boston Bruins blogger Ty Anderson will be writing a blog of your choice in regards to the Bruins, NHL, or anything related through (hopefully) all 31 days of hockey's worst month. To send a request, forward it on over to Ty's email (TAndersonBruins@gmail.com), Twitter (@_TyAnderson), or private message him via your HockeyBuzz...
Four members of the Boston Bruins -- Shawn Thornton, Tuukka Rask, Mike Mottau and Daniel Paille -- were welcomed by another major Boston sports franchise to their home venue on Tuesday afternoon. The foursome joined members of the Boston Red Sox for their pregame routine and took batting practice for about 20 minutes and shagged some fly balls in the outfield -- don't worry,...
NHL News

Delivered to your inbox

You'll also receive Yardbarker's daily Top 10, featuring the best sports stories from around the web. Customize your newsletter to get articles on your favorite sports and teams. And the best part? It's free!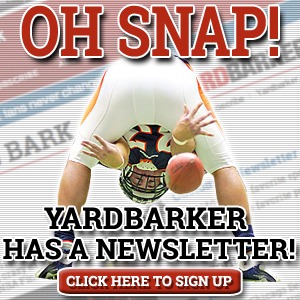 Latest Rumors
The Backyard

Today's Best Stuff

For Bloggers

Join the Yardbarker Network for more promotion, traffic, and money.

Company Info

Help

What is Yardbarker?

Yardbarker is the largest network of sports blogs and pro athlete blogs on the web. This site is the hub of the Yardbarker Network, where our editors and algorithms curate the best sports content from our network and beyond.