Found March 18, 2013 on Queen City Sports:
PLAYERS:
Mikhail Grigorenko
,
John Scott
,
Matt Ellis
,
Ryan Miller
,
Jason Pominville
,
Manny Lawson
,
Kobe Bryant
,
Dahntay Jones
,
Jalen Rose
,
Lindy Ruff
TEAMS:
Buffalo Sabres
,
Washington Capitals
,
Los Angeles Lakers
,
Atlanta Hawks
Welcome to my brand spanking new column, "The Weekly Buzz with Brad Gelber." As the name implies, each week I'll be taking a look at topics that are buzzing in the world of sports. While the column will still focus on one main topic each week ("The Main Event"), I'll also give my take on a couple of other hotly debated issues as well ("Encores"). Buffalo sports stories, National sports stories, if it . Lastly, each week I'll be featuring a clever/humorous/interesting tweet that catches my eye. As always feel free to leave a comment or tweet me on what you think of the new column. Enjoy! The Main Event- Adios Grigorenko: It finally happened. The final nail was hammered down into the 18-year-old's coffin. Mikhail Grigorenko was sent back to Juniors (the Quebec Remparts of the QMJHL to be exact.) The MOMENT the news broke the complaints started… "What a waste of season!" "Classic Sabres mismanagement" & a fan favorite, "FIRE DARCY". If you're unaware of why people were so upset it is due to the fact that by keeping Grigorenko on the team this long, the Sabres used up the first year of his NHL contract. Fans had a strong opinion one way or another in regards to keeping the Russian forward on this squad from the get-go. As the Clash so elegantly put it: "Should I Stay Or Should I Go?" Some felt 18 was too young and too inexperienced, while others though he was a man among boys in Juniors so he wouldn't continue to develop unless he made his way to the "Big Time". Regardless of what side of the fence you fell on, the decision was made to keep Grigorenko in Buffalo and there was nothing any of us could do about it. Here we are a couple of months later, the Sabres needed space on their roster so Mikhail was sent packing for the Great White North. Am I as mad as the masses that he was sent down now? Nope. In fact, I am happy he's gone. Hear me out… (courtesy: Dan Hickling) Any time you make a bold decision like the Sabres did in keeping an 18-year-old in the NHL there is going to be tremendous risk involved. No one knows if the kid will blossom under the bright lights or fold like a bad hand in cards, HOWEVER there is no reward without that risk. When the lockout ended and the Sabres prepared to get back to playing hockey we were all concerned about where the team's depth scoring was going to come from. Mikhail Grigorenko was an option to perhaps solve that dilemma. What I'm not agreeing with is how the team handled his playing time. They essentially dissolved any chance of him succeeding by putting him on the fourth line with guys like John Scott or Matt Ellis. Both Lindy and Ron said Grigorenko would need to "earn" a spot in the top 2 lines, but given the circumstances around his opportunity, that was next to impossible. When can groan all we want about ice time or who his linemates were, but the fact of the matter is he was used how he was used and the Sabres are where they are in the standings. At this point it would be selfish to make him sit on the bench or continue to play on the fourth line to simply not admit defeat. Grigorenko can now return to dominating other teenagers while waiting for his chance to get back to the NHL. Perhaps he won't develop any further by skating circles around fellow Junior level players, but the again how much better is he going to get sitting on a bench? Practicing & watching guys play only helps for so long. Might as well let the kid get back to playing full-time hockey. There is the opportunity for him to rejoin the Sabres OR play with the Sabres' AHL affiliate the Rochester Americans once the Quebec Remparts finish up their season. Personally I think the AHL is where he currently belongs. Sure knowing the minutes he ended up receiving it's easy to say keeping him around was a mistake, but that's what the gamble entailed. I'm happy he can get away from this season with the Sabres, regroup/recharge by dominating in Quebec and hopefully return to the NHL no worse for the wear next season. The Grigorenko experiment may have not succeeded due to coaching decisions along the way, but the only way it fails is by holding him hostage any longer. Encores: Miller's Meltdown Following last night's 5-3 loss to the Washington Capitals on National TV, Ryan Miller was displeased to say the least. He started by criticizing the refs for being "lazy" & explained how officiating a game like that can effect the outcome, which was "awesome". He then went on to answer a question about Pat Kaleta, which is where things really got interesting. Earlier that morning Kaleta was reportedly "furious" over the news that he was a healthy scratch coming off his five-game suspension. When he found out the news he responded by telling the media "I need to find out if the players want me back." Mike Harrington of the Buffalo News asked Miller his thoughts on  the whole Kaleta situation & the reaction he got is what left people talking. (courtesy: Yahoo Sports) Miller seemed to light up like a roman candle saying that's just Kaleta "being dramatic" he went on to say "we're not even discussing what Patty says because it's drama & he needs to grow up." Now typically I'd question a leader of a team going off on a rant like that, but there's a few reasons why to me this is no big deal. First of all it's Ryan Miller, he takes every loss hard (especially when you're doing it as much as they are this season) & in general the guy speaks his mind. Second of all, he's not your team captain. Jason Pominville was asked a similar question and give the stereotypical "he's a passionate guy and just wants to get back out there" answer you'd expect from your captain, which is Jason's role. Miller even apologized for the tone he took almost immediately after delivering it: "I'm sorry for the bad tone, but you caught me on a really crappy night." Some have said they think Miller has had enough & that this was his "trade me or else" moment. Personally, I think it's just another night of frustration that is starting to wear down a guy that's been better than everyone else on his team all season long. At this point the way things are going, I have no issue with Miller being upset with Kaleta for sounding off to the media like that… It's just rather ironic that Miller chose to express his grievances by complaining to the media. Teapot calling the kettle black? Quiet Offseason at One Bills Drive The saying "silence is golden" may not have originated in the sports world, but it certainly applies from time to time. For NFL fans' being silent during the start of free agency isn't necessarily something they long for. There's no question having your team's name in all of the headlines is far more entertaining than not, but at what cost? With a 6-10 record last year, the Bills learned first hand that being the center of attention during the offseason means zilch when it comes to winning football games during the actual season. This offseason has been the complete opposite in terms of addition. With Manny Lawson being the only notable player added thus far, the Bills appear to be taking the wait & see approach. (courtesy: BuffaloBills.com) I've said it before and I'll say it again… I could care less what happens in March as long as come September this team is ready to play football. No one will remember when you got the players, they'll just remember who you got and what they did for you. Would it be fun for the Bills to go out and make another Mario signing? Sure. Will it guarantee they'll be better than if they don't? Clearly not. As I'm sure most would agree, I'll take being bored in March over being bored in December any day of the week… As long as Tavaris Jackson isn't my starting QB. Dirty Play in the Dirty Dirty? If you follow basketball at all you probably heard about the questionable play at the end of the Lakers vs. Hawks game last week. With just over seven seconds to go, trailing by two, Kobe Bryant drove to the net, stepped back and threw up a shot to tie the ballgame. Uncharacteristically for the Black Mamba the shot didn't fall, but that wasn't what people were left talking about. When Kobe came down from the shot he landed on his ankle spraining it severely and the Lakers would go on to lose the game 96-92. After the game Kobe claimed Dahntay Jones (who was the one guarding him) intentionally stuck out his leg to injure him. Being one of the best players in the game this isn't as farfetched as it sounds. As a matter of fact it has happened to Kobe before back in the 2000 NBA Finals hence the reference that Jones "Jalen Rose'd" him. (courtesy: the Washington Post) Any Kobe fan knows you need to take his postgame remarks with a grain of salt, especially following a close loss. If you watch the replay above you'll see Jones stop once the shot goes up and turn his head. At no point does he drastically move and stick his leg out like Jalen did in 2000, in fact Kobe appears to actually land on Jones' foot. As one of the most competitive guys to ever take the NBA hardwood it's easy to see why he'd think an opponent would want to take him out. Do guys go out there with the intent to injure Kobe on a regular basis? I'm sure, but in this instance I think we can chalk it up to "Kobe being Kobe". Tweet of the Week: With Mikhail Grigorenko being the star of this week's column I felt this tweet was rather fitting… "Thanks for helping us sell all those jerseys, kid. Have fun in Quebec. See you next year." #Sabres #Grigorenko — Lindy Ruff's Tie (@LindyRuffsTie) March 15, 2013 Have a topic you want featured in next week's column? Get at me on Twitter: @BradleyGelber The post The Weekly Buzz- The Grigorenko Experiment appeared first on Queen City Sports.
Original Story:
http://queencitysports.net/opinions/t...
THE BACKYARD
BEST OF MAXIM
RELATED ARTICLES
You may recall Buffalo Sabres noted dirty play guy Patrick Kaleta got suspended for five games for nearly breaking Mike Richards' neck against the boards. Upon his return from suspension, interim Sabres coach Ron Rolston benched Kaleta, as an extension of his punishment, presumably to send a point. I guess it kind of worked, because Kaleta was upset. Not necessarily remorseful...
Buffalo Sabres prospect forward Colin Jacobs has signed an amateur tryout contract with the team's American Hockey League affiliate in Rochester. From Coppell, Texas, Jacobs was the Sabres' fourth-round pick in the 2011 NHL draft. He was eligible to be signed by Rochester once his junior career ended last weekend, when Prince George failed to qualify for the Western Hockey...
That "beep, beep, beep" you hear out of the Buffalo Sabres' dressing room would be Ryan Miller doing some backpedaling. The Sabres goalie made headlines following Sunday night's loss to the Washington Capitals, when he called out Buffalo forward Patrick Kaleta after Kaleta complained about being sat down after returning from a suspension. Miller said that Kaleta needed to...
So, this is how bad things have gotten for Tyler Myers: Once considered an untouchable in the Sabres organization, it's now gotten to the point where writers are lamenting that his contract has become an albatross for Darcy Regier. Continue reading "Columnist: Myers' Contract Would Be Tough To Move"
He didn't name names, but Nick Kypreos said today that, despite what is considered to be a weak goaltending market, there would be plenty of interest in Ryan Miller if the Sabres wanted to move him. Continue reading "Kypreos: 6 Teams Would Love To Have Miller For Stretch Run"
Playing 7on7 football does not give a runningback much of a chance to show his skills, but Detroit Cass Tech's Mike Weber is definitely a prospect of note for 2015. He was in action at last weekend's New Level Athletics 7on7 in Youngstown.
As a general rule it is a bad idea to rush your draft choices into the NHL.  This rule of thumb exists regardless of the question of hurting their development by rushing them too quickly into a role that they are not ready to succeed in.  A player can become an unrestricted free agent at age 27 or after seven NHL seasons in the current CBA.  A player who is rushed to the NHL at...
It just seems that we have seen Ryan Miller do this way too often in the shortened season. (Nick Wass / AP) It has been a long St. Patrick's Day. The end of the week always brings fantasy frustrations to a boiling point one way or the other. These two guys had to frustrate fantasy owners today, one because he was awful and the other because of an unexpected result. Are you...
It certainly was a lousy PR move, much worse than the Tim Kennedy pseudocrisis a few years ago that nearly triggered an earthquake in South Buffalo.  But, contrary to the beliefs of angry Sabres fans, it wasn't a vote of confidence for other underperformers on the team. It's likely no coincidence that yesterday was the exact day Mikhail Grigorenko was sent back to juniors...
Patrick Kaleta talks after practice today.  
Do you ever get to the point where you are just over the drama of cheering for or booing a sports team? When everything starts to feel manufactured and you catch yourself getting worked up about something that really doesn't mean anything? Like, what is the point? When the discord is at its highest, sometimes you just feel kind of over it, especially when we've been through...
In the salary capped NHL, teams gain an advantage when their players produce a bigger value to their team than the price of their contract.  It is necessary that several players exceed the value of their contract for a team to win the Stanley Cup.  The most likely player to exceed his contract value is a player on an entry level deal.  Thus it is very important not to waste the...
NHL News

Delivered to your inbox

You'll also receive Yardbarker's daily Top 10, featuring the best sports stories from around the web. Customize your newsletter to get articles on your favorite sports and teams. And the best part? It's free!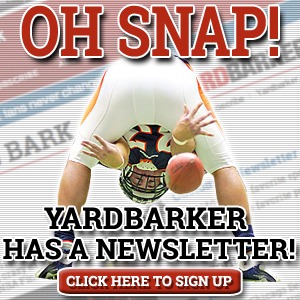 Latest Rumors
Best of Yardbarker

Today's Best Stuff

For Bloggers

Join the Yardbarker Network for more promotion, traffic, and money.

Company Info

Help

What is Yardbarker?

Yardbarker is the largest network of sports blogs and pro athlete blogs on the web. This site is the hub of the Yardbarker Network, where our editors and algorithms curate the best sports content from our network and beyond.