Found January 27, 2013 on Fox Sports Arizona:
GLENDALE, Ariz. Did the Coyotes get a little too confident following last season's sprint to the Western Conference final? Are they experiencing a hangover after unprecedented playoff success? Has the lockout impacted them more than other teams because their success is predicated on a finely-tuned defensive system that requires practice time? Whatever theory you subscribe to, it's fair to start worrying after Saturday's 4-2 loss to the hated Kings at Jobing.com Arena. The Coyotes are 1-4 and look nothing like the club that captured the Valley's heart during last season's improbable run. Puck management is an ongoing issue, defensive-zone lapses come at inopportune moments, the goaltending has been no better than average and the team is blowing leads more than at any point in Dave Tippett's tenure as coach. "It's a matter of execution," Tippett said. "It's simple plays that have got to get made. When there is a mistake, you've got to clean up for each other, and right now there's not much cleaning up going on." Let's be clear. The playoffs have not been lost, despite a league-wide mantra that fast starts would dictate the season. Fast starts may get some teams such as Chicago and San Jose in, but the bulk of the Western Conference has not run away and hidden from the Coyotes just yet. They're just going to have to claw their way in, but that's nothing new. Can they find their mojo in time? That's the greater question. Five of the next six games are at home, so opportunity is still seated at the table. "It now becomes a matter of will," captain Shane Doan said. "We've been too easy a group to play against in every area of the ice. It's not hard to get to the net, it's not hard to hold onto the puck in our zone, it's not hard to break out of your own zone. When that's the case, it's going to make for a long game." If you're still hung up on two critical calls in Saturday's loss, you have both an argument and a lingering aftertaste from last season's controversial end against these very Kings. With L.A. up 3-1 in the second period, Coyotes forward David Moss appeared to deflect defenseman Michael Stone's shot past goalie Jonathan Quick to slice the lead in half. But Moss was ruled to have made contact with Quick (who was out of his crease) despite the fact that he was pushed into the goalie by Kings defenseman Alec Martinez. That call wiped out the goal. Then, with Phoenix trailing 4-2 with under a minute to play, Radim Vrbata's shot squirted through Quick's legs and then was whacked into the net, but a quick whistle by the referee nullified that goal, too. The ref apparently lost sight of the puck, although a TV angle clearly showed it in view of him as he blew his whistle. Tippett clearly was miffed with both calls, even noting that Quick did not have possession of Vrbata's shot, but he bit his tongue before risking a fine. "That's the breaks we're getting right now," Tippett said. "We've got to overcome it." It was a prudent choice of words from both a financial standpoint and a procedural standpoint. Some breaks are going to go against the Coyotes this season, but they didn't waste time last season lamenting those bad bounces. They dug deeper. Besides, the Coyotes aren't helping themselves with their play. They're allowing four goals a game and committing myriad mental errors that are proving costly. "It's not who we are as a team, that's for sure," Tippett said. "I like to think we don't beat ourselves much, but that's been the case a few times early here." There are hockey savants in all corners of North America who are ready to write the Coyotes off as a one-hit wonder -- a nice little story of overachievers who couldn't sustain success. It's up to the team to decide whether those stories ultimately get written. "One and four is obviously not the start we were looking for," goalie Jason LaBarbera said. "But we have the guys in here to do it. It's just a matter of putting it together and getting on the same page." Follow Craig Morgan on Twitter
Original Story:
http://www.foxsportsarizona.com/01/27...
THE BACKYARD
BEST OF MAXIM
RELATED ARTICLES
GLENDALE, Ariz. Steve Sullivan may never match Ray Whitneys production for the Coyotes, but anything close would be remarkable given how close the 38-year-old wingers career came to ending just five years ago. Sullivan couldnt walk upright for the entire 2007-08 NHL season. Chronic back issues had him listing to the left like a wounded battleship. He had already missed the latter...
Coyotes general manager Don Maloney spoke on the NHL Network on Sirius XM on Friday and provided some notable updates on the team's injury situation just four games into the season. Maloney, in talking about the Coyotes' offseason moves that included the reacquisition of center Matthew Lombardi, said Lombardi was injured in Thursday night's loss to the Sharks and &quot...
Phoenix Coyotes center Matthew Lombardi is out indefinitely after suffering what the team said was an upper-body injury in a game against the San Jose Sharks. Lombardi was injured in the second period of Phoenix's 5-3 loss Thursday night and didn't return. Lombardi, who came to the Coyotes in a trade with Toronto on Wednesday, sat out the entire 2010-11 season with a neck...
from Mike Sunnucks of the Phoenix Business Journal at The Sporting News, Prospective Phoenix Coyotes buyer Greg Jamison has until Thursday purchase the hockey team from the NHL. Otherwise time runs out on the latest city of Glendale arena deal that helps Jamison's group buy the Coyotes. Glendale approved a $308 million arena deal in November. Jamison has until Jan...
Phoenix Coyotes center Matthew Lombardi suffered an injury in Thursday night's 5-3 loss at San Jose, and Coyotes general manager Don Maloney said in a radio interview on Friday he might out awhile. "Matthew got injured last night and may be out for a significant amount of time," Maloney said on SiriusXM NHL radio. Maloney did not specify Lombardi's injury...
The Phoenix Coyotes' stunning success last season included their first appearance in the Western Conference finals, and that came at the expense of the Nashville Predators. Neither team has played at that level since returning from the lockout, and now the Predators are without Patric Hornqvist. In their first meeting since facing off in the playoffs, the Coyotes and Predators...
(Photo by: Kelly Cox) Being a backup most of his career, Jason LaBarbera is looking to show the entire world that he can still play in the NHL well. LaBarbera has found himself playing for four NHL teams--New York Rangers, Los Angeles Kings, Vancouver Canucks and Phoenix Coyotes--and  has been back and forth in the minors. However, in the past six seasons, LaBarbera...
The Phoenix Coyotes' stunning success last season included their first appearance in the Western Conference finals, and that came at the expense of the Nashville Predators. Neither team has played at that level since returning from the lockout, and now the Predators are without Patric Hornqvist. In their first meeting since facing off in the playoffs, the Coyotes and Predators...
Predators.nhl.com http://2.cdn.nhle.com/predators/images/upload/2012/05/Trotz_PostSeriesHandshake_2012Playoffs_hpg.jpg The Predators return to Phoenix for the first time since last year's second round playoff elimination. Both teams are off to a pretty poor start on the season and will be looking to turn things around tonight. Injuries have left the Coyotes without...
NHL News

Delivered to your inbox

You'll also receive Yardbarker's daily Top 10, featuring the best sports stories from around the web. Customize your newsletter to get articles on your favorite sports and teams. And the best part? It's free!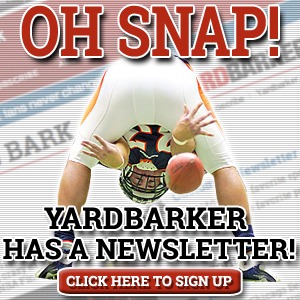 Latest Rumors
The Backyard

Today's Best Stuff

For Bloggers

Join the Yardbarker Network for more promotion, traffic, and money.

Company Info

Help

What is Yardbarker?

Yardbarker is the largest network of sports blogs and pro athlete blogs on the web. This site is the hub of the Yardbarker Network, where our editors and algorithms curate the best sports content from our network and beyond.