Welcome to Center Ice Chat's irregular series, Top 5, in which we rank the best, and sometimes, worst, of rankings by numbers. Today, we take a look at enforcers, not just for the sake of racking up box minutes and hits, but also being productive to team in greater ways. Chris Neil takes No. 5 of most productive enforcers this season. 5. Chris Neal, Ottawa Senators Chris Neal is always a bit of a tough customer to handle, but enforcer has grinned out 228 hits (T-4th) while dropping the gloves six times with 114 penalty minutes. Outside of that, however, he's more than just a physical threat. With 11 goals and 14 assists, the right winger is having his best productive year since the 2005-06 season. He's also taken the puck with 18 shot blocks. Not bad for a winger. Credit that to the penalty kill. 4. Derek Dorsett, Columbus Blue Jackets With players who have 50+ games under the belt, Dorsett is No. 3 in penalty minutes per game with 2.95. Maybe not the best perception in the league, especially with his 192 penalty minutes and 16 fights this season. But his productivity in the hit department makes him an fair exception of why he's a grinder and not just an enforcer. He ranks tied 29th in the league with 163 hits. The right winger has some vital signs of productivity, too, with 10 goals and 6 assists. He's on pace to shatter his career best 17 points from last season. Patrick Kaleta ranks No. 3 in our Top 5 productive enforcers this season. 3. Patrick Kaleta, Buffalo Sabres Patrick Kaleta is another dynamic shot-blocking right winger, with 43 to claim so far this season. He's registered 112 hits and 110 penalty minutes, good for an average of 2.12 per game. His shot-blocking abilities propels his efficiency in this ranking. Meanwhile, he's tallied 5 goals and 5 assists. 2. Steve Ott, Dallas Stars Steve Ott is one of the league's finest tough guys, indeed. His 219 hits puts him high in the ranks, because when you enforce, you're in good graces. He's tied for sixth on that list. Additionally, Ott is a 2.03 penalty minutes per game player. However, it's his 33 points that puts more value in the centre. He's on pace for his best season since his 2008-09 46 points. Steve Downie takes the top stop in our Top 5 productive enforcers for this season. 1. Steve Downie, Colorado Avalanche Steve Downie is a conservative 85-hit player this season, but remains a bit of a penalty box rat with 2.05 minutes per game at 129 so far this year while dropping the gloves five times. Downie has toned down the physical play a little since his 208 in the 2008-09 season with the Tampa Bay Lightning, in which he had his best offensive year with 46 points. This year, he's up to 38 with 10 points in 8 games since joining the Avs. He's been able to maintain the enforcer in himself this year while being an asset on the scoreboard.   Matthew Wilson is editor of Center Ice Chat. Follow him on Twitter @Mattjw24. Be sure to also Like us on Facebook and to Follow our Tumblr page. If you'd like to contribute, or appear as a guest columnist, please email us at CenterIceChat@gmail.com.
Original Story:
http://www.centericechat.com/2012/03/...
MORE FROM YARDBARKER
NHL News

Delivered to your inbox

You'll also receive Yardbarker's daily Top 10, featuring the best sports stories from around the web. Customize your newsletter to get articles on your favorite sports and teams. And the best part? It's free!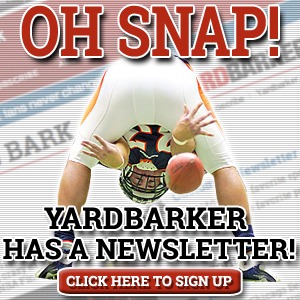 Latest Rumors
Best of Yardbarker

Today's Best Stuff

For Bloggers

Join the Yardbarker Network for more promotion, traffic, and money.

Company Info

Help

What is Yardbarker?

Yardbarker is the largest network of sports blogs and pro athlete blogs on the web. This site is the hub of the Yardbarker Network, where our editors and algorithms curate the best sports content from our network and beyond.