Found November 06, 2011 on centericechat.com:
PLAYERS:
Joe Colborne
,
Keith Aucoin
,
Adrian Aucoin
,
Chris Conner
,
Carter Ashton
,
Sean Avery
,
Adam Hall
,
T.J. Hensick
,
Jonathan Cheechoo
,
Joey Crabb
TEAMS:
Toronto Maple Leafs
,
Washington Capitals
,
Arizona Coyotes
,
Carolina Hurricanes
,
Detroit Red Wings
,
Tampa Bay Lightning
,
Pittsburgh Penguins
,
New York Rangers
,
Colorado Avalanche
,
St. Louis Blues
Welcome to Center Ice Chat's Top 5, an irregular series ranking performances this season. In this post, we take an unannounced look at the American Hockey League, the leaders on the stats sheets, and what it means for this NHL season.
5. Keith Aucoin, Hershey Bears (Washington Capitals)
Keith Aucoin is the cousin of 39-year-old Phoenix Coyotes defenceman Adrian Aucoin. Keith, 33, is an AHL veteran of 630 games while spending 75 games in the NHL among the Carolina Hurricanes and Washington Capitals.
This year, he's been good for 3 goals and 13 assists in 11 games, tied for third in the points category with Chris Conner of the Grand Rapids Griffns and Carter Ashton of the Norfolk Admirals.
Aucoin, a two-time Calder Cup champion, became the 21st player in the AHL to register 700 points last year. He's this year's assistant captain for the Bears.
Analysis for this year: Aucoin's blessings is another man's tragedy. That being injuries, of course. So, until the Capitals suffer a handful of set backs, don't expect Aucoin to see a lot of time in D.C. this year. He suited up for the team's season opener, but didn't log any ice time.
Contract: Aucoin is running to the end of his two-way contract signed for two years. He makes $300,000 in the AHL and $525,000 in the NHL. (A cap hit of $512,000.)
4. Chris Conner, Grand Rapids Griffins (Detroit Red Wings)
Chris Conner had a substantial lengthy NHL season last year with 60 games for the Pittsburgh Penguins.
This offseason he signed a two-way contract with the Wings, and, as a result, was a welcome sight to be back in his home state, as a native of the Detroit suburb of Livonia.
This season, Conner has amassed 5 goals and 11 assists in 11 games.
Analysis for this season: He was placed on waivers by the Red Wings on Oct. 3. We saw how quickly a call-up can occur with Sean Avery and New York Rangers. Conner is nowhere near as prolific, of course. But, with the caliber of his potential and relative youth within a struggling Detroit Red Wings, anything can happen.
Contract: Conner's two-way contract is for one year and worth $105,000 in the AHL, and bumps up to $550,000 in the NHL.
3. Carter Ashton, Norfolk Admirals (Tampa Bay Lightning)
Fresh out of the Western Hockey League, Carter Ashton could be a force to reckon with, and a missing piece to the Lightnings' offensive depth.
Drafted in the first round, 29th overall, in the 2009 NHL Entry Draft, Ashton currently leads AHL rookies in points (16) with 11 goals and 5 assists.
And for a 20-year-old, he can get into trouble, too. He's amassed 26 penalty minutes in 13 games.
Analysis for this season: Ashton may be in competition to take the job of the likes of fourth-liner Adam Hall, who signed a one-year deal over the summer. While Hall garnered just 18 points last year, his ability to kill penalties and produce on the face off keeps him around the team. Look for the Lightning to shake up some offensive pairings (outside of Hall) if they look to squeeze Ashton in for a look. If nothing else, maybe we'll see him down the line if the Lightning's playoffs hopes are crushed early.
Contract: Ashton is currently in a three-year entry-level contract worth $67,500 in the AHL and $900,000 in the NHL.
2. T. J. Hensick, Peoria Rivermen (St. Louis Blues)
T.J. Hensick, a centre, has done some time in the NHL. That's 112 games to be exact, including 61 games with the Colorado Avalanche three seasons ago. He played 13 games for the Blues last season, registering 1 goal and 2 assists.
This year, the 25-year-old has registered 4 goals and 13 assists in 13 games. Hensick has been sharing the ice with notable St. Louis acquisition Jonathan Cheechoo this season.
Analysis for this season: Hensick has a proven record of feeding the puck for a good amount of helpers. The Blues are also fairly stacked down the middle, so don't expect Hensick to get a call up other than an emergency.
Contract: Hensick signed a two-year two-way contract this summer worth $105,000 in the AHL and $600,000 in the NHL.
1. Joe Colborne, Toronto Marlies (Toronto Maple Leafs)
The Marlies have been a force this season, just as much as its affiliate the Maple Leafs. And guys like Joey Crabb and Joe Colborne have been a big part of that.
Colborne leads the AHL with 10 goals and 9 assists in 12 games. Last year, in 75 games in the AHL, Colborne registered 42 points (20 goals, 32 assists).
In his sophomore year, watch him to make that big leap: the NHL.
Analysis for this season: As mentioned, Colborne could make an impact in the NHL this year. The Leafs have plenty to work with down the middle, but could strengthen on the wings. The transition to wing from centre could serve greater things for the 21-year-old, who is second in scoring in the AHL to Ashton (11).
Contract: Colborne is currently signed to a three-year, two-way contract worth $65,000 in the AHL and $875,000 in the NHL.
Matthew Wilson is editor of Center Ice Chat. Follow him on Twitter @Mattjw24.
Original Story:
http://www.centericechat.com/2011/11/...
THE BACKYARD
BEST OF MAXIM
RELATED ARTICLES
The Toronto Maple Leafs has been a curious case this season in regards to special teams. The Northeast Division leader has been without its No. 1 goalie in James Reimer since Oct. 22, and are dead last in the penalty kill in the NHL at 70.9 percent success rate. The Maple Leafs rank last in the penalty kill so far this season. But they've been able to hold up well...
Hello Tim, the guy from the Tim Horton's Ad I dressed up as for Halloween,   Special thanks to @DasNordlicht91 and @kid_kawartha for the still. I'm sorry if my costume was offensive. It was kind of an inside joke with me and the other Leafs guys.  They kept buying me Tim Horton's coffee (even though I don't really drink coffee) and asking me about a BELT...
The Toronto Maple Leafs will be without Tim Connolly for up to two weeks after the veteran center suffered an upper-body injury in Saturday's one-sided loss to the Boston Bruins.Connolly missed practice on Monday, and afterward head coach Ron Wilson confirmed the injury and recovery timetable.He wouldn't say if it was the same ailment that caused Connolly to sit out the first...
I've written about it before and hoped to have gotten it all off of my chest.  But it features so prominently as a symptom of the psychosis linked to Leaf fans. What is it?  The Short Term Memory. For Saturday's game against the reigning Stanley Cup champions at the ACC, Ron Wilson and company opted to sit Luke Schenn out as a healthy scratch for the first time...
Brian Burke, President and General Manager of the Toronto Maple Leafs, announced Tuesday that the hockey club has recalled forward Matt Frattin from the Toronto Marlies of the American Hockey Lea...
Tyler Seguin's hat trick against the Toronto Maple Leafs on Saturday night might have been the first of his career. But given the talent that the 19-year-old has, it likely won't be his last. Seguin scored his fifth, sixth and seventh goals of the season in the 7-0 rout. And each of Seguin's goals was unique, though he gave a great deal of credit to his linemates. NESN...
The Maple Leafs were without Tim Connolly at Monday's practice. The Leafs forward suffered an upper body injury during Saturday's game and will be lost from 10 days to two weeks. "He got hurt during the first penalty kill and ...
Tyler Seguin showed yet again why he's a force to be reckon with in the National Hockey League. The sophomore player, going into Saturday's game against the Toronto Maple Leafs with four goals and seven assists in 11 games, netted a hat trick. It was his first of probably many more to come. He scored them first to get the Bruins up 1-0 at 06:23 into the first period...
Daymond Langkow, Adrian Aucoin and Boyd Gordon scored for Phoenix, and the Coyotes held off Edmonton 4-2 on Saturday night, snapping the Oilers' six-game winning streak.
NHL News

Delivered to your inbox

You'll also receive Yardbarker's daily Top 10, featuring the best sports stories from around the web. Customize your newsletter to get articles on your favorite sports and teams. And the best part? It's free!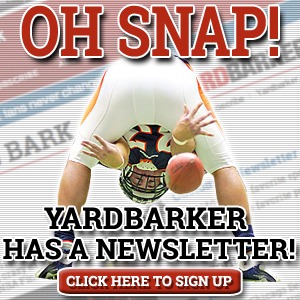 Latest Rumors
Best of Yardbarker

Today's Best Stuff

For Bloggers

Join the Yardbarker Network for more promotion, traffic, and money.

Company Info

Help

What is Yardbarker?

Yardbarker is the largest network of sports blogs and pro athlete blogs on the web. This site is the hub of the Yardbarker Network, where our editors and algorithms curate the best sports content from our network and beyond.