Found April 02, 2012 on The Royal Half:
Game #80
LA KINGS
39-27-13
91 pts, 3rd in Western Conference
vs
EDMONTON OILERS
32-38-9
73 pts, 14th in Western Conference
Oilers lead Season Series 2-1
7:30pm, Staples Center
Los Angeles, CA
PRIME TICKET
BEST PLAYER TO WEAR BOTH COLORS THAT IF HE HAD STAYED WITH THE KINGS
THIS SEASON HE WOULD BE THE KINGS 4TH OVERALL SCORER AND TIED FOR 3RD IN GOALS:
BEST OPPOSITION BLOGS:
JeanShorts and BaggedMilk
Oilers Nation
Oilers Jambalaya
Lowetide
ARE THE LA KINGS IN THE PLAYOFFS?
YES.
It's another Monday night game for the Los Angeles Kings... and I'm totally unprepared for a Gameday Thread. Thankfully, Brigitte over at One Girl, One Puck has a brand-new edition of her column that is sweeping Kings Nation... "Know Your Opponent." And with this weeks post, we now know that Brigitte is a perfect fit for The Royal Half... because she makes fun of Indiana Matt!!!
Click Here to Check Out "Know Your Opponent" for the Kings vs Oilers Game on Monday, April 2nd!!!
I'm gonna be honest... I don't know a lot about the Oilers. I know that they've been eliminated from the playoffs, which means they suck. I know that they have a ton of young players who are pretty damn good, yet they still manage to be terrible. I also know that Ryan Smyth plays for them because he cried like a ***** this summer. Whatever. Ryan Smyth is old, and is pretty much useless unless he's within 3 feet of the net. Even then he just stands there and lets pucks hit his stupid ******* giant stick blade. Ryan Smyth sucks. You knows who's better than Ryan Smyth? Mike Richards. Even though Richards has been a ghost since coming back from a concussion, I'd still take him over Smyth any day. Why? Because you know who's sexier than Ryan Smyth? Mike Richards. So what, I'm shallow, you should know this by now. That's pretty much all I know about the Oilers. Instead of actually having something witty to say I made terrible photoshops of Mike Richards making Ryan Smyth cry. Eat your heart out Indiana Matt!
 "Look at this idiot! He requested a trade TO Edmonton. Haha, what a dumb ****."
"You see this chart here shows how many blow jobs I've gotten since I've been in LA."
At least this Carter and Richards double team won't leave anyone with herpes. Hopefully.
"Hey guys check it out! We didn't even need to shove him he just went in the locker by himself! What a loser!"
Love, Dean Lombardi.
"Why don't I look like Mike Richards? If I looked like Richards I bet people would love me."
 It's OK though Ryan I'm sure your new teammates love you. I mean what's not to love? That stupid hair, dumb face, and non-stop crying are really quite attractive. Right Taylor Hall?
"Yea umm...you're on your own Ryan. I've got my own issues to work on over here."
So that's it. The Oilers are bad, the Kings should beat them. Seriously, if they just show up their odds are pretty good. Also, try not to slip and fall on Ryan Smyth's tears, we need you guys healthy.
Oh yea, here's a shirtless picture of Mike Richards. Because I can.
I love you Mike Richards.
Original Story:
http://www.theroyalhalf.com/2012-arti...
THE BACKYARD
BEST OF MAXIM
RELATED ARTICLES
If you didn't realize that it was April 1st this morning, the latest Oilers' press release may have caught you off guard: Setting an unprecedented sporting spectacle, Oilers President and COO Patrick LaForge announced Sunday the Edmonton Oilers issued a challenge to the Edmonton Eskimos to go head-to-head in a two-game, total-point series later this spring. In addition to bragging...
Tom Renney is not the first Oilers' head coach to be fined for questioning the actions and calls of the officials, but he is the most recent. Following Monday night's game in Los Angeles and yet another evening of calls that seemed to favour the other team Renney skirted around the questions on officiating as best he could, but did say "Maybe they need Hollywood (Kings) in...
Edmonton Oilers coach Tom Renney was fined $10,000 by the NHL for his comments following Monday's 2-0 loss to the Los Angeles Kings. Renney was upset with what he perceived to be favorable treatment toward the Kings because "maybe they (the NHL) need Hollywood in the playoffs." Edmonton (32-39-9) will miss the postseason for the sixth straight season.
NEW YORK (April 3, 2012)—Edmonton Oilers head coach Tom Renney has been fined $10,000 for comments made following NHL Game #1188 at Los Angeles on Monday, April 2, the National Hockey League announced today. This may be the quote that forced the fine..  "Maybe they need Hollywood (Kings) in the playoffs, I'm not sure"
Teemu Hartikainen gave Edmonton an early lead with his first two goals of the season, Devan Dubnyk made 32 saves and the Oilers beat Anaheim 2-1 on Sunday night in the Ducks' final home game of the season. Teemu Selanne scored for the Ducks, and Jonas Hiller stopped 13 shots. Hiller, who has set franchise records with 70 starts and 71 appearances, finished his home slate 19...
It's a brand-new episode of All The Kings Men where Podmaster General Jesse Cohen and myself take a look at tonight's big match-up between the Los Angeles Kings and Edmonton Oilers with Scott Reynolds from the notorious Jack Johnson Hating Blog, The Copper & Blue. Check it out here, subscribe to it on iTunes or you can listen below.
Anze Kopitar collected a goal and an assist and Mike Richards netted a shorthanded tally as the visiting Los Angeles Kings jumped into first place in the Pacific Division with a 4-1 win over the Edmonton Oilers on Friday. Defensemen Drew Doughty and Alec Martinez also scored and Jonathan Quick turned aside 13 shots for the Kings, who have won eight of their last 10. Los Angeles...
from Jim Matheson of the Edmonton Journal, • Dallas captain Brenden Morrow is finding himself in the same boat as Ryan Smyth. The both have a warrior mentality, and have both taken tons of punishment around the blue-paint over the years. Neither was an A-plus skater coming into the league. With the game so fast now, it's harder for both heart-and-soul guys. Nobody would be surprised...
NHL News

Delivered to your inbox

You'll also receive Yardbarker's daily Top 10, featuring the best sports stories from around the web. Customize your newsletter to get articles on your favorite sports and teams. And the best part? It's free!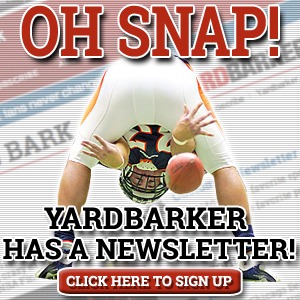 Latest Rumors
Best of Yardbarker

Today's Best Stuff

For Bloggers

Join the Yardbarker Network for more promotion, traffic, and money.

Company Info

Help

What is Yardbarker?

Yardbarker is the largest network of sports blogs and pro athlete blogs on the web. This site is the hub of the Yardbarker Network, where our editors and algorithms curate the best sports content from our network and beyond.