Found April 28, 2012 on The Royal Half:
Game #1
LA KINGS
40-27-15
95 pts, 8th in Western Conference, 13th in NHL
vs
ST. LOUIS BLUES
49-22-11
109 pts, 2nd in Western Conference, 3rd in NHL
Kings Won Regular Season Series 3-1
4:30pm, Scottrade Center
St. Louis, MO
NBC SN 
BEST PLAYER TO WEAR BOTH COLORS:
I mean... does Gretzky look ridiculous in that jersey or what?
BEST OPPOSITION BLOGS:
St. Louis Game Time
Thrashing the Blues
BEST APPEARANCE BY ST. LOUIS IN A HOLLYWOOD MOVIE:
ARE THE LA KINGS IN THE NEXT ROUND?
NO!
Much like our counterparts over at St. Louis Game Time... I've had a hard time finding enough hate to put towards the St. Louis Blues in their 2nd Round matchup with the Los Angeles Kings. I mean... let's be honest here... these franchises are very similar. Both teams are lovable losers who haven't won anything of any substance during their 44 seasons in the NHL. So just when I think "Hey, you know what... these Blues aren't half bad"... I remember this.
**** you, St. Louis.
No... not because you traded for Wayne Gretzky...
but because you got Wayne Gretzky for Patrice Tardif, Roman Vopat, Craig Johnson, Matt Zultek and Peter Hogan.
CLICK HERE TO READ THE REST OF THE ROYAL HALF ROUND 2 GAME 1 PREVIEW!!!
Brett Hull scored 936 points as a member of the St. Louis Blues from 1987 until 1998. Wayne Gretzky scored 918 points as a member of the Los Angeles Kings from 1988 until 1996. And during their time in their respective cities in the prime of their careers, Wayne Gretzky led his team to 1st place in their division once... and Brett Hull never did. So for roughly 8 overlapping years in St. Louis and in Los Angeles, two of the greatest NHL players of all-time... didn't win ****.
While 3 of the 4 teams in the Eastern Conference Semi-Finals have actually won Stanley Cups everyone is focused on the 4 teams in the Western Semi-Finals... each of which have never won the Cup. And if that wasn't bad enough, the Los Angeles Kings are the only team out of the 4 to have actually won a single game in a Stanley Cup Final.
But god damn what a 1 game it was.
But enough about the past. The horrible, horrible past. Or at least the long-ago past. Since 2004, the LA Kings have been in the playoffs 3 times, the St. Louis Blues 2. These are two very evenly matched hockey teams, from stellar goaltending to low-scoring forwards to grizzled veteran leaders. So what is the one factor that will decide which of these two teams will advance past the 2nd Round for the 1st time since... well 11 years for the Blues and 19 years for the Kings? Their celebrity fans, that's what!!!
"Hey, Tom... whoever's team wins the series gets my wife for the night."
"Jon... I don't get it. What's in it for you?"
"I usually bang my co-stars. It'd be something different for a night."
"Deal."
CELEBRITY FANS
Man, Hooch got fat.
Even though he's been recently spotted attending games at Staples Center, Tom Hanks has actually been a long-time fan of the Los Angeles Kings. 
Look over there, it's Sean Young.
I want to say hi, but I guess I'll just see her at the next A-List party soon.
I remember seeing Tom Hanks at the Great Western Forum in the early 90s when everyone wanted to be in the Wayne Gretzky business. And I mean EVERYONE.
But Tom's love of the Kings didn't just extend to the West Coast.
And he's such passionate hockey fan Hanks even once made a movie about Marc-Andre Fleury's fivehole.
Meanwhile, Jon Hamm is a lying-liar who lies about how long he's been a St. Louis Blues fan. And honestly... I think he just wears vintage St. Louis Blues gear so he can look like a hipster.
Besides... Jon Hamm is one of us now. It's time you drop that Midwestern accent so you can get better roles.
But there is one area in which Jon Hamm has excelled when it comes to the St. Louis Blues.
Being the inspiration for the Blues NHL Guardian.
Or maybe it was this guy.
Look, stats don't lie:
Tom Hanks: 2 Oscars, 4 Emmys, 4 Golden Globes, 5 People's Choice Awards.
Jon Hamm: 1 Golden Globe.
"Perron-Backes-Oshie."
"Williams-Kopitar-Brown."
"What are you boys talking about? Everyone knows the best line comes from Gucci!"
ADVANTAGE: KINGS
COACHES
Sure, having the ultimate celebrity fan cheering for you always leads a team to victory. But let's talk a little bit about the real reason these teams are in the 2nd Round... the Head Coaches.
Yes, I know Hitchcock has a Cup... but it would be the Blues' first!
Darryl Sutter and Ken Hitchcock's trip to the 2nd Round of the Stanley Cup Finals has been a rather similar one. Hired just over a month apart from each other, these coaches have been around the block before having coached 29 seasons between them in the NHL. They may not have been the most popular choices when they were hired by their respective clubs but Hitchcock led the Blues to a 43-15-11 record while Darryl Sutter went 25-13-11. Not bad for a couple of old dogs, huh?
Get it?
And besides their success in turning both of these struggling teams around... Sutter and Hitchcock are similar in a lot of other ways.
Don't let his weight fool ya... Hitchcock is definitely the neat one.
So honestly... I don't care who matches up better. Because not only are the Los Angeles Kings in the 2nd Round of the NHL Playoffs... but I get to stare at these guys for the next 4 games (at least).
I feel like I already won.
ADVANTAGE: THE ROYAL HALF
Besides... it could be worse for both of these teams, right?
Right.
Original Story:
http://www.theroyalhalf.com/2012-arti...
THE BACKYARD
BEST OF MAXIM
RELATED ARTICLES
99 PROBLEMS
The Great One's daughter is no stranger to social media controversy, but her pictures that surfaced over the weekend may be her most scandalous yet.
ST. LOUIS - Few teams in the NHL suffered as many key injuries as the St. Louis Blues did during the regular season. Saturday night in a 3-1 loss to the L.A. Kings in Game 1 of the second round, the Blues may have taken their biggest hit yet. Defenseman Alex Pietrangelo, the Blues leader in ice time in both the regular season and playoffs, left with 1:13 to play in the second period...
ST. LOUIS Not good enough. The St. Louis Blues' effort after the first period Saturday wasn't good enough to beat the Los Angeles Kings in Game 1 of the Western Conference semifinals. It wasn't good enough to please coach Ken Hitchcock, and it wasn't good enough for them to leave Scottrade Center thinking they hold a major advantage at home. Yes, the Blues lost...
ST. LOUIS -- A few weeks ago, before the Kings began their playoff journey, center Jarret Stoll said that as a young player with Edmonton in 2006, he and his No. 8-seeded Oilers teammates gained a lot of confidence from upsetting the No. 1-seeded Detroit Red Wings. Those Oilers went on to the Stanley Cup finals that spring, losing in seven games to Carolina. Now that the No. 8-seeded...
I continue my analysis of the 2nd round Stanley Cup playoff series by analyzing the playoff series between the St. Louis Blues and the Los Angeles (LA) Kings. Both teams won their opening-round series in five games.  While the Blues erased their 10-year series-winning playoff drought in impressive fashion by dispatching the San Jose Sharks, the 8th-seeded Kings pulled off the Stanley...
Of course this happens in game one. And, of course the call gets botched: [youtube]fsSWSWt_rbU[/youtube] Yes, that's blood running down Alex Pietrangelo's throat, and yes, that was Dwight King doing something that should have necessitated a five minute major and a game misconduct. I think I've been pretty consistent all year long (regardless of team) when I've said...
Two long-time have-not franchises that took off after switching coaches midseason are among the last eight standing in the Stanley Cup playoffs. Ken Hitchcock of the St. Louis Blues and Darryl Sutter of the Los Angeles Kings both have top-shelf goaltending and the two stingiest defenses overall. Both teams dispatched of their first-round opponents in five games, too. That leaves...
We have two teams with Defense on their minds as they prepare to meet each other. Both have great goaltenders. St Louis just happens to have two of them, Elliott and Halak. But Quick is as good as having two goalies. This will be a big defensive battle. This will also be a low scoring series. The Kings surprised the hockey world by defeating Vancouver in 3 out of 4 games. St Louis...
If you want in-depth analysis of the upcoming 2nd Round NHL Playoff Series between the Los Angeles Kings and the St. Louis Blues... then you should really check out RudyKelly's preview over at Battle of California. But if you want to hear myself, Podcaster General Jesse Cohen and Brad Lee from St. Louis Game Time talk nonsense about the upcoming battle between two teams...
FOX Sports Midwest will have complete postgame coverage following each Blues playoff game beginning with Game 1 of the Western Conference semifinals Saturday night at Scottrade Center. John Kelly and Bernie Federko will anchor the postgame shows, which will feature highlights, analysis and interviews from inside the Blues locker room. Before the Blues begin play against the Los Angeles...
The LA Kings continued to play a tight, defensive game and it lead to a 3-1 win over the St. Louis Blues tonight. Defenseman Matt Greene had the game-winning goal, as he joined Dustin Brown on a shorthanded rush and was left alone in front of the next after the original shot was stopped by Brian Elliott.
  Here is the blunt version of this evening's preview of the St. Louis Blues versus the Los Angeles Kings.  There are a lot of crazy things that could be expected in this series.  This is one that could be more entertaining than the block party between the New York Rangers and Washington Capitals.  It is one of those to keep an eye on because of the goaltending...
NHL News

Delivered to your inbox

You'll also receive Yardbarker's daily Top 10, featuring the best sports stories from around the web. Customize your newsletter to get articles on your favorite sports and teams. And the best part? It's free!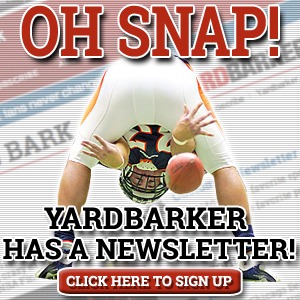 Latest Rumors
Best of Yardbarker

Today's Best Stuff

For Bloggers

Join the Yardbarker Network for more promotion, traffic, and money.

Company Info

Help

What is Yardbarker?

Yardbarker is the largest network of sports blogs and pro athlete blogs on the web. This site is the hub of the Yardbarker Network, where our editors and algorithms curate the best sports content from our network and beyond.