Found April 22, 2012 on The Royal Half:
Game #5
LA KINGS
40-27-15
95 pts, 8th in Western Conference, 13th in NHL
vs
VANCOUVER CANUCKS
51-22-9
111 pts, 1st in Western Conference, 1st in NHL
Regular Season Series Tied 2-2
Kings Lead Playoff Series 3-1
5:00pm, Rogers Centre
Vancouver, BC
NBC SN
FSW 
MOST HYSTERICALLY AWESOME CANUCKS FAN TWITTER ACCOUNT THAT WAS STARTED 8 DAYS AGO:
BEST OPPOSITION BLOG THAT I'VE ATTENDED A PLAYOFF GAME WITH IN PERSON:
Benched Whale
BEST OPPOSITION BLOGS:
Pass It to Bulis
Canucks Army
Nucks Misconduct
Pucked in the Head
ARE THE LA KINGS IN THE NEXT ROUND?
NO!
I don't want to talk about it. But it looks like I'm going to be out of town for Game 5 and unable to watch the Los Angeles Kings attempt for the 2nd time to eliminate the Vancouver Canucks from the 2012 NHL Playoffs. Thankfully, I'll still be able to follow along with the game on Twitter!
**** you Brown, suck my mother ******* DICK! #LaKings

— HeadSetWarrior (@parmjhudge) April 19, 2012
@LAKings **** you *********** eat a dick

— Sagar(@SAGfromMRC93) April 19, 2012
@LAKings you ***** ***** **** the la kings sedins ripped all ur kuchies apart.

— Jason Thoohan (@Thoohan94) April 19, 2012
There should be an NHL regulation on classless fans... *ahem* @LAKings

— §Bryan§ (@nerdofthisworld) April 19, 2012
@EaglesNucksFan the royalhalf ****** is runnin his mouth again

— DieHardNucker (@canuckstillidie) April 22, 2012
Not a problem at all. I'll totally be able to feel like I'm watching the game live via Twitter. In the meantime, Jesse Cohen and I talked with Jason Kurylo from the Canucks blog, Pucked in the Head, about Game 5, what's next for the Canucks if they are eliminated and the Luongo-Schneider Debacle. Check it out here, subscribe to it on iTunes or you can listen below.
Original Story:
http://www.theroyalhalf.com/2012-arti...
THE BACKYARD
BEST OF MAXIM
RELATED ARTICLES
After Game 4 between the Vancouver Canucks and Los Angeles Kings was in the record books Wednesday, Canadian Mike aka Mike Dunsmore of FOX Sports Radio did a radio interview with Ryan Kesler. Or so he thought. Listen to the interview and you can figure out who it was. Dunsmore (@CanadianMike101) tweeted this at 2:16pm pacific time on Saturday afternoon: Kevin Bieksa is a beauty...
Vancouver Canucks center Maxim Lapierre during a game against the Colorado Avalanche on March 16, 2011. (Photo credit: Wikipedia) I couldn't resist with this one. The most unlikable team in the NHL has told a few of their players to quit yapping. You can't make this stuff up. I guess the coaching staff for the Vancouver Canucks figured out that the rest of the NHL was tired...
So much for home ice advantage. The Vancouver Canucks spent 82 games amassing the best record in the NHL, guaranteeing them the No. 1 seed and home ice throughout the playoffs. But the LA Kings had other plans, bouncing the President's Trophy winners from the postseason in five games and beating the Canucks in every game at Rogers Arena. In Game 5, the Kings earned a 2-1 comeback...
If you're going to lose, do it with your best. That's how Vancouver Canucks coach Alain Vigneault approached the series after going down in the series 0-2. Cory Schneider, shown here in this file photo, could be the Vancouver Canucks No. 1 next year. Or, quite possibly, another team's starting goalie. Either way, his playoffs performance, despite a lack of wins...
Yes we all know the Vancouver Canucks don't have the best fans. (I'm of course referring to the 1000's of fans that sit on their hands in suits during Canucks games) NOT the die hard fans that can't afford tickets that watch games in sports bars all over BC 82 games a year. Yes we all know the Vancouver Canucks came up one game short of winning the cup last year...
Jarret Stoll beat Cory Schneider with a wrist shot at 4:27 of overtime to give the Los Angeles Kings a 2-1 victory over Vancouver on Sunday night, knocking out the top-seeded Canucks in five games in the Western Conference first-round series. Stoll scored from the left wing after a turnover at Vancouver blue line. The forward skated in on a 2-on-1, but took the shot himself, picking...
Not sure if this is unusual or not, but the Vancouver Canucks just sent out a notice of media availability tomorrow for both GM Mike Gillis and the players. No mention of Alain Vigneault. added 6:39pm, via Mark Spector tweet, If no Vigneault at Canucks avail tmw, he's done. Coaches ALWAYS talk post season, unless they've been fired. We're hoping not.
Winning the Presidents Trophy multiple times is nice. First round failures suck. How do the Canucks rationalize going from competing in Game 7in the Stanley Cup Finals to screwing the pooch and losing to the Kings in five games in the first round of the playoffs? The Vancouver Canucks were never in the series with The LA Kings. Ever. Alain Vigneault's team was so defensive...
from Mark Spector of Sportsnet, "Nobody envisioned this." Despite which club you thought might win this series, or whether you reckoned these Vancouver Canucks were made of stern enough stuff in Year 2 of their Presidents' Trophy reign, head coach Alain Vigneault's words summed up well what happened to the Western Conference champions in Round 1 this spring. Lose to the...
5 pm start. (7 pm if you're a King...) We got this.
This video pretty much sums up how we here at NESR we feel about the Vancouver Canucks! Winning the President's cup doesn't mean everything! PLAYOFFS 2012!!!!  
The Vancouver Canucks will have a new second line Sunday when they attempt to stay alive in the Stanley Cup playoffs against the Los Angeles Kings. Alex Burrows, Ryan Kesler and Max Lapierre - dubbed by one pundit as the Three Mouthketeers because of their outspoken ways on the ice - want their actions to speak louder than words in Game 5 of the Western Conference quarterfinal series...
NHL News

Delivered to your inbox

You'll also receive Yardbarker's daily Top 10, featuring the best sports stories from around the web. Customize your newsletter to get articles on your favorite sports and teams. And the best part? It's free!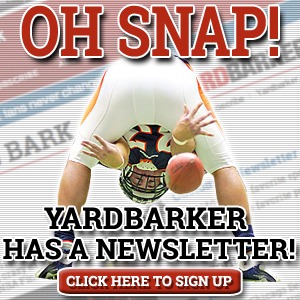 Latest Rumors
The Backyard

Today's Best Stuff

For Bloggers

Join the Yardbarker Network for more promotion, traffic, and money.

Company Info

Help

What is Yardbarker?

Yardbarker is the largest network of sports blogs and pro athlete blogs on the web. This site is the hub of the Yardbarker Network, where our editors and algorithms curate the best sports content from our network and beyond.