Found April 03, 2013 on The Royal Half:
PLAYERS:
Dean Lombardi
,
Davis Drewiske
,
Brad Richardson
,
Robyn Regehr
,
Alec Martinez
,
Keaton Ellerby
,
Matt Greene
,
Drew Doughty
,
Patrik Berglund
,
Michael Grabner
,
Pascal Dupuis
,
Shawn Matthias
,
Jiri Tlusty
,
Jeff Carter
,
Dustin Brown
,
Adam Henrique
,
Justin Abdelkader
,
Keith Yandle
,
Jason LaBarbera
,
Jonathan Bernier
TEAMS:
Arizona Coyotes
,
Los Angeles Kings
,
Montreal Canadiens
,
St. Louis Blues
,
New York Islanders
,
Pittsburgh Penguins
,
Florida Panthers
,
Carolina Hurricanes
,
New Jersey Devils
,
Detroit Red Wings
,
Dallas Stars
,
Edmonton Oilers
,
Columbus Blue Jackets
LA KINGS 1, PHOENIX COYOTES 3 Well as the 3 of you that read The Royal Half on a regular basis might have noticed... we've had a little less content around here this season. With myself doing the GAMEDAY PREVIEWS for LAKings.com, I haven't had as much free time to do unfunny and boring recaps of the Los Angeles Kings games. So to fix that, we are trying something new this week and calling up a writer from the minors. Oh, he looks like he'll fit in just fine around here. PumperNicholl is a lifelong LA Kings fan and actually learned how to speak English by watching LA Kings games... and the Police Academy movies. He's been following me on Twitter for a while now... and I find him crass, idiotic and unfunny. So I thought he'd be the perfect fit for The Royal Half! Below is his 1st attempt at a GAME RECAP... and boy... the LA Kings sure provided a doozy for him. So take a read and let us know what you think in the comments. Should we keep PumperNicholl around... or trade him for a 5th Round draft pick by noon today? Take it away, PumperNicholl.... *THE FOLLOWING BELOW IS NOT WRITTEN BY THE ROYAL HALF, BUT RATHER A GUEST WRITER* The stretch drive for the Stanley Cup playoffs is officially in full swing as the trade deadline is finally here. Every GM has been tirelessly working to determine whether they should buy, sell, or be concerned that their owner has given them their third vote of confidence since Monday. During these final roster tweaking moments, GMs don't want to show their hand too early, but fans and media members can see the glaring holes from a mile away. So while teams like the Penguins and Bruins engage in an all-out arms race, other contenders are carefully adding minor pieces to the puzzle. And despite a eye cancer inducing poor showing on the eve of the trade deadline, the roster Dean Lombardi has carefully molded over the years seems to be in pretty good shape. With just a few minor alterations the Kings could be poised to make a run at back-to-back Stanley Cup Championships. KINGS PLAYERS MOST LIKELY TO WAKE UP ON ANOTHER TEAM DAVIS DREWISKE With Darryl Sutter reinserting Brad Richardson in the lineup, Dean Lombardi quickly responded to the roster's "pretty boy" problem. He's added Robyn Regehr, but one Shrek-like man can only do so much. Sadly, the writing has been on the wall for a while for all around good guy Davis Drewiske. Since signing a three-year extension, Drewiske has only played 109 of the 281 games, so it's nearly certain he'll be gone. PREDICTION: Drewiske gets traded to an Eastern Conference team and gets his name engraved on the Stanley Cup as a 7th defensemen. However, let's take a moment to recall the season and career highlights of Drewiske's tenure with the Los Angeles Kings: Thanks for the memories, Whiskey. ALEC MARTINEZ/KEATON ELLERBY On a night where the Kings made room on their blueline for the incoming Regehr, the bottom pairing of Martinez and Ellerby must have forgotten Matt Greene is expected back in just a few weeks. In the first game of the post-Drewiske era, the duo combined for an uninspiring -5 rating in 26 minutes of ice time. They somehow managed to do this playing one minute less than Drew Doughty. Granted, Lombardi will likely want the insurance Martinez and Ellerby provide, but he still has time to upgrade the position as well. PREDICTION: Martinez and Ellerby have a Zoolandersque Walk Off in Lombardi's office to determine which gets traded before the deadline. So long, Keaton. We hardly knew thee. By the way, with the acquisitions of Regehr and Ellerby, Lombardi successfully killed three birds with two stones:   In Honor of the Players Who Only Affect a Few Games Out of the Year, The Royal Half Presents: THE NHL CY YOUNG AWARD RACE Tie-5. Patrik Berglund 34GP 14-6 Tie-5. Michael Grabner 34GP 11-5 4. Pascal Dupuis 37GP 17-9 3. Shawn Matthias 37GP 14-3 2. Jiri Tlusty 35GP 17-9 1. Jeff Carter 36GP 20-4 Also receiving votes: Dustin Brown 36GP 14-9, Adam Henrique 31GP 10-4, Justin Abdelkader 36GP 7-2   TRH THREE STARS OF THE NIGHT 3. Keith Yandle After finishing the Western Conference Final with a disappointing two points and a -1 rating, Yandle put the team on his back with two goals in the 3-1 win. His all-around leadership and offensive outburst helped the Coyotes leapfrog the firesale special Dallas Stars into sole possession of 12th place of the Western Conference, just one point back of the idle Edmonton Oilers and Columbus Blue Jackets. 2. NHL GMs In the ultimate "eff you" to TSN, CBC and Sportsnet, the NHL GMs decided to get all of their major trades out of the way before Canada's equivalent of the opening day of March Madness. On the bright side, there's a very good chance Aaron Ward will attempt to report another premature trade before Bob McKenzie body slams him on national TV. 1. Jason LaBarbera LaBarbera turned aside 39 shots in a game that saw his SV% rise to .924 and GAA drop to 2.48. The stellar performance has led to a growing consensus amongst Kings fans that those numbers would look excellent backing up Jonathan Bernier during the playoff run.
Original Story:
http://www.theroyalhalf.com/2013-arti...
THE BACKYARD
BEST OF MAXIM
RELATED ARTICLES
Robyn Regehr says he gladly waived his no-trade clause in Buffalo for the chance to chase the Stanley Cup with the Los Angeles Kings. The bruising defenseman went through his first practice with the defending Stanley Cup champions on Wednesday, two days after they acquired him from the Sabres. Regehr should play a big role immediately for the Kings, who believe he'll fill the...
The Los Angeles Kings already have the funniest Twitter account in the NHL and now they are stepping it up by adding some funny instant analysis on trades that are occurring throughout the league prior to the deadline.  Monitor their site here to check for some very clever updates before the trade deadline ends tomorrow, April 3rd at 3 pm. The Kings have made some great hires in...
LOS ANGELES (AP) -- Justin Williams and Jeff Carter scored 98 seconds apart on the first two shots of the game, Williams added a goal on Los Angeles' first shot of the second period, and the Kings beat the Minnesota Wild 3-0 on Thursday night behind Jonathan Bernier's first shutout of the season. Bernier made 23 saves en route to his sixth NHL shutout and first since Feb...
The Los Angeles Kings won the Stanley Cup last year, and that of course, got them a bunch of attention across the sports world. However, the Kings were already Internet famous, thanks to their often sarcastic and witty Twitter account. Apparently that has carried over to their team website as well. The Kings had plenty of trade deadline coverage on Wednesday, including a trade tracker...
The Montreal Canadiens obtained defenseman Davis Drewiske from the Los Angeles Kings for a fifth-round draft pick Tuesday. The Canadiens were seeking a veteran to play on their third defense pair. Drewiske had one goal and three assists in 20 games and was plus-3 for Los Angeles, but had been a healthy scratch of late. He averaged 14:27 of ice time per game. He was signed as a...
The Kings made some news before tonight's game, as they announced they had traded Davis Drewiske to the Montreal Canadiens in exchange for Montreal's fifth-round pick in the 2013 NHL Entry Draft. Drewiske, a 28-year-old left-handed shooting defenseman from Hudson, Wisconsin, signed with the Kings as an undrafted free agent from the University of Wisconsin [...]
#LAKings GM Dean Lombardi confirms the plan is to try and get 2010 first rd pick defenseman Derek Forbort inked in the next few days. — The Mayor John Hoven (@mayorNHL) April 3, 2013 Lombardi not talking SCSU players, they're still playing in NCAA tourney. — The Mayor John Hoven (@mayorNHL) April 3, 2013 #LAKings Lombardi also says he'll be mtg w/ several...
FIRST... read our GAMEDAY PREVIEW for tonight's debut of Robyn Regehr as the Los Angeles Kings take on the Minnesota Wild. Exclusively at LAKings.com. This will make more sense once you've read the Gameday. THEN... it's a Brand New All The Kings Men Podcast!!! On this episode, Jesse Cohen and myself talk about the NHL Trading Deadline and our newest favorite...
Wearing Davis Drewiske's old #44 and playing on Drewiske's old spot with Keaton Ellerby on the third defense pairing, playing on his left, Robyn Regehr began his tenure with the Kings, setting out on his quest to not only prove he's better than Drewiske (and Alec Martinez), but that he's better enough to warrant giving [...]
So if the top three teams in the East this year are Boston, Pittsburgh and Montreal, they have thus far acquired Jagr, Morrow, Iginla - and Drewiske. Who is Davis Drewiske? He's a competent depth defenceman who came out of the University of Wisconsin, and provides the Canadiens with insurance on the back end going into the playoffs. Sure, it's not a sexy move, but it'...
The Montreal Canadiens announced today that they had acquired defenseman Davis Drewiske from the Los Angeles Kings in return for a fifth round draft pick in the 2013 NHL Entry Draft. Undrafted, Drewiske started his junior career with Des Moines Buccaneers of the USHL before joining the University of Wisconsin in the Western Collegiate Hockey Association. Drewiske captained...
NHL News

Delivered to your inbox

You'll also receive Yardbarker's daily Top 10, featuring the best sports stories from around the web. Customize your newsletter to get articles on your favorite sports and teams. And the best part? It's free!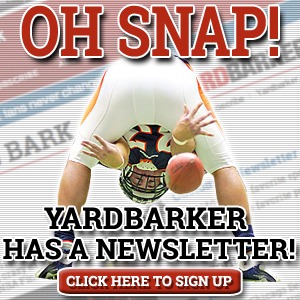 Latest Rumors
Best of Yardbarker

Today's Best Stuff

For Bloggers

Join the Yardbarker Network for more promotion, traffic, and money.

Company Info

Help

What is Yardbarker?

Yardbarker is the largest network of sports blogs and pro athlete blogs on the web. This site is the hub of the Yardbarker Network, where our editors and algorithms curate the best sports content from our network and beyond.