Found April 24, 2012 on The Prospect Park:
PLAYERS:
Mark Visentin
,
Ryan Strome
,
Dougie Hamilton
,
Chris Kreider
,
Derek Stepan
,
John Tortorella
,
Henrik Lundqvist
,
Chris Neil
TEAMS:
Phoenix Coyotes
,
New York Islanders
,
Boston Bruins
,
New York Rangers
,
Ottawa Senators
The beauty of hockey playoffs is that you never know who might be the hero but most of the time it turns out it's the last person you would've considered as in the case yet again for New York Islander prospect
Mitchell Theoret (NYI 2011 7th)
of the Niagara IceDogs.
With the IceDogs coming off a disappointing home loss on Sunday, the team really needed a boost and that the boost came from Mitchell Theoret. Theoret had two goals including his second game-winner of the series as Niagara bounced back to win game three of their series with the Ottawa 67's 5-2 to take a 2-1 series lead.
Ottawa has struck first scoring the only goal in the first period and it was really the only period when Ottawa had an edge in play. It took Theoret and the IceDogs all of 20 seconds into the second period to tie the score when Theoret following his teammates to the net cash in on a rebound for his second goal of the playoffs and a 1-1 ties.
However Ottawa would retake the lead just under 4 minutes later when Niagara botched a rush up the ice that Ottawa was night and just fired at the goal while Niagara goalie Mark Visentin was out of position. Still Niagara tied the game to end the second tied at 2-2 as
Ryan Strome (NYI 2011 1st)
set up Dougie Hamilton.
In the third it was Theoret again, only this time Theoret scored off the rush as he fired a shot from about 25 feet which beat the Ottawa goalie for a 3-2 that Niagara would not give back. This goal took only 13 seconds after the start of the period.
Sorry we don't have ny highlights because most everybodyhighlight packages down to this one goal scored by Niagara goalie Mark Visentin.
The goalie scoring a shorthanded empty net goal is interesting but they should have also shown his gaffe as well as how Niagara bounced back from losing 7-4 in game two.
Theoret also earned his second "first star of the game" is now 3-3-6 for the playoffs while his teammate Strome 6-14-20 (third in OHL).
--------------------------------------------------------------------
Really to me happy was I to see Chris Kreider scoring off a feed from Derek Stepan and was I mad that it took Tortorella so long to put the two together?
First I am not going to sit here and lie to you guys that I didn't enjoy seeing Kreider get a goal. Of course I did as you cover somebody for three years like I have Chris Kreider then sure it means something when they make it.
There is one thing needs to be corrected and that is Chris Kreider technically did not scored his first career NHL goal but rather he scored his first career playoff goal..
If you wish to say it is Kreider's first goal at the NHL level that is correct but it is not his first NHL career goal. Don't ask me why the NHL wants to do that but it's there puck instead they didn't make the rules.
But what this is really not about I being right and John Tortorella being wrong. Is it frustrating? Yes it is very frustrating because you have to wonder if there is some sort of a communications breakdown.
I can't answer why it took Tortorella so long to finally put Kreider with Stepan and Callahan. Only John Tortorella knows the true answer to that but I do wonder if there is a communications breakdown between the staff and coach.
I wonder if it's just another one of John Tortorella's control issues but here's the one thing I do know. The Rangers won and forced a game seven on Thursday and the lesson we will not know if it's been learned until we see the same trio used as a unit again.
I also am disappointed that none of the team leaders pulled Henrik Lundqvist away from the referees after the game. Yes it's understandable that Lundqvist was upset over blown calls or as our favorite Ranger announcer Dave Maloney was calling them "bogus calls by bogus officials ".
Somebody needed to push Henrik to the locker room rather than take a chance that someone would've filed a complaint with the NHL about Lundqvist abusing an official. I cannot trust the NHL to do the right thing anymore.
But you know what? Everything happens for a reason and is much as people wanted to see Chris Neil suspended; don't you think that Neil getting a dose of his own medicine by the Rangers was not worth watching?
Is Neil was suspended then we would've missed out on seeing some LEGAL payback. That would work for me every time.
(Theoret- Terry Wilson OHL images, Kreider New York Rangers)
Original Story:
http://feedproxy.google.com/~r/ThePro...
THE BACKYARD
BEST OF MAXIM
RELATED ARTICLES
In his third NHL game, the New York Ranger's Chris Kreider scored on Ottawa's Craig Anderson, which is impressive for a number of reasons. One, Kreider broke into the NHL in perhaps the fiercest first round playoff match this season. Two, the 31 year old Anderson has been playing like a vintage Marty Brodeur, at one point stopping 75 consecutive shots over 145:27. These were...
In just his third NHL game Chris Kreider may have scored the biggest goal of his life, as his first NHL tally ended up being the game winner that helped send the Rangers to a deciding Game 7 at MSG on Thursday night against the Senators... To watch on YouTube, click here....we've been waiting a long time for this moment Rangers fans and Kreider is as advertised. Anyone...
… Chris Kreider played a phenomenal game for a rookie in just his 4th game on the NHL surface. The role Kreider played in the 2nd and 3rd periods were huge for the New York Rangers. This kid really is the future of the organization.  Ryan McDonagh also played a lot better tonight and came [...]
During his conference call yesterday, John Tortorella gave this comment on his impressions of Chris Kreider's performance up until this point (via Bergen Record)..."The thing that impressed me the most about him right now in just a couple of days being with him is forget what's on the ice, it's how he's handled the situation. I'm sure there's a letdown...
The Rangers report just 12 players participated in today's optional practice....i usually try to stay pretty positive on the blog, but not today folks. 12 players? Are you kidding me? I know it was optional but I would have hoped after last night's performance every player would have been there today to work on getting better. The season is on the line tomorrow night!!!!...
The New York Rangers will be hosting game 7 against the Ottawa Senators after defeating the Sens 3-2. Chris Kreider, with his firat NHL goal, had the game winner. added 10:08pm, Not that it matters now, but below watch the controversial Ottawa goal late in the 3rd period to bring the Senators within one goal of the Rangers… What do you think about it? Continue reading &quot...
Here are a couple of great goals to prepare us for game seven between the Boston Bruins and the Washington Capitals. This is the first career NHL goal of former Boston College Eagles Chris Kreider, who is now a member of the New York Rangers. The box score read - Chris Kreider (1) Wrist - ASST: Derek. Stepan (2) AND Mark. Staal (1)... Nice to see two former Division I college...
When the New York Rangers play within themselves and play their style of hockey, they are an extremely tough team to beat. The Blueshirts proved that tonight by beating the Ottawa Senators by a score of 3-2 in Game 6 to tie the series up at three apiece. The two teams will have two days off before meeting on Thursday night at Madison Square Garden for a Game 7. The Rangers played...
Goaltender interference is a nebulous topic that often generates heated debates and a forgivably vague understanding of the actual rule on the play.  It is forgivable that most fans don't know exactly how to apply the rule, since the rule itself is written so vaguely. NHL Rule 69 ,"Interference on the Goalkeeper" is explained mostly in the context of allowing or disallowing...
The Rangers play their biggest game of the season and perhaps biggest game since the lockout on Thursday night. A win over the Senators and progress to the next round could be the springboard to a successful post season. Or Friday morning could be the start of golf season. With that said, should John Tortorella shorten his bench in the series finale? Given his tendencies to do so...
NHL News

Delivered to your inbox

You'll also receive Yardbarker's daily Top 10, featuring the best sports stories from around the web. Customize your newsletter to get articles on your favorite sports and teams. And the best part? It's free!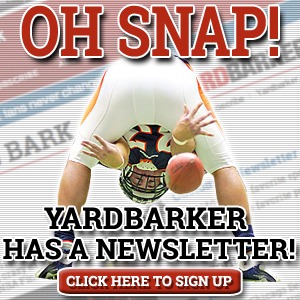 Latest Rumors
The Backyard

Today's Best Stuff

For Bloggers

Join the Yardbarker Network for more promotion, traffic, and money.

Company Info

Help

What is Yardbarker?

Yardbarker is the largest network of sports blogs and pro athlete blogs on the web. This site is the hub of the Yardbarker Network, where our editors and algorithms curate the best sports content from our network and beyond.